A LITTLE LESS CONVERSATION. . . A LITTLE MORE ACTION

Just over twelve days ago, the Racing Post Greyhound TV Golden Crest got underway at Poole. Heading the ante post market was King Elvis at 5/2 from Snooty Mary at 8/1. Tonight, both runners will go to traps as the 1-2 in the betting at odds of 5/6 and 3/1 (best price available). In the final, we see from one to six in order Bull Run Byte, Ace Queen, Kilcree Diamond, Clash, Snooty Mary and King Elvis.
The final sees some of the very best hounds go to traps at 7.46pm for £4000, and the chance to have their named engraved on the trophy. Below is a round up on each runner in the final, and a look at how I see their chances on the feature along with five supporting opens. The best price available is quoted in brackets.


Last year's winning trainer Kevin Hutton's first of two runners in this final is a bitch I have really fell for. After watching her trials and clocking her as one of the fastest to the third bend in some time, she clocked a fantastic 26.77 first look at the track.
After a forced lay off she had improved in trials at other venues and was coming along nicely. Since arriving at Poole she has gone from strength to strength being one of three unbeaten runners in this final and at odds of 8/1 is still vastly overpriced.
Finally receiving her box of one, she can break better as each round has edged across to the rails with a missed break and found trouble before powering away to win in 26.59 (+10) and 26.82 (-10). This classy bitch after stepping out of the lids, really flies into the bend and if she gets the boxes right could be one tough cookie on the bunny.
Drawn on the fence, nothing will hold her up, fancied runners out wide could come together, and she has the perfect box to work from, write her off at your peril but this lady is classy. Regardless of tonight, in her category, she could go to the very top this year. Odds 10-1

One of the possible shocks to be in the final had you said at the start of the competition but has deserved to book her place. She is currently in the form of her life and clearly likes the venue.
The race card wasn't stand out before her trial. She had won only three times in 28 races, A5 and D2 at Hove and a calculated 16.53 for the Central Park sprint.
Her first look at Poole was a satisfactory 27.30 (-20), but her first round performance was the one that put her up there with the fancied runners with a 26.59 (+10).
She didn't get things right last week but showed something else to stay on and finish second. All around pace with the potential to improve still will give her hope.
Yes, she is 33/1 but can play a part. Odds 33-1

A new recruit for the trainer after being purchased from Mark Wallis following an impressive victory at Henlow.
Kilcree Diamond posted two solid trials at Poole before the competition started and certainly backed them up with a fastest sectional and second fastest overall time of the opening round being a 26.48 (+10).
It was a run that caught many eyes and was backed up the following week in the semi when trapping some two lengths slower and finding trouble but stayed on well to qualify. He will have to produce a run of the first round to trouble the leading player.
The draw is ideal with one and two probably not having as much early and he could just get a run into the bend. Odds 8-1

I've said it before, and I'll say it again. Clash is one of the most underrated dogs in training. He is now 4 and a half years of age and a prolific winner on the open scene.
He has not broken in either of his last two races like we know he can but led Elvis last week before being collared late on.
He books himself in another final after being sent off favourite last year when looking to have things sewn up at the bend, but all sorts of trouble put pay to his chances.
It is certainly a lot harder this time round but what I will say is that his odds are by far overpriced. June has won this competition before and is no stranger to big success at her old local hunting ground so 20/1 currently available may be long gone come post time. Odds 20-1

Snooty Mary has taken to Poole well after her first trial which was a great effort. She had only run at Romford on the final less than 48 hours before.
She had also not been this far in a little while so was going to get stronger. Having the best early in the final could be a huge significance and that is why she is second in the betting and could the thorn in the side for a few here.
A prolific winner at Romford and has certainly plied her trade well here. With the Derby winning trainer in her corner she will be looking to add a major title to her CV.
Very lightly raced with 6 wins from her 13 starts there is still more to come.
Unbeaten in the competition but a final which could have 6 different winners if run as many times, she will need to be foot perfect but I'm sure she will be there at the business end. Odds 3-1

Elvis has been simply sensational since arriving at the Dorset venue. Sunday 31st March and he was in the final of the Kent Silver Slaver at Central Park over 265m.
Two days later he turned up at the Poole without a trial over 450m at 1/3 having not run over four bends since December at Sheffield in the British bred event, but raising more questions to most was the former greyhound of the year and multiple category one winner was without a look. I can tell you and Rab would be able to back this comment but I was adamant Elvis would take to the circuit and obviously be a leading player. To see him run the first bend with such ease though after a missed break and edging wide on the run up, opening up and stopping the clock one spot off the long-standing track record of 26.20 was breath taking.
In the semi-final, a week later he did not trap as well from five and on a very slow deteriorating track had Clash in front of him who is a real force for connections and is a solid performer over 515m at Hove so for Elvis to take off down the far side and go past him at the third bend and win in 26.52 (-10) which could have easily been given slower simply showed the credentials of the dog. Tonight, he will go to traps wearing the stripes for only the third time in his career, the other two being in the final of the East Anglian Derby final where he was third and the Semi-final of the Sunderland Classic which he won.
Ultimately the draw could not have been placed any better for him in my opinion and I think he will break better from six. The dog has nothing to prove and will be a popular winner should he oblige. It must be added that the crowd this dog has bought to the track alone not just Rab is incredible. There has been people asking for photos and just admiring his presence which is a real fillip for the track, the competition and the sport itself. These are superstars who can attract people young and old, so play to these advantages and showcase our great industry. Odds 5-6f
Reminder of the semi finals: Bull Run Byte   Snooty Mary   King Elvis
My personal take on the race is that you could not have put the dogs in better boxes. It is a tremendous final and all are worthy of their place. I think King Elvis will go up with Snooty Mary who is ultimately the fastest breaker in the final. Clash will try and get away quick but is flanked with great early and may just be leant on a little to the corner, Bull Run Byte will go up best on the inside with Ace Queen and Kilcree Diamond matching strides to the corner. Off the second bend, Elvis will ultimately open up and down the far side it will be a race with Bull Run Byte who will challenge kennel companion Snooty Mary, but Elvis may have already flown. Either way any of the finalists would be a worthy winner, but most importantly they all come off safe and sound.
There are five supporting races on the card
The first, the Calne Racing 250m sprint, can go in the way of the Dave Lewis trained Ballyoak Badger who is seeking a hat trick of open wins after winning this race on the other supporting rounds. She is only 12 weeks and 6 days out of season so will be improving and getting stronger.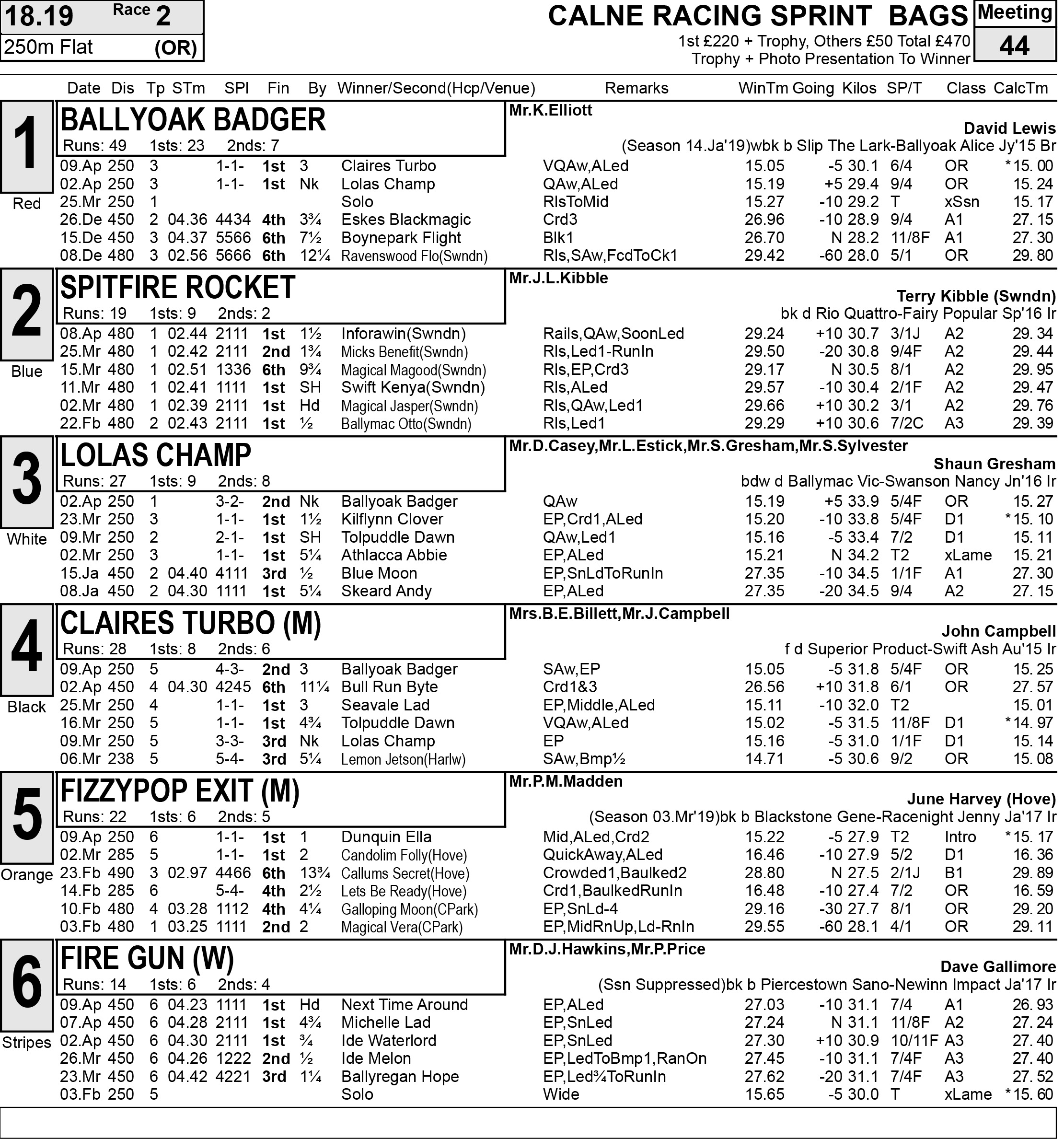 The next open on the card is the South-Western Vehicle Auctions puppy trophy where yes, puppies can still be learning the ropes, but a few seeding raise the eyebrows here. Ultimately it is due to the fact knowledge of the track helps. The local runner Fionn City can go well after a fortnight off but the obvious danger is Pull The Trigger who impressed so well at Romford. The concern is one and two will move off and five hasn't had a look at the track.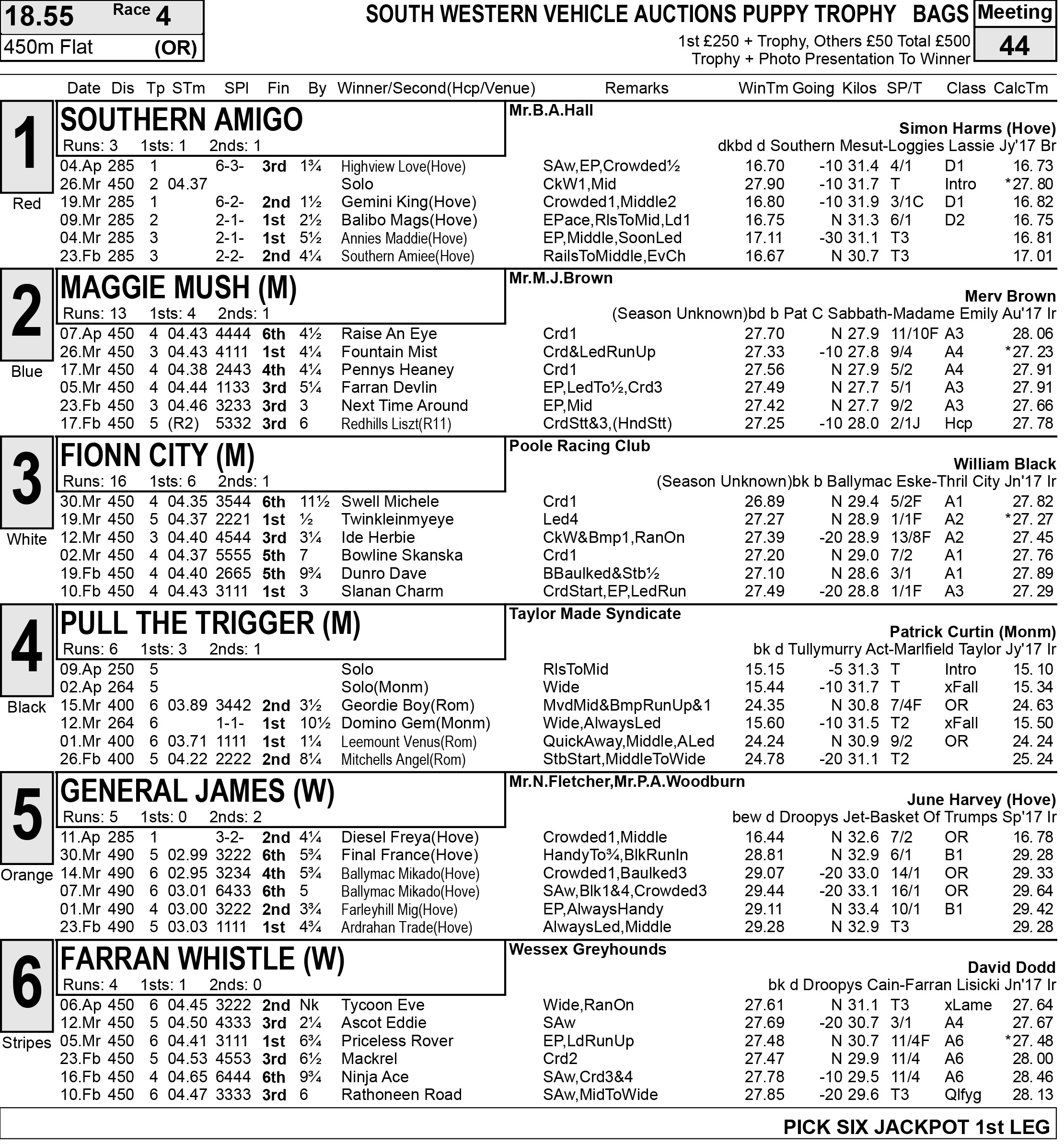 Following the pups at 7.12pm is the Kennett Racing Stayers Cup with Mottos Moon an interesting runner stepping up in trip after being eliminated from the main event in the tough semi-final behind Elvis, his four-bend pace could see him race clear and ultimately see him home.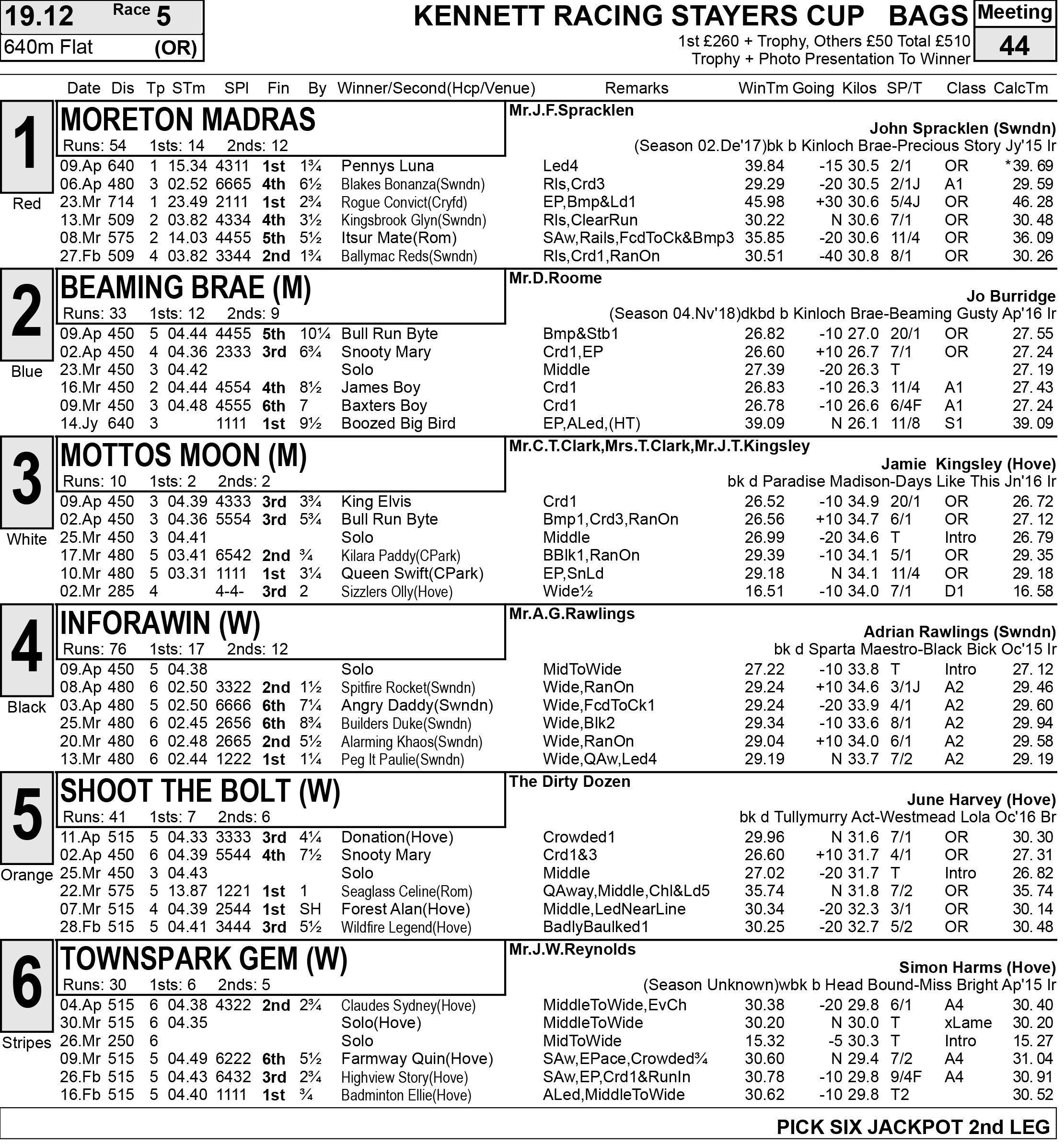 The Jem Racing Standard over 450m goes after the final at 8.19pm and the recent semi form could be franked again with Millabbey Thelma from trap 3 looking to get a decent start and could prove a tough nut to crack, a race with less early on her inside will be key. The obvious class comes from out wide with Ower Boy Bullet but he may struggle to clear the early from traps four and five.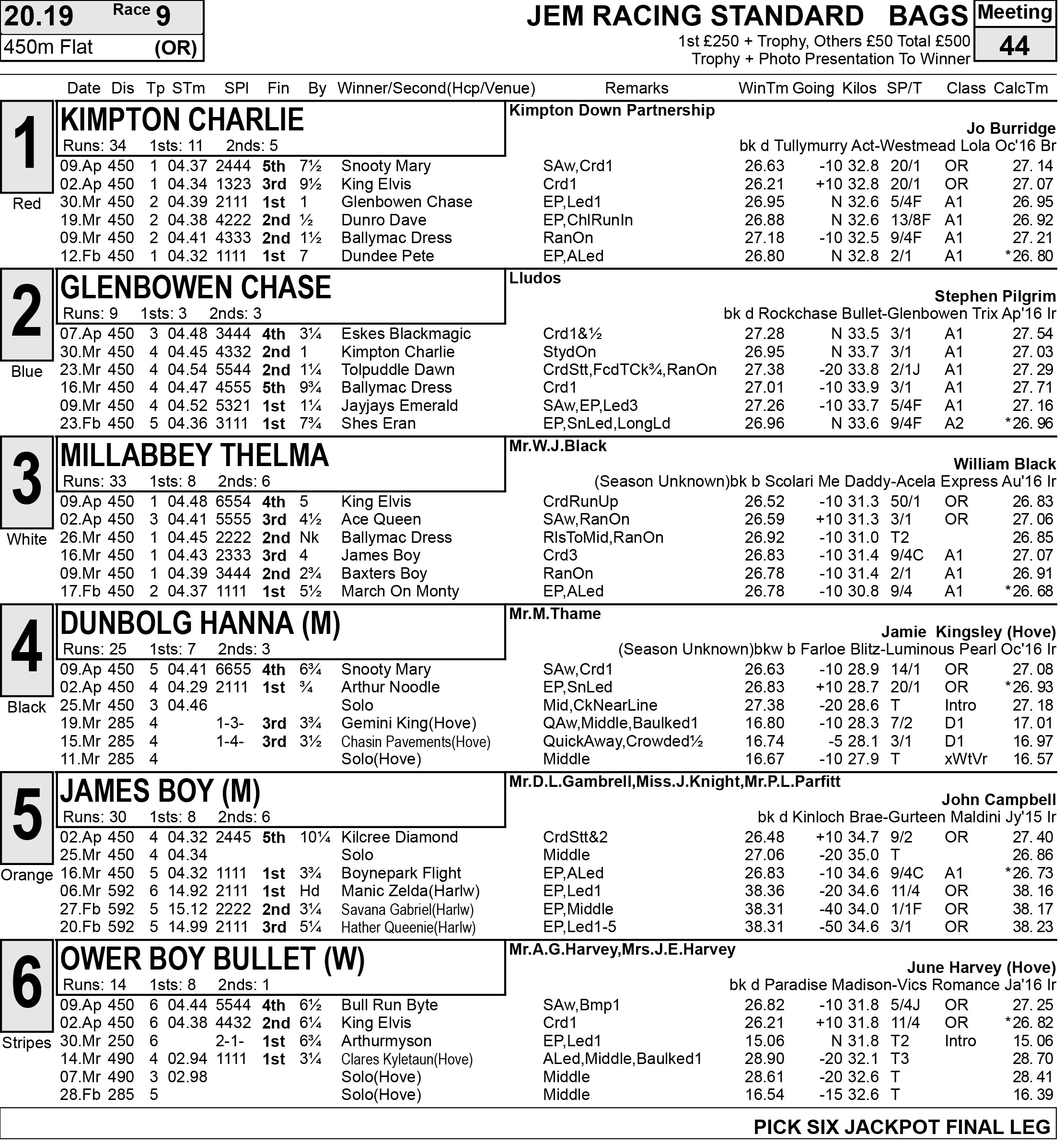 The final open on the card goes at 8.37pm which is the Calne Racing Marathon and not the strongest of races you should look at the Simon Harms new recruit of Loggies Stayer who is the only performer to have proven form, running in the Best Car Parks marathon in Shelbourne back in December over a 1000 yards and with a decent trial at Hove last week, but she lacks a look at Poole. The danger could come from the local trained Castleroggy Rosy who may lack the class of some but she gallops on well over graded six bend events and knows the circuit well.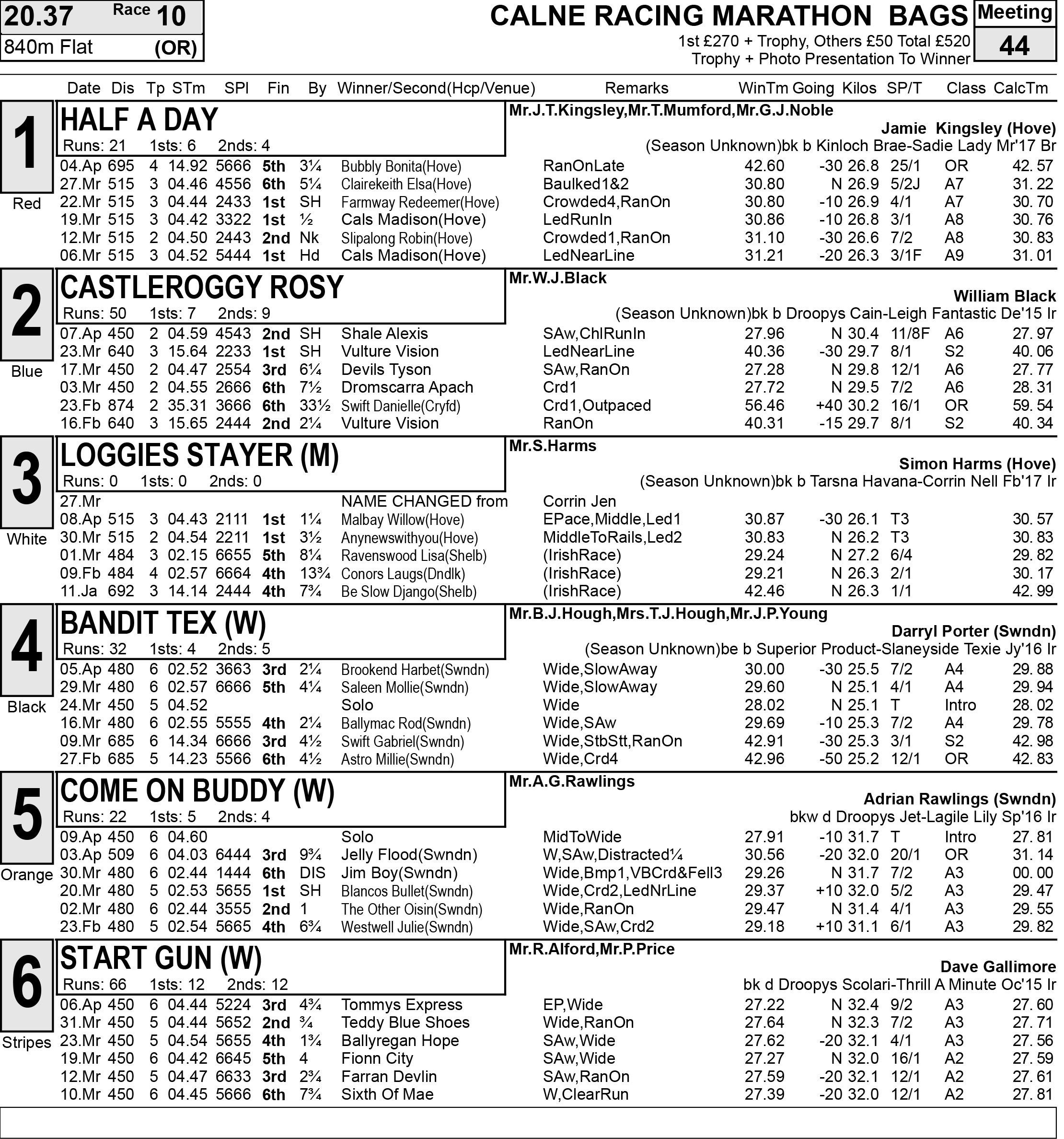 | | | | |
| --- | --- | --- | --- |
| | Previous winners | | |
| 2018 | Headford Kev | Hutton | 26.81 |
| 2017 | Crossfield Giles | Cahill | 26.27 |
| 2016 | Castlehyde King | Black | 26.36 |
| 2015 | Aimnfire | Harvey | 26.57 |
| 2014 | Romantic Rambo | Cobbold | 38.79* |
| 2013 | Daddy Knowsbest | Allsopp | 26.20 |
| 2012 | Out In Chil | Chatfield | 26.99 |
| 2011 | Fifis Rocket | Allsopp | 26.46 |
| 2010 | Lynwood Bold | Cleverley | 26.53 |
| *649m |   | | |
Two trainers, Kevin Hutton and June Harvey will be looking to land the title for the second time and the others will be trying to take it away for the first time.
The competition has done itself proud and full recognition must go to the sponsors for stepping up and delivering this event. What also must be recognised is the effort put in by away trainers to come to Poole as it is not exactly close for many.
But it has paid dividends so far for those involved. The night looks brilliant, and I'm sure it will live up to the expectation. The stars are on show and can certainly strut their stuff.
One final thing to leave you with, Can Elvis deliver, because It's Now or Never and myself and many others on the coast Can't Help Falling In Love. We will find out at 7.46pm this evening!
Be lucky
Kaan