By Kaan Hughes
The Golden Crest gets underway at Poole this evening with 36 greyhounds heading to traps from 6 heats after the expansion of the original planned twenty-four runners. The huge interest of outside entries saw the need for the expansions and rightly so with what looks in mass of quality one of the best lines ups seen throughout the years.
The first heat sees local track champion Sevenofnine line up and could take all the beating out wide in her favoured stripes jacket. She posted a great sprint trial back last week from a fortnight on her bed with a few niggles now sorted and could put one on the board for locals early. Veteran tracker Ballinclare Solo in four could be the forecast pick after last year unfortunately knocked over in the first round when looking a leading competition entry.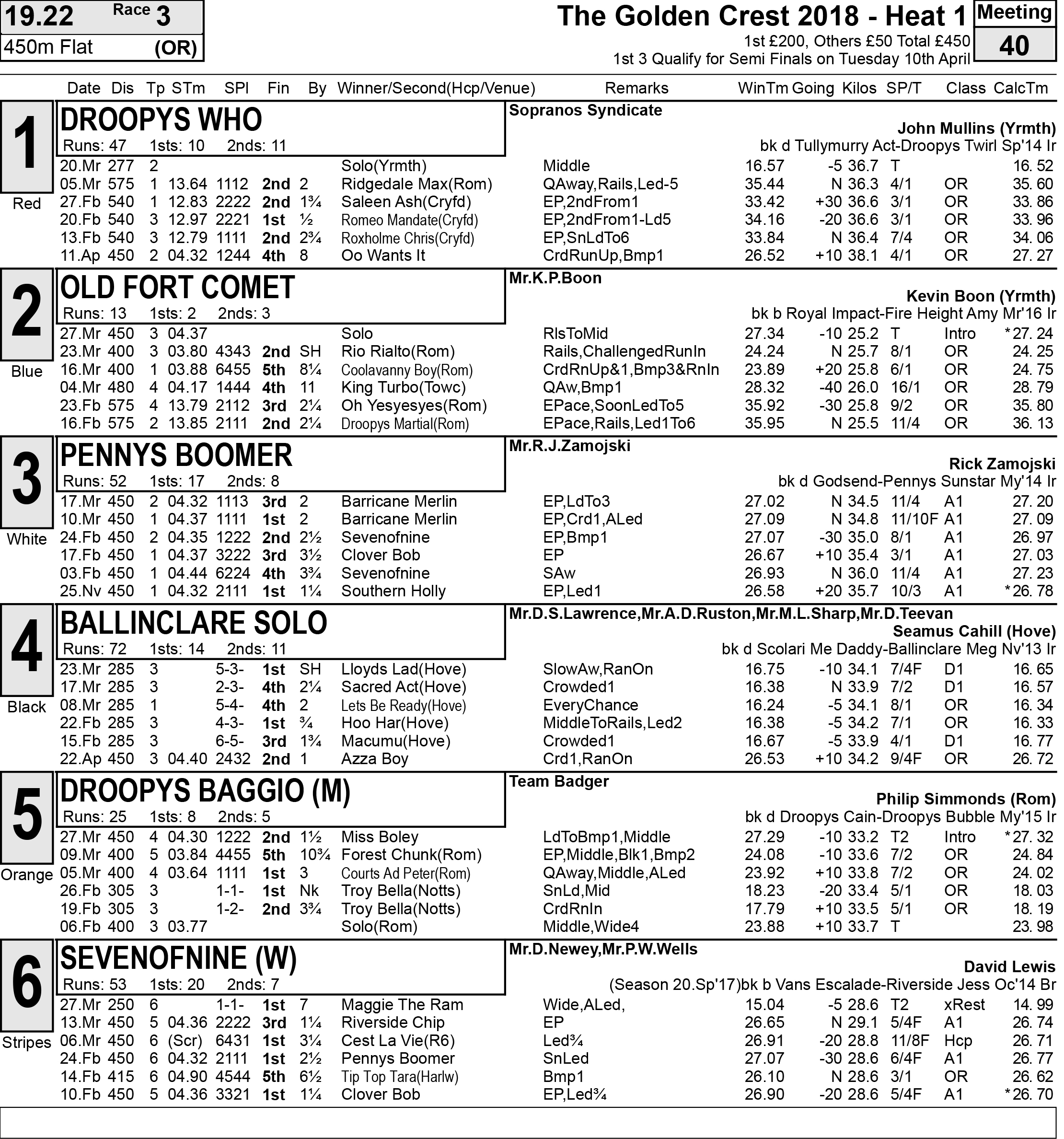 Defending champion Crossfield Giles runs in this second tough heat and has recent winning form around his local track to show his wellbeing and after last years near track record final winning performance could set the standard here. However, dual category one finalist Savana Donie runs from the one box and can only improve from his first sighter at the track. Cloncunny Major in four for Kevin Boon posted an eye catching trial and could be open to any amounts of improvement on the basis he has only just turned two years old. Interesting runner Clares Kyletaun known for his marathon exploits posted one of the fastest pre-competition work outs and could just keep qualifying.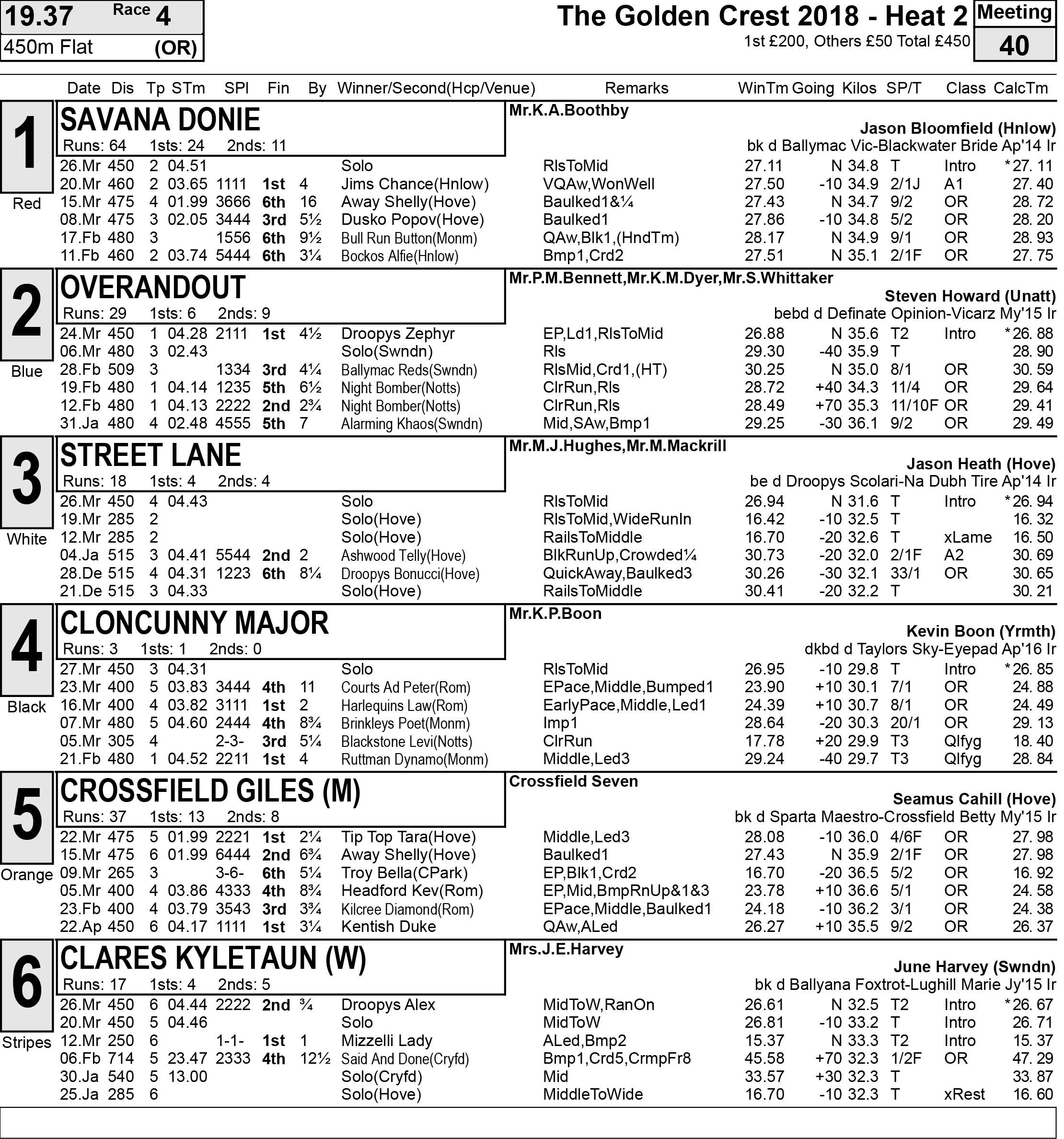 Droopys Alex will head the market in heat three for the June Harvey kennel and has been foot perfect in his three looks at the circuit. If he gets racing room he could just be the one to beat in the whole event. Fernhill Rex has shown tremendous early pace in all four British starts and the Poole trial alone was a great effort.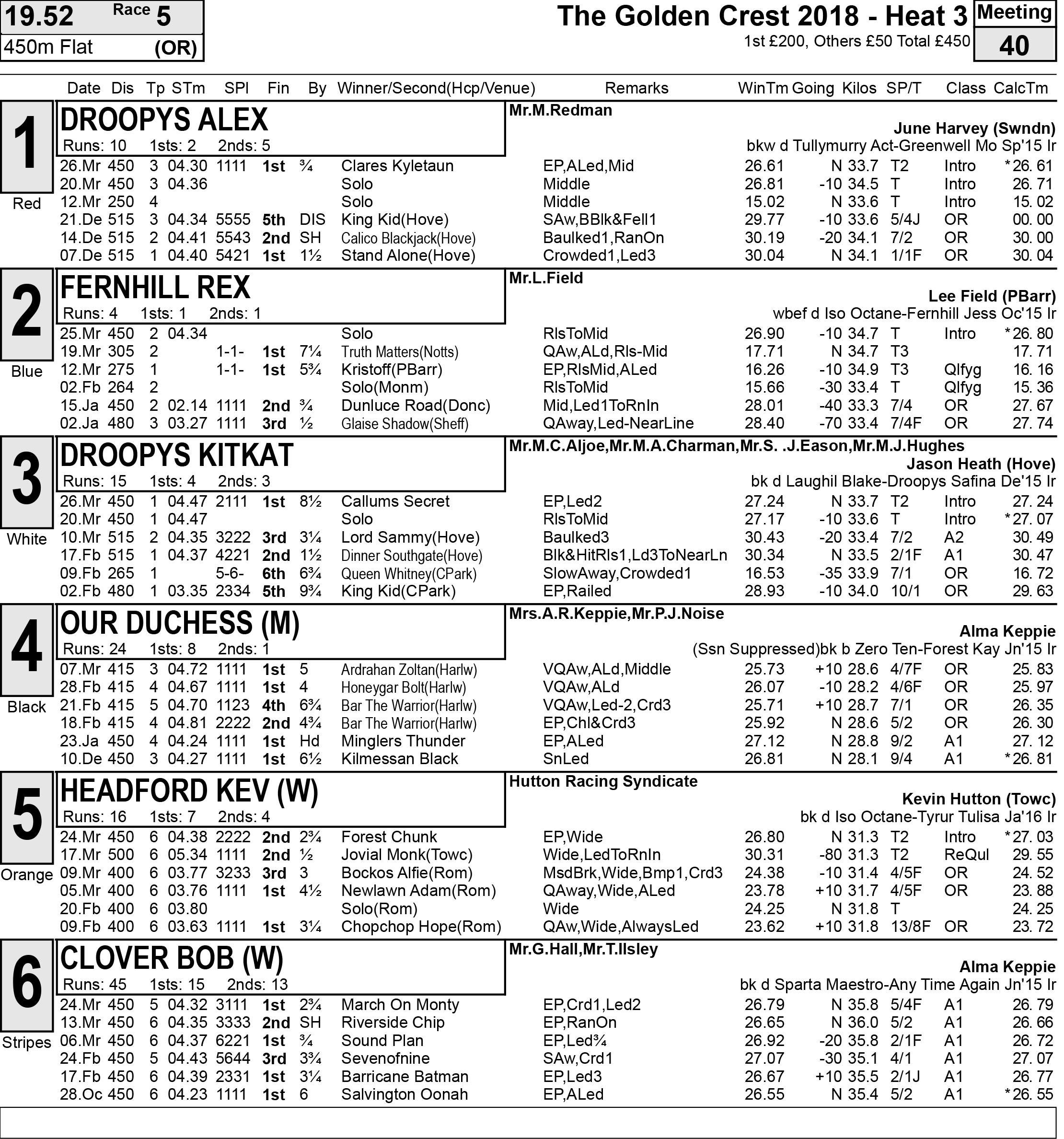 Golden Sprint champion Forest Chunk goes in the fourth heat and a rare three box draw will ask him questions but a slow breaker inside will give him plenty of space to stretch his legs with the long run to the corner in what can only be beneficial for his style. Clash looks the danger with a faultless sprint trial backed up with a four-bend trial but his sometimes-tardy starts can be the downfall. If turning level heading into the back straight it could be one interesting dual.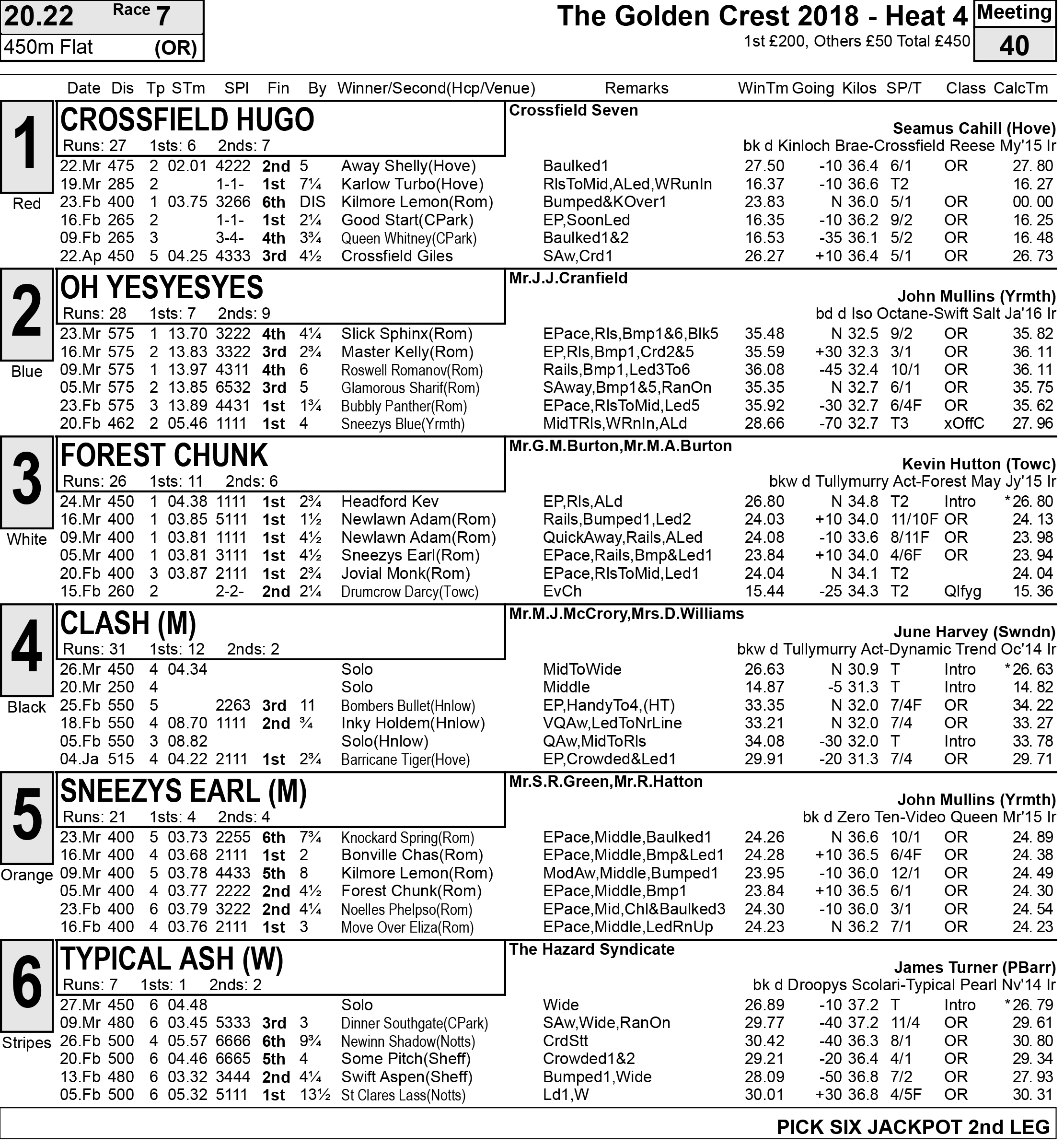 The penultimate heat looks to be heading in the way of near veteran stage runner Holdem Rio who set tremendous sectional figures in his recent trial and clocked a great time. Not many rail tighter and is sure to go well. Glenanore Diego in four didn't post a very good trial but for me his Towcester performances can be better suited to this venue and if getting to grips with that can improve endless amounts.
The final heat looks to go the way of Drumcrow Darcy for trainer Kevin Hutton. A sensational first trial at the track sets him up nicely, but the only concern is if five possibly edges across. Many will forget that 'Darcy' beat Forest Chunk'nearly 3 lengths in a sprint trial at Towcester. He wasn't suited to Romford in my book and can be great value for what looks a ticket to the semis.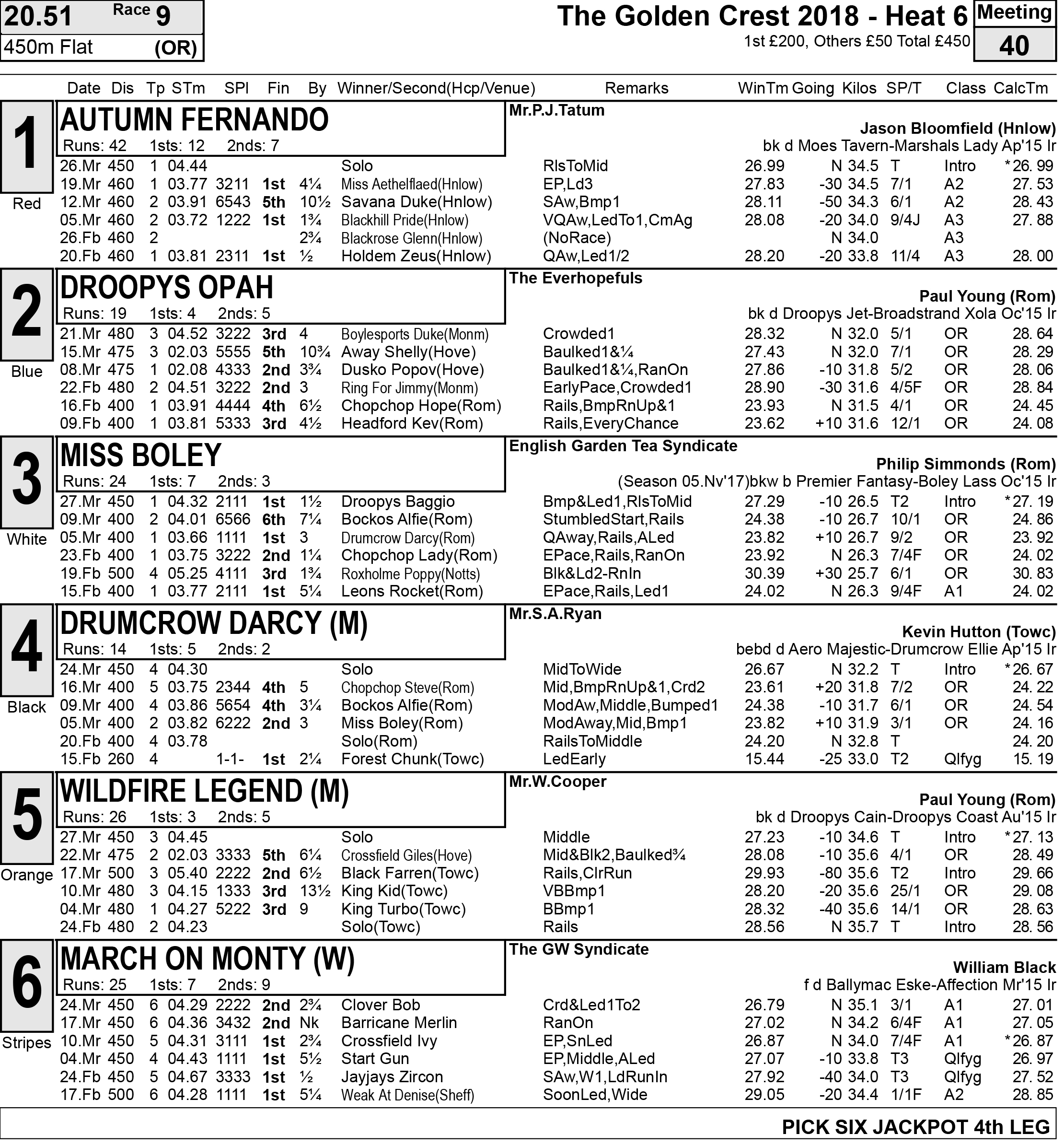 Overall the standard of entry looks superb and many of the dogs who have not been mentioned can improve vastly on their trials around the Poole circuit and you will get a better idea of where things stand after the first batch of heats. For me the two early picks in the outright market stand at, Droopys Alex and Drumcrow Darcy. Whatever the night brings I'm sure it will throw in a few shocks, some standout performances and afterwards we will have a tremendous semi-final line up. For now we await the anticipation and report will follow shortly after.
Two other opens feature on the card the first being a sprint at 7.06pm which can go in the way of 'Loggies Ranger' for trainer Simon Harms and the stayers event at 9.07pm looks a one-sided event in the shape of 'Ridgedale Max' for Philip Simmonds who stopped the clock with tremendous figures in his first look at the circuit.