By Editor Floyd Amphlett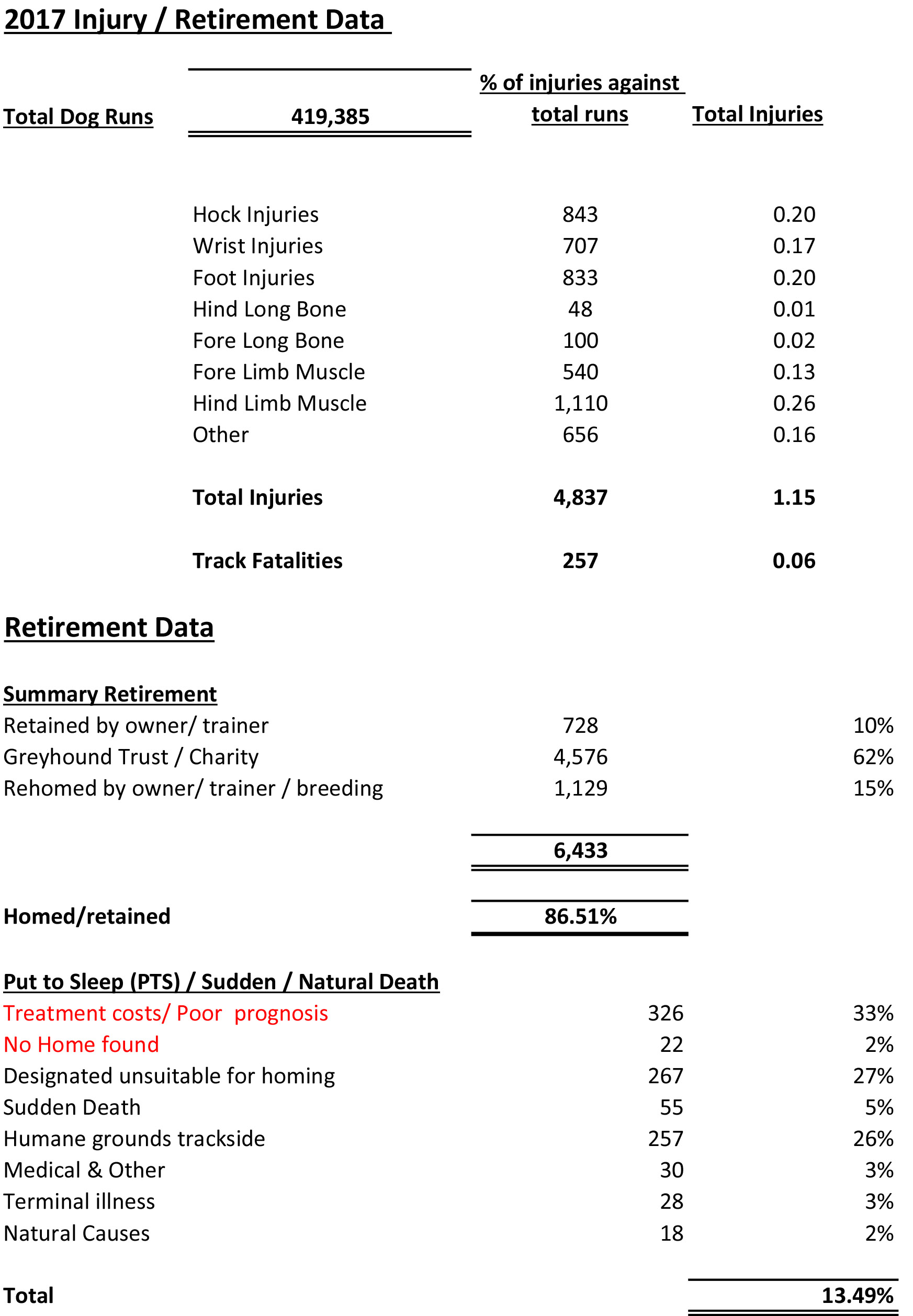 The Greyhound Board of Great Britain have today released the injury and euthanasia data for all greyhounds to have raced in 2017.
How it will be received will depend much on the individual assumptions and claims made about the fate of racing greyhounds.
The figures for the annual number of broken hocks and track side euthanasias have been available on the DEFRA website for many years. These are more detailed figures, compiled by the track vets, as well as all the follow-up information collated by the Board's own integrity and regulation department.
It shows 257 track side fatalities, around 11 per track, though three tracks have since closed. They were from around 400,000 race performances, giving greyhound racing a mortality rate of around one third of horse racing.
It shows that 86% of ex-racers are re-homed, a figure that flies in the face of 'anti' propaganda.
The remaining 14 per cent included all fatalities including racing accidents and death relating to illness and natural causes.
The two areas – already highlighted by GBGB as being their biggest cause for concerns are the 'treatment cost/poor prognosis' and 'no home found'.
These figure extensively in the Board's Greyhound Commitment.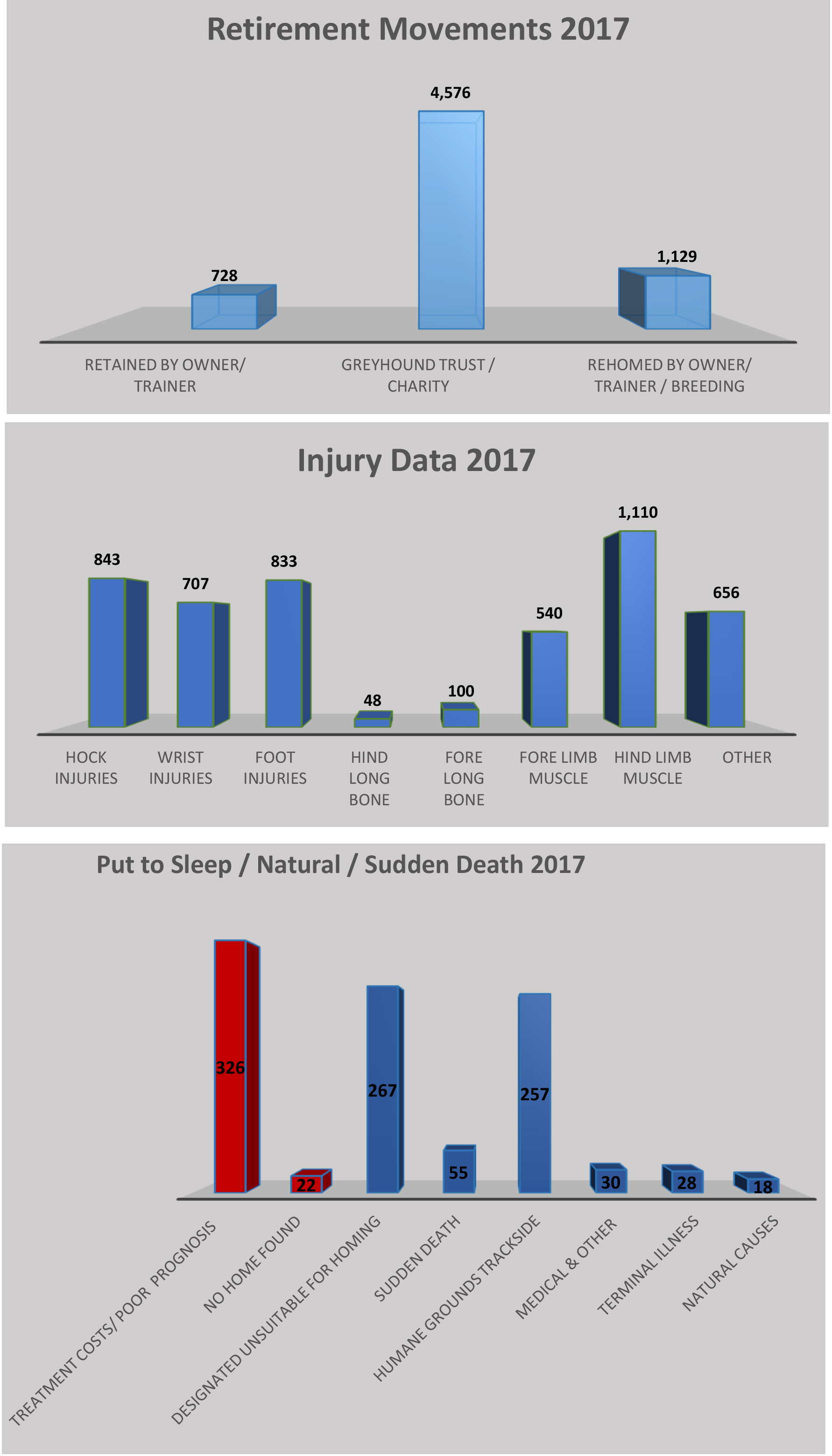 Greyhound Board of Great Britain Launches The Greyhound Commitment
The Greyhound Board of Great Britain (GBGB) is today launching The Greyhound Commitment, an 8 point agenda for their sport.
GBGB, which is responsible for the welfare and care of all racing greyhounds and regulates the successful and clean operation of the sport, has published The Greyhound Commitment setting out its expectations of how the sport and industry should be run with animal welfare at its heart. Greyhound racing is the sixth most popular spectator sport in the UK, attended by over 2 million people each year.
The Greyhound Commitment sets out a series of promises and initiatives that bring together what is already best practice in the sport for universal implementation across its 22 licensed tracks. Commitments range from introducing further safety measures at racing tracks, raising standards at residential kennels to providing training and development for the 7,000 people whose jobs depend on the sport.
Launching the Commitment, Mark Bird, Chief Executive of GBGB, will say:
"We are a country of animal lovers and sports lovers so it is vital that animal welfare is at the heart of greyhound racing. The Greyhound Commitment, which we are launching today, sets out our intent that every greyhound that can be homed when it retires is successfully homed.
"Greyhounds make calm, gentle and loveable pets that are excellent with children and are extremely affectionate. When they retire from racing, many greyhounds are kept on as pets by their owners, breeders or trainers.
"Charities such as our partner, The Greyhound Trust and others do amazing work in organising homes for greyhounds but there is more to be done to meet our mission of every greyhound that can be homed, being homed."
Alongside The Greyhound Commitment, GBGB is publishing the annual statistics for greyhound injuries and retirements. The figures show that the UK sport has the lowest independently verified injury rates for the sport anywhere in the world.
In 2017, there were over 400,000 runs in greyhound racing in Great Britain. The racing injury rate was 1.15% – the lowest independently verified injury rate in the world. 257 dogs suffered racing fatalities, a rate of 0.06%, considerably lower than that of British horseracing at 0.18%.
Over the year, 86% of retiring greyhounds were successfully homed by charities or retained within the sport by owners, trainers or breeders.
Of the remaining 14%, the vast majority died or were put to sleep, following vets' advice, for legitimate medical or welfare reasons; leaving 348 dogs that were unfortunately put to sleep because no suitable home could be found or because there was no viable alternative – such as because of the high cost of medical treatment.
Mark Bird said: "The publication of today's data demonstrates the levels of care and attention already being provided to the welfare of dogs in our sport and proves that the overwhelming majority of greyhounds are successfully homed when they retire. But there were 348 dogs this year for whom no home could be found and our mission is to reduce this number to zero.
"We are dependent on the generosity of supporters of charities such as the Greyhound Trust and the voluntary contribution of the betting industry to maximise our ability to support and home all retired greyhounds. We are determined to meet this challenge so that every retired greyhound that can be homed is successfully homed."
GBGB is also announcing progress in discussions with all the major UK bookmakers to increase the amount the sport receives each year to support welfare initiatives.
Mark Bird said: "We are close to having all the major bookmakers signed up to the voluntary levy which is a vital means of funding our welfare activities. Greyhound racing is an integral part of sports betting in this country and it is pleasing to see the bookmakers recognising their responsibility to making worthwhile contributions."
Dr Simon Gower BVSc MRCVS, Veterinary Director of the Greyhound Board of Great Britain, said:
"Across the sport we are committed to the welfare of greyhounds as today's figures show. The Greyhound Commitment is an excellent statement that sets out what all of us in the sport are doing and need to continue to do to ensure that welfare remains at the heart of our sport."
The Greyhound Commitment
On behalf of our sport and industry, the Greyhound Board of Great Britain, working with our trusted stakeholders and relying on voluntary funding from bookmakers, is proud to make and uphold the following commitments:
Greyhound welfare and safety is at the heart of everything we do
We do this by:
Having a zero tolerance policy on the mistreatment of greyhounds;
Having an independent Veterinary Surgeon present at all tracks to check the health and wellbeing of every animal both before and after racing;
Enforcing a rigorous, independent disciplinary process with strong sanctions for any individual who is found to be in breach of the GBGB Rules of Racing;
Having a dedicated Welfare Officer at all GBGB tracks;
Promoting best practice for animal husbandry for those involved in the industry through professional development, advice and access to innovative research.
We are also publishing annual, independently verified injury and retirement data. Each year we will look to improve rates further.
Every racing greyhound is treated with care and respect throughout its career
We do this by:
Conducting a minimum of two unannounced visits by GBGB officials to residential greyhound kennels every year to ensure that welfare needs are being met;
Ensuring greyhounds are cared for by licensed, suitably qualified and competent staff during their careers;
Licensing and inspecting stadiums through government-approved, UKAS accredited methods. We are adding the same accreditation to our inspection of trainers' kennels in 2018/19 to further safeguard our high standards both on and off the track;
Making sure that greyhounds travel to and from stadiums in comfort by providing air-cooling units for trainers' vehicles.
In 2018, we will be launching a GBGB Code of Practice for all trainers and kennel hands for residential kennels.
Our independently verified injury rates remain the lowest in the world and will improve further still.
We do this by:
Having an independent Veterinary Surgeon at all GBGB tracks to check the health and wellbeing of every animal both before and after racing and to provide emergency care in the event that any dog needs it;
Working with stadia to provide the safest possible racing surfaces;
Having a Track Safety Consultant to ensure best practice in track preparation across all our stadia.
In 2018, we will be launching an injury-recovery scheme to help pay for medical costs where greyhounds sustain an injury whilst racing.
Over the next five years, we will also be developing our relationship with the Sport Turf Research Institute. The STRI is a globally recognised company on track and athletic playing surfaces, which has already endorsed our track preparation and safety standards.
Wherever possible, every dog leaving racing enjoys a long and happy retirement.
We do this by:
Investing substantially each year in greyhound homing schemes – the GBGB and Racecourse Promoters spend in excess of £2.24 million on retirements every year;
Working in partnership with The Greyhound Trust, and other independent charities, to find suitable homes for greyhounds that have raced on GBGB licensed tracks and further promote their excellence as family pets;
Continuing to develop our injury recovery scheme to provide grants to help with the costs of veterinary care.
In 2019, we are looking to develop, in partnership with the Greyhound Trust, a behavioural assessment to help ensure that all greyhounds are suitably homed.
Every race is run fairly, safely and that attending a race meeting is an enjoyable and fun experience for all involved.
We do this by:
Using our regulatory powers to ensure that all involved in GBGB licensed stadia follow the Rules of Racing, and enforcing a rigorous, independent disciplinary process – with the appropriate sanctions – where this is breached;
Having a world class anti-doping system – more than 8,500 samples from greyhounds were taken in 2017 and were independently tested as part of our work to prevent and handle any threats to the integrity of our sport and to protect the welfare of licensed racing greyhounds. Only a tiny proportion of these (0.07%) were found to be directly related to doping;
Being an inclusive sport, welcoming people of all ages and backgrounds either as spectators or as industry professionals.
Those working within the sport have access to training at the beginning of their careers, ongoing, accredited professional development.
We do this by:
Funding research into the health and welfare of greyhounds that further educates those working within our sport and improves standards further;
Providing those working within our sport access to a library of up-to-date, innovative research on best practice;
Providing training for track preparation and grounds staff at GBGB licensed stadia.
In 2018 we will be furthering this commitment through the launch of an Animal Care and Welfare Assistant Apprenticeship scheme for young people entering the sport which will lead to a Diploma in Animal Care
Funding received from the betting industry significantly contributes to greyhound welfare.
We do this by:
Directing at least 75% of the funding received from the betting industry to animal welfare; this year, for example, we are contributing substantial investment towards the costs of the Greyhound Trust's new flagship national homing centre.
Working with government to maximise income from the betting industry.
Together, we continue to promote our sport and nurture the public's love of greyhounds.
We do this by:
Educating the public about greyhound racing and promoting greyhounds as a breed;
Promoting the considerable economic contribution of our sport, in employing over 7,000 people and remaining one of the most attended sports in the UK.
Over the next 12 months, we will be launching a GBGB 'Greyhound Ambassador' scheme which will bring together greyhound lovers and racing enthusiasts from all walks of life with the experience and skills to actively support and promote both racing and the successful retirement of greyhounds.