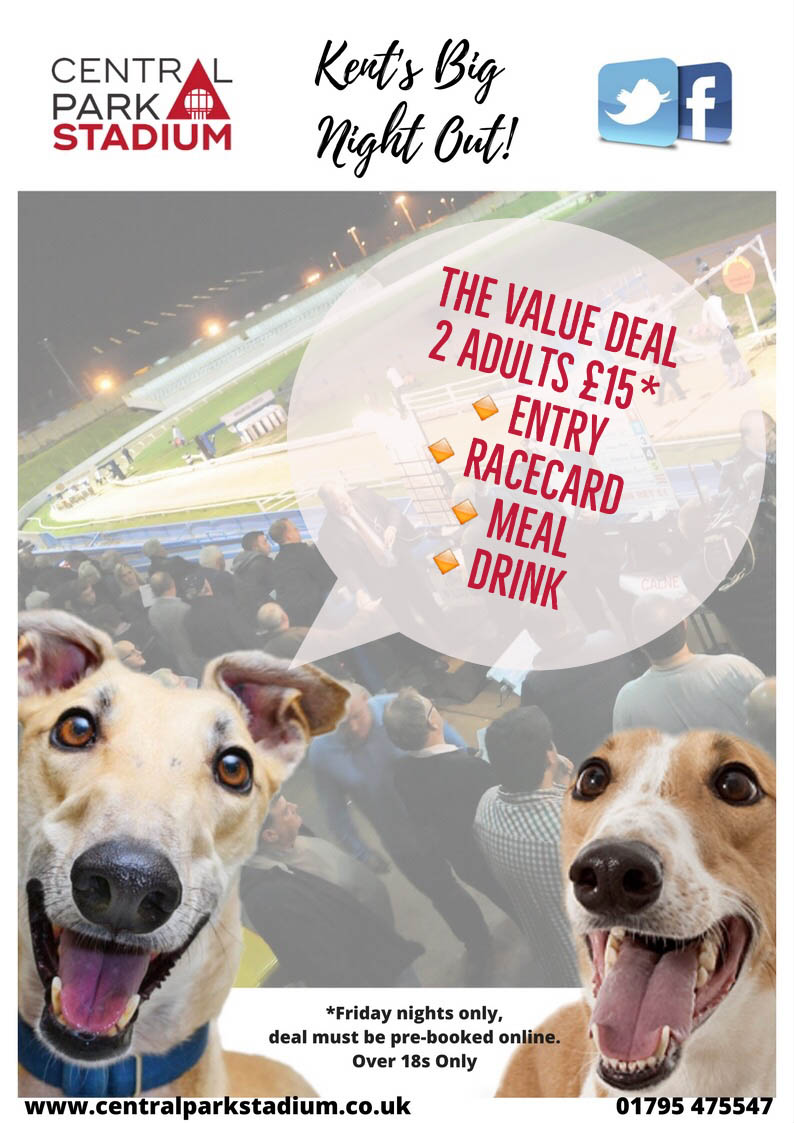 Roxholme Hat has been allocated his (sometimes) favourite striped jacket and should start favourite for next Friday's Kent Silver Salver Final.
The 2017 Scurry winner from trap one has made the most of his 'W' seeding at Central Park and made it 15 wins from 25 outings when taking the fastest semi final in 16.41 (-15) for the 265m course. Teddybear Bobs was beaten four and a bit.
The other qualifiers went to Troy Bella, who beat To Tone Prince by three and a bit in 16.50 and Good Start, who beat Premier Frankel by three and a half in 16.56.
Draw for the £3,000 final: 1) To Tone Prince, 2) Good Start, 3) Teddybear Pops, 4) Premier Frankel, 5) Troy Bella, 6) Roxholme Hat.
Raxlzazl Raidio went faster than three of the four supporting 480m flat opens when taking his Grand National Trialstake with ease.
Ricky Holloway's reigning Hurdler of the Year clocked 29.51 (-40) with his 44th career win from 63 races.
Kennelmate Shaneboy Bowie (2-5f) was turned over by Go On Taylor (6-) who clocked 30.53 in the other division.
Essex Vase fourth Ninja Penny (Tyrur Big Mike-So Said Sarah, Jan 16) won the first – but surely not her last – Romford open when landing the fastest heat of a 575m open race competition.
Mark Wallis' fawn – who had clocked a 13.77 sectional in the final of the Cat 1 event, was never led off a 13.47 sectional and crossed the line with more than seven lengths to spare in 35.11 (+20). The other qualifiers went to Princes Royal (35.85) and Pro Magic (35.84) on similar going.
By her own trainer's admission Slippys Maska (Kinloch Brae-Mays Maska, Apr 15) had developed a reputation for 'wanting things her own way'. But the second time in a row, Hazel Kemp's Kent Cesarewitch winner overcame early trouble to comfortably win the night's 750m final.
The other £500 prize on offer went to Yvonne Gaskin's Chopchop Hope (Ballymac Vic-Auntie, Jul 15). The coloured finally edged out Reel Tricky on the nod for a 13.60 victory. It was her 19th win in 35 races.
At Sunderland, there was a welcome return to the open race winning circle for Harry Williams. The 'Pond' man, who has been long missed on the open race scene sent out his first winner for more than 18 months when puppy Allowadale Bruno (Scolari Me Daddy-Noelles Princo, Apr 16) won a 450m event in 27.31.
The 261m open sprint went to 4-5f Precisely (Droopys Scolari-Ballymac Scarlet, Jul 14) in 15.80. Debbie Calvert's black has nine races over the course and distance for eight wins and a second (sh).