The quirks of fate occasionally throw up a qualifying heat or semi that would be hard to equal in the decider. Following a superb night's racing in the Coral Olympic heats, we find ourselves in that situation in next Thursday's first semi. It features half the field from 'the race of the decade' plus a young British bred dog whose first round winning time would be good enough to win any Olympic Final. This is how the night developed. . .
In days where genuine wide runners are at a premium, the opening heat developed into a buckle between two genuine 'W' seeds in Calico Blackjack (T5) and King Kid (T6). It was a step up in class for Droopys Alex (T2) though June Harvey's runner, who already has a calculated 29.60 over c & d showed he was entirely comfortable at this level. . .

---
Readers of Mark Wallis' column on the site would have read the trainer's concern that Bruisers Bullet (T3) would need the first round outing after missing out on a badly needed trial due to a cut foot. He was nevertheless made favourite but still looked a 20-1 chance to qualify at the second bend. Those odds, like the unfortunate Calico Brandy, would have tumbled within the next few seconds. Up front Crossfield Giles (T5) pulled on all his reserves of stamina. . .

---
The first three races had gone to T6-T6-T5 but punters still weighed into Droopys Gold (T4) in the third qualifier. In fact, for much of the race, the result looked to be in favour of a first red jacket success for Wildfire Lord. But that would all change in the final strides. . .

---
On paper, heat four looked like Bubbly Bluebird was engaged in another three-sided match. Paul Young's Shoot-Out runner went to traps at 4-7f with prolific Clash (T4 7-1) and the great crowd pleaser Calico Ranger (T6 2-1). It was 20-1 bar three. The race lived entirely up to the hype.
Warning – no matter how many times you watch the replay, Ranger can't win at the third bend.

---
The success of the outside two boxes and a series of strong finishers have contributed to Sporting Dave going to traps at a comparatively generous 5-2 in heat five. But although he might have preferred +20 instead of -20, Seamus Cahill's black jacketed middle seed never looked like being caught. . .

---
King Turbo is a young dog who has been subject to some critical views following a couple of novicey performances. But even his greatest critics cannot deny that Liz McNair's British bred has awesome ability as he showed from trap three in the final qualifier.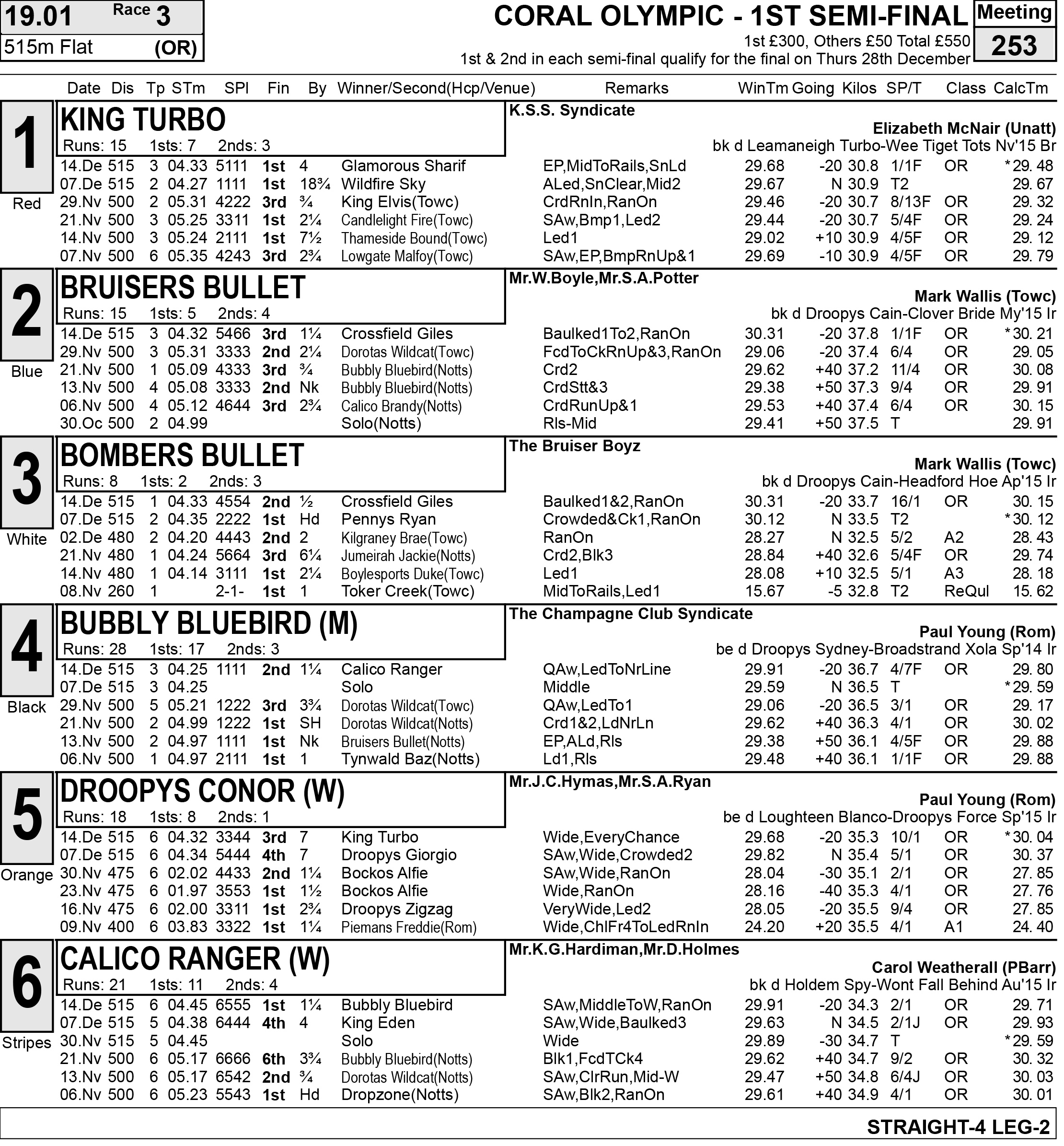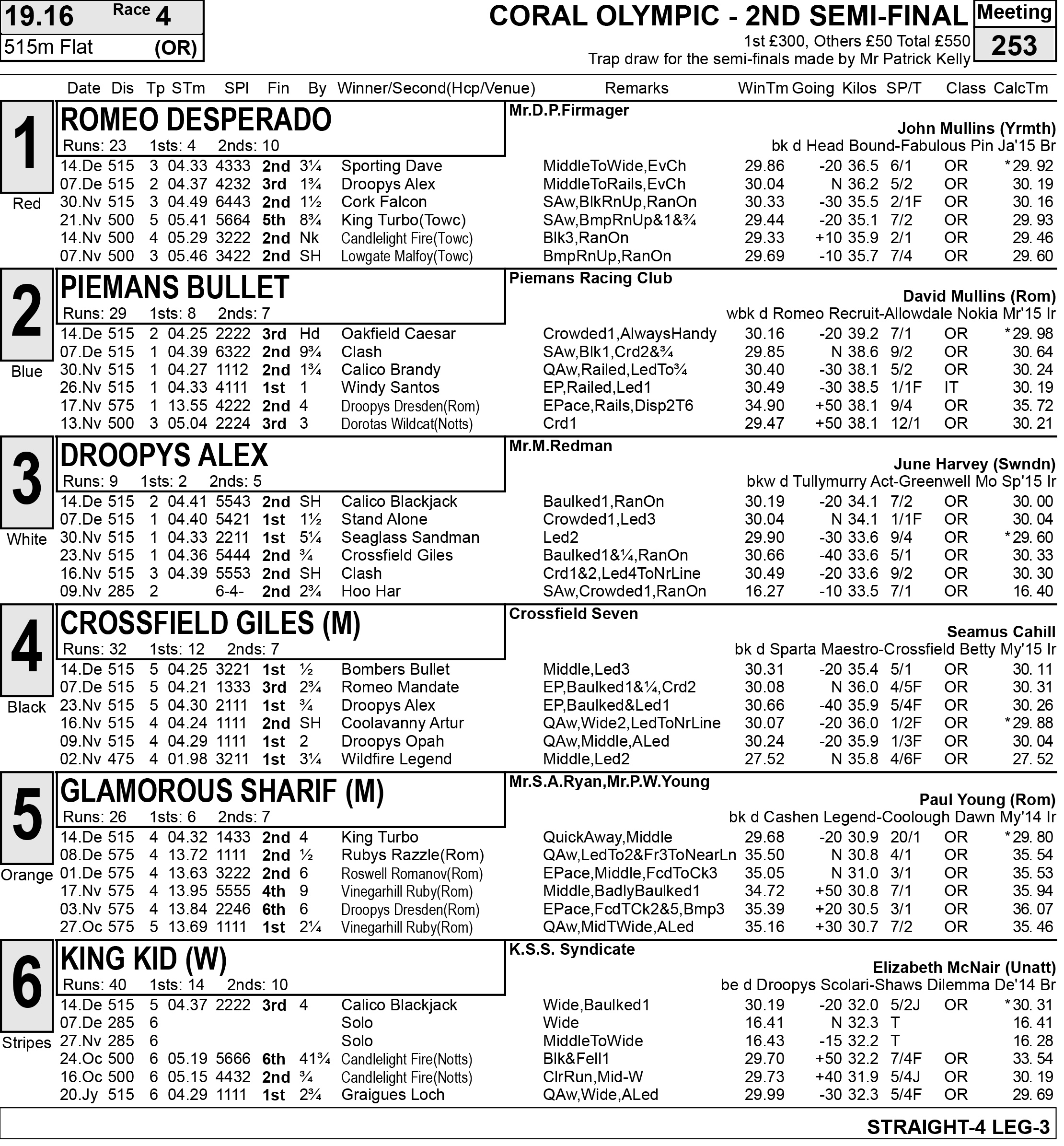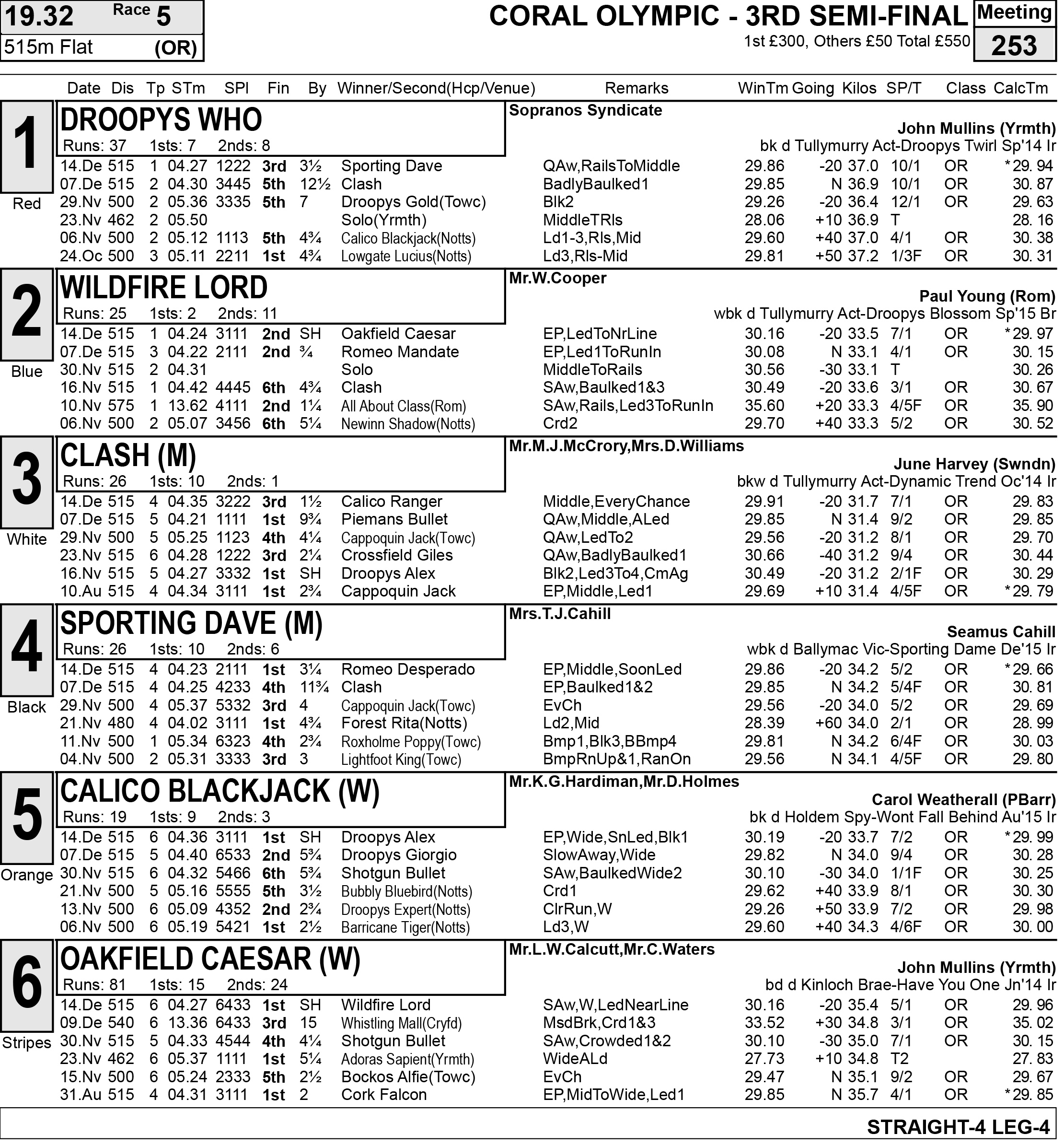 Despite sending out the 4-7f for the final of the Coral Sussex Puppy Trophy, trainer Patrick Janssens was quoted on this website last week warning of the dangers of relying on inexperienced pups and the potential to improve of Seamus Cahill's Droppys Nirvana (Romeo Recruit-Droopys Quinta, Apr 16). Both prophesies proved correct with Janssens' Seaglass Sandman (4-7f) running from blue and Nivana in stripes.

All footage courtesy of GreyhoundsNow