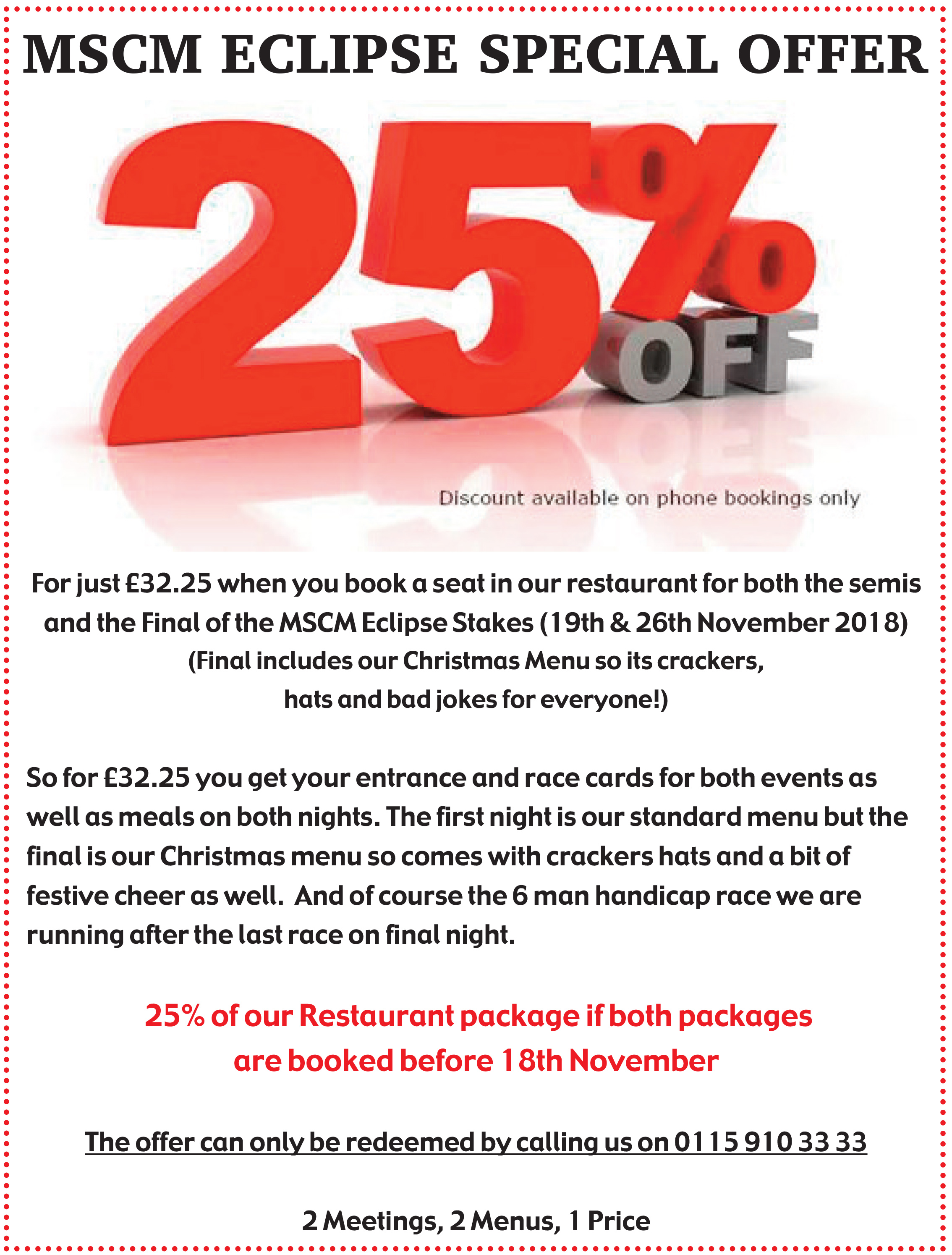 It's MSCM Limited Eclipse semi final evening at Nottingham stadium tonight and sponsor Mark Lowther has a competition of which he can be proud. 
Star Sports English Greyhound Derby Final winner Dorotas Wildcat will line up as a hot favourite for semi final 1 at 8.23pm.  After winning 'The Derby' and initially being sent to stud duties , few would have blamed trainer Kevin Hutton and the team if that had been the last we'd seen of 'The Cat' on a greyhound track.
These greyhounds love to run though and not only do they love to run but they love to chase and compete , it is what they were bred for , it is in their DNA and a champion greyhound like Dorotas Wildcat is in his absolute element when he is bowling ahead of his rivals on a greyhound track.  It is what he was born to do and there is no finer sight.
Some felt that though he won his two comeback opens at Swindon well , he looked a little ring rusty.  That's to be expected though and the cobwebs had been well and truly blown away judging on his trial at Nottingham and then a quite stunning 9 length victory in last weeks first round heat.
Drawn in trap 1 tonight , not the greatest of boxes for breaking from at Nottingham , he can't afford to be too slowly into stride.
He will though be aided by the fact that Jill Llewellin's blue fawn bitch Nidderdale Lark isn't likely to be looking for the rail too soon before the bend so there should be plenty enough space for Wildcat to run into as he heads up the straight first time.
Lark has been running out of her skin for trainer Llewellin in the last few weeks , winning heat and final of a small 480m competition at Nottingham in the two weeks prior to 'The Eclipse' , she again ran an excellent race when leading a good field a merry dance for a long way until inevitably being claimed close home by Pat Rosney's William Hill Northern Puppy Derby Winner Droopys Trawler.
That was no mean effort from Lark so should serve as a warning to Wildcat supporters that he doesn't want to be too tardy from the boxes before the window of opportunity to pass on the inside will be closed , for the time being at least , as Lark rails tightly around the first two bends.
Honour Turbo looked drawn wider than ideal in trap 4 for last weeks first round heat.  Home bred by trainer Adrian McPherson by his sire Lemon Pumba and out of dam Lemon Velvet , this strapping 37 kilo white and fawn dog simply pinged from the lids and made the draw an irrelevance as he made every post a winning one.  He'll need a similar break tonight but if doing so he's no easy dog to get by when on the bunny.
The aforementioned Droopys Trawler lines up from trap 4 this evening, he's going to need the gaps to appear to win this race, but he's a dog who will not mind coming through the pack late on.  He'll need a little luck in running but, as he showed in last week's heat, if he gets it he shouldn't be too far away and might just steal that second position to qualify for next weeks big final.
As noted in the review of the first round, Ballymac Twitter had run somewhat disappointingly in his heat and it's therefore not come as too much of a surprise to see him withdrawn lame from this first semi final , leaving trap 5 vacant.
As such that gives Heather Dimmock's Donation what would appear to be a wonderful draw in trap 6.  Possibly the finest bitch in training , recent Lowther Stakes sponsored by MSCM Limited Winner at this venue , Donation then went on to finish runner up in the Coral Brighton Belle Final earlier this month , beaten just half a length into second by Ballymac Miscula.
Donation shows her best form when leading as do most greyhounds , however she doesn't have to lead and will be keeping a careful eye on Trawler as for me one of that pairing will be claiming that all important second qualifying position for the final.
Betting 2-5 Dorotas Wildcat, 6-1 Donation, 10-1 Droopys Trawler, 16-1 Honour Turbo, 25-1 Nidderdale Lark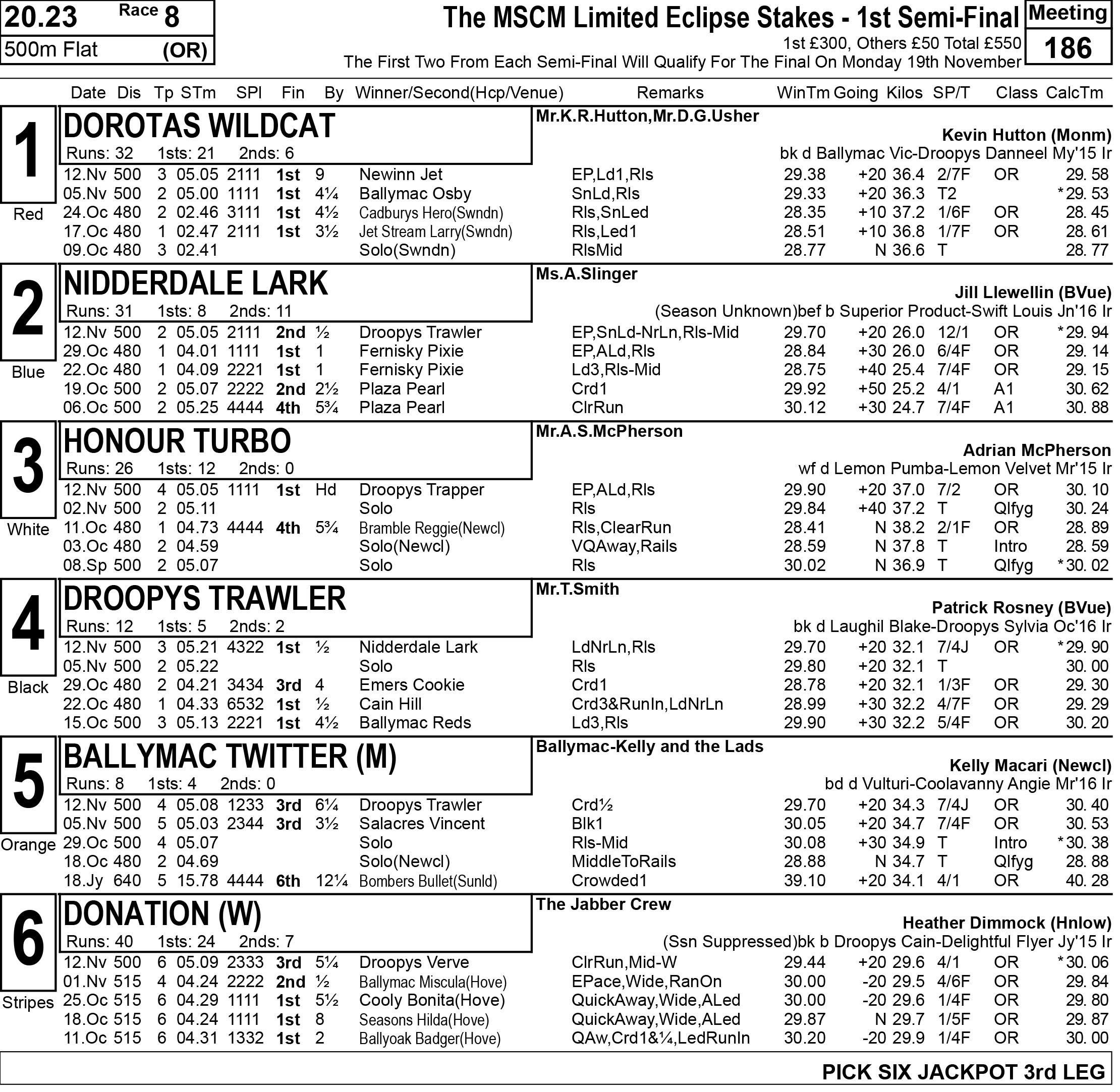 Semi final two takes place at 8.37pm and as with the previous race , we are likely to have a strong odds on favourite running from trap 1.
Angela Harrison's Droopys Verve gained quite the compensation for finishing runner up in this years Derby Final by taking the spoils in the Dundalk International in a new track record time before an awesome performance when landing the William Hill All England Cup Final up at home track Newcastle.
After not being foot perfect at trap rise
in last weeks heat
, a shock momentarily looked on the cards as Ballymac Osby powered to the turn , you don't give greyhounds of the calibre of Verve an opening though and as Osby moved off at the first bend Verve needed no second invitation to rail around the first two bends in the manner of a superbly balanced and pacy greyhound.
Verve doesn't want to be breaking in the style he did last week though , the runner drawn in trap 2 this evening , the Paul Shore trained
Funk Factor
, is nobody's fool, this is a serious greyhound in his own right with fearsome early pace
as he showed in last week's heat
.  Verve will find that if he isn't fluent at the start , Funk Factor will not be giving up the rail in quite the same manner that Osby did last week.  The initial few yards of this race will be key to the race.
Newinn Jet for trainer Rosney put a run of inconsistent form behind him a couple of weeks ago when winning an Eclipse Trial Stakes.  He was well beaten last week when qualifying for tonight's semi final behind Dorotas Wildcat , he'll need to be at his very best if he's to take one of the two qualifying positions this evening in what is a hot race and from a perilous draw.
Kennel mate Spearten is another greyhound trained by Pat Rosney who has not only suffered badly from a poor looking draw this evening but has done so on quite a few visits to this track over the last few weeks.   On paper he looks to have a task resembling mission impossible to qualify , however as we all know , greyhound races aren't run on paper and anything can and often does happen.
Droopys Trapper runs from trap 5 and is the second representative to be trained out of the Alnwick base of Angela Harrison and Jimmy Wright.  In many ways I believe Trapper could now be the kennels leading hope for this competition.
He was badly in need of the look around in his pre competition trial and though beaten by Honour Turbo in last weeks heat when finishing second beat just a head in a photo finish , he again looked in need of the look around but was noted doing a lot of good late work.  From what looks a fair draw tonight he should go very well.
Madabout Philip runs from trap 6 for Kevin Hutton and the team and though he is the obvious third string from the kennels trio of semi finalists , he is a lightly raced sort who probably has plenty more to come.  He'll need crowding on the inside if he is to progress but in a race where that is far from inconceivable he could well do so.
Betting 8-13 Droopys Verve, 3-1 Funk Factor, 11-2 Droopys Trapper, 25-1 Madabout Philip, Newinn Jet, 50-1 Spearten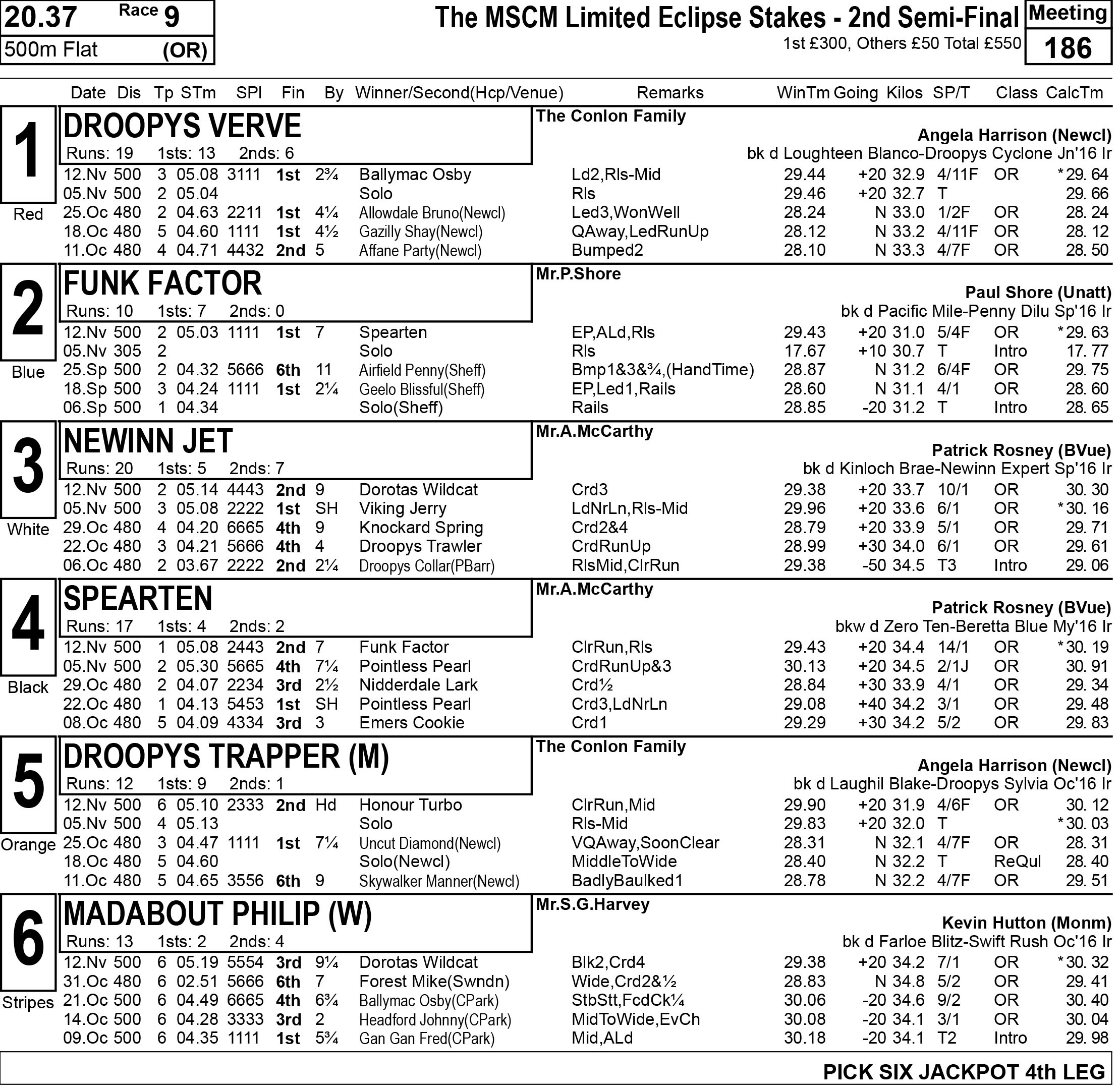 The third semi fiinal takes place at 8.51pm and if there was an award for 'most Improved' greyhound over the last month or so then it would undoubtedly go to the Jim Hayton trained , Viking Jack Pack syndicate owned Viking Jerry.
Quite puzzling given the breeding of this greyhound , being sired by the strong running Viking Jack , Jerry is fast becoming an early paced flying machine with early pace to the turn that few can match.  Breaking the 5 second barrier around Nottingham these days is becoming quite a rare occurrence however when leading an Eclipse Trial Stakes a merry dance for a long way a couple of weeks ago he posted a flying 498 split.  Last week's first round heat split of 5.05 wasn't exactly shabby either.
If Jerry comes away then he's likely to lead on the inside at least , the problem is that this greyhound is quite simply finding the 500m at least 50m too far in top open class company.
All the same it is some effort to see this home bred youngster of just 2yo qualify for a Category 1 semi final at this stage of his career.
Going into last weeks first round I have to admit to not knowing too much about Stuart Buckland's Dower Rory.  I know a lot more now though , he ran a very eye catching race behind a good front running greyhound in Honour Turbo.  The chance of Rory qualifying looked forlorn as they approached the second bend last week , at least 9 lengths off the pace he seemed to be running the race that his double figure odds suggested he might.  Rory was to have non of it though.  There is no finer sight in greyhound racing to see a top class greyhound take off at speed along the back straight.  This is exactly what Rory did and after running a terrific last couple of bends he simply powered home up the straight to qualify in third , beaten just 1 1/4 lengths before pulling clear of his rivals to the pick up.  He's far from a certainty to qualify for next week's final but this is a greyhound to keep in your notebooks , especially over staying trips.
Lynn Cook's local runner
Swift Taxman
made every post a winning one after taking a flying break in what looked on paper at least the
weakest of the first round heats
.  He'll need a similar break to lead round tonight and with Jerry drawn against the rail that wouldn't be guaranteed even if doing so.  With at least a couple of strong runners in the field that could come through late , his chance , on paper at least , would appear to be tough.
Ballymac Osby lines up from trap 4 and is the last , but by no means least of Kevin Hutton's semi finalists.  A greyhound of immense stature , weighing in at 37 kilo , this son of Kinloch Brae has pace to burn.  After leading early last week his loyal supporters believed he had set sail for victory , he wasn't fluent around the first bend though and this allowed Droopys Verve to take command on the rail.  Osby went down in second place by just 2 3/4 lengths , he's a greyhound firmly heading in the right direction and though he's drawn wider than ideal in this semi final, he's not a greyhound I will be looking to take on lightly anytime soon.
Loher Honey runs from trap 5 for local trainer Jill Llewellin.  Honey had won a couple of puppy opens around this venue in the past weeks and did well to qualify in second place last week behind Swift Taxman.  That was though , as previously noted , the weakest of the first round heats and Honey will need to find huge improvement if she is to progress to the final.
Calico Blackjack runs from trap 6 for St Leger winning trainer Carol Weatherall.  This is a greyhound who has obviously had problems throughout the whole of 2018 and though doing well to qualify for a semi final such as this , he doesn't look to be sparkling as he did in 2017.
Blackjack will have to show much improved form just to qualify , but does have a reasonable make up on the outside and as highlighted by the St Leger winning victory of his more illustrious brother Ranger on Saturday night at Perry Barr , he couldn't be in better hands.
Betting 15-8 Ballymac Osby, 9-4 Swift Taxman, 6-1 Calico Blackjack, 7-1 Dower Rory, Viking Jerry, 16-1 Loher Honey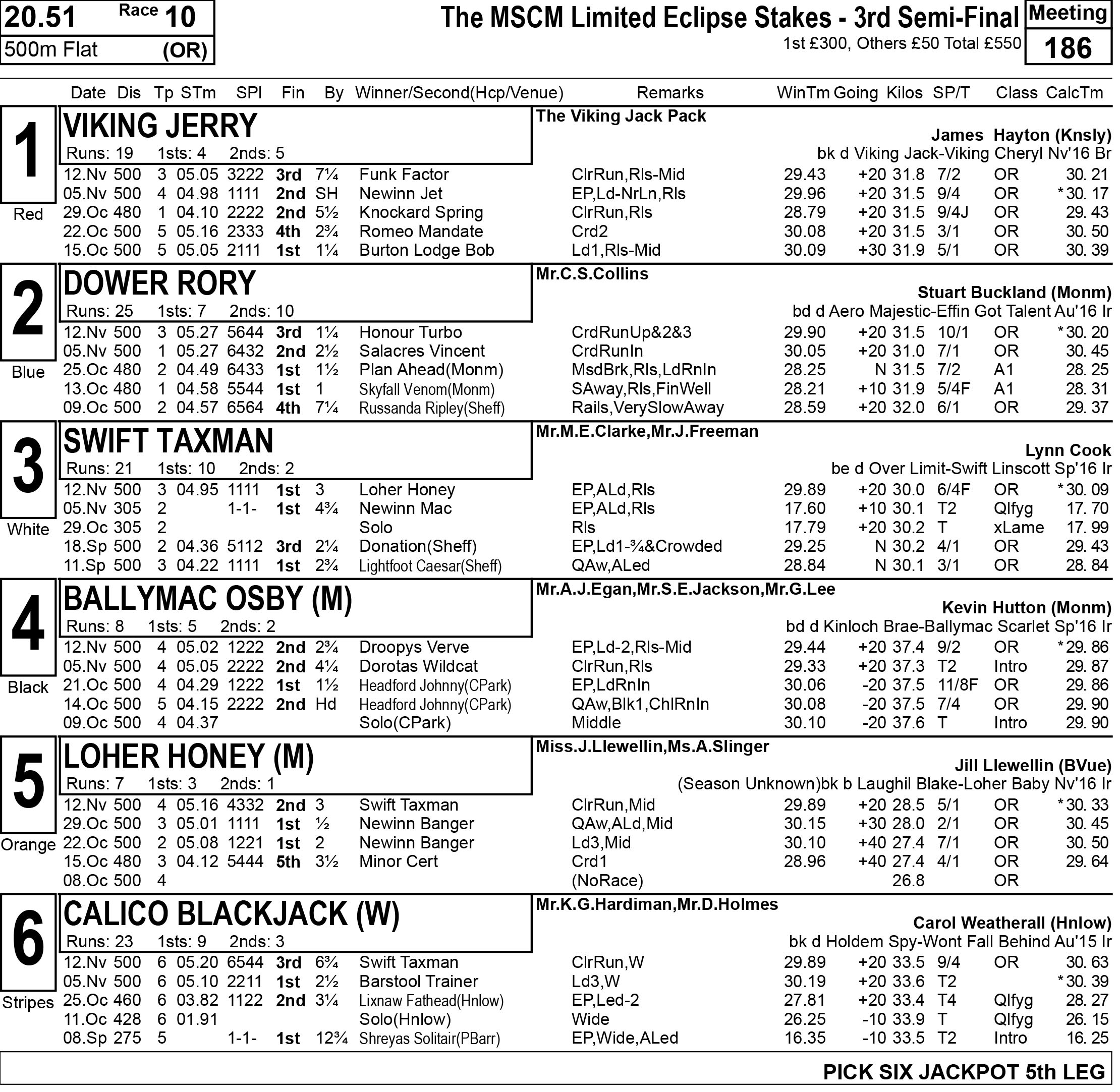 The very best of luck to all 17 greyhounds taking part in the semi finals of the MSCM Limited Eclipse , which ever 6 progress to next weeks final , it looks sure to be a race of outstanding quality.