Sean the decorator popped round last week. We didn't have Rushy on his previous visit 18 months earlier. She took the chance of some extra attention. You can imagine the next few seconds . .
"Ah isn't she lovely? Is she retired or rescued? Does she take a lot of exercise? Isn't it a shame what happens to most of them?"
Sean – did you realise that 86% of ex-racers are rehomed?
"YOU ARE KIDDING ME! I had no idea"
I've had at least three similar conversations since and on every occasion have had the same reaction. Astonishment! Sometimes I even throw in 'we could probably re-home 98% if them if we had a levy like horse racing.'
Greyhound racing was never as bad as we were painted, but by making us publish our injury our re-homing figures, the Government has done us a huge favour.
So why aren't we shouting about it?
How many tracks give that sort of information on their racecards? Or flash it across their monitors?
Why isn't the GBGB website screaming 'WE REHOME 86% OF ALL EX-RACERS AND WE ARE STRIVING TO INCREASE THAT NUMBER TO EVERY SUITABLE GREYHOUND BEING RE-HOMED?'
Yet I still get chastised by folk saying, 'don't feed the antis by talking about injuries and re-homing'
WTF!
The information is all out there – and although we can and must push on and continue to evolve, quite frankly, it was a huge disappointment to them.
Of course none of this has influenced Paddy Power/Betfair or Skybet to do the right thing on their internet betting by paying voluntary contributions into the BGRF. Though I do understand that Skybet are due to meet GBGB within the next month.
I thought Carl Harris' 'Pay Up Betfair' video and website was a superb idea. We've been in regular touch and agree that we have to maintain momentum.
He coined a phrase for Betfair's behaviour that summed it up 'a special brand of shameless'.
So be it.
Mark Bird has an interesting scheme lined up which he will no doubt go public shortly.
But the grass roots can still do more.
Close your Betfair account and open one with Betdaq, I am. Then give Betfair some stick on their forums.
Personally, I want to obtain the phone numbers of senior Betfair staff – they are closely guarded but some of you must have them.
If you do – send me a discreet email.
I WILL publish the phone numbers. We can then invite greyhound supporters to phone the Betfair top brass and discuss their scumminess on greyhound welfare.
I will happily make the first call to Betfair Barrie – or better still, to his boss.
We are not going away!
Incidentally, I am aware that Lord Hesketh has written to GBGB concerned that 'the Fund' will accept a letter from a financial director of a betting company as evidence as to the greyhound turnover of the business.
This has come about because Betfred is a privately owned company and the perception that 'Fred (Done, joint owner) won't pay, if he is made to divulge sensitive commercial information'.
The other contributors are Plcs whose auditors will naturally provide the information to shareholders.
A number of high profile industry figures believe that any failure to contribute by Betfred would give Paddy Power/Betfair the perfect excuse to avoid payment.
However, Hesketh's view is that financial directors are often conflicted. He cites this week's failure to re-appoint GVC director Peter Isola as explained in this Guardian article.
Hesketh's view is firstly that a 0.6% return from turnover is inadequate and allowing financial directors to submit those returns is also far from ideal.
"Even assuming you can theoretically persuade these companies to do the right thing" he states, "the devil is in the detail."
Like the punter who only remembers his winners, I get a bit vague as to any prophesies that haven't come to plan. But like the time I backed Padraig Harrington at 50-1 to win the 2008 open, I find it much easier to recall the times I was a tipping God. (To be fair, there aren't that many to remember).
Here are another couple that seem to be going as predicted.
Firstly, I can clearly remember foreseeing how a greyhound shortage would result in cancelled meetings.
(Now some of you might claim, correctly, 'Big deal, he's been predicting that for the last ten years'. True – but I hadn't taken into account the losses of Coventry, Hull, Portsmouth, Reading, Walthamstow, Mildenhall, Wimbledon and Hall Green during that period. The dog shortage might have come a bit sooner if they were still open.)
So it was interesting to see Hove taking the decision to cancel three consecutive Saturday meetings.
Just think about it. Hove!
And don't assume the decision was all about one kennel being in temporary quarantine.
There have been a rash of five-dog races and in Misterin Zippy they have the most prolific racer of 2018 – by May 5 he had been to traps 33 times this year. If he carries on that rate, he will be up to 73 races in a year. Clearly unsustainable.
But this is not predominantly a Hove issue. It will bounce back under the leadership of its energised new boss.
This issue concerns the whole industry.
We are currently seeing the glut of greyhounds born in 2014 reaching retirement age. There were probably around 17,900 Irish pups registered that year.
In 2015, that number would have fallen by just under 600. In 2016 that would have shrunk a further 1,200, and another drop of around 500 pups whelped in 2017.
That is also, clearly, not sustainable.
The second prediction and even more pertinent follows the announcement on Thursday of Amazon securing their first deal to show 20 matches of live Premier League Football.
Now it didn't take Nostradamus to know an internet option to digital sports broadcasting was coming, but it clearly puts greyhound racing's SKY TV deal aspirations into context.
BBC's Richard Conway noted: "It is not about watching TV through a traditional broadcaster, but consuming content on the most convenient piece of glass you have to hand, whether that be a phone, tablet or smart TV to stream it on.
"Consumer habits are changing, the pace of change is very swift, and by the time the Premier League comes to negotiate the next round of rights, the internet giants will be firmly in for it and will be big challengers, especially to Sky."
Clearly SKY TV is not about to go out of business, but it will be sharing our attention with internet delivery, with all the opportunities that it offers.
But in conversation with greyhound folk, I think many are still missing the point. It doesn't matter, when the viewer turns on his smart TV and doesn't know whether he is watching internet or digital TV coverage.
The important bit is that the provider of the product – the greyhound track – is retaining ownership of that product. The internet provides that control at a very affordable price.
The future is not 'free' TV coverage like SKY or RPGTV, or even ARC or SIS. It is owning the delivery service – eg Towcester TV – and deciding who sees it, and how much they pay for it.
Imagine, it is 2020, you fancy watching the Lowther Stakes at Towcester. You can watch the racing for free if you register with Towcester or one of their betting partners. You might even want to bet directly into the Towcester tote – with a 4% retention, or maybe less.
But if Betfair, as an example, attempt to broadcast the live footage, they will have their arses sued off.
One final point – and it may prove a sobering one.
At the conclusion of the media rights battle, I firmly expect there to be track closures. Which ones is dependant on which side prevails, and other factors.
There will also be natural wastage, perhaps because promoters have retired and sold their tracks on for housing redevelopment. Others will simply struggle to remain open without a media rights deal.
A 16(ish) track greyhound industry might not suit many people reading this article but in my opinion, it will happen. Like it or not.
When it does, this will become a very lucrative industry.
It has been a long hard road to switch from a monthly newspaper to a daily website.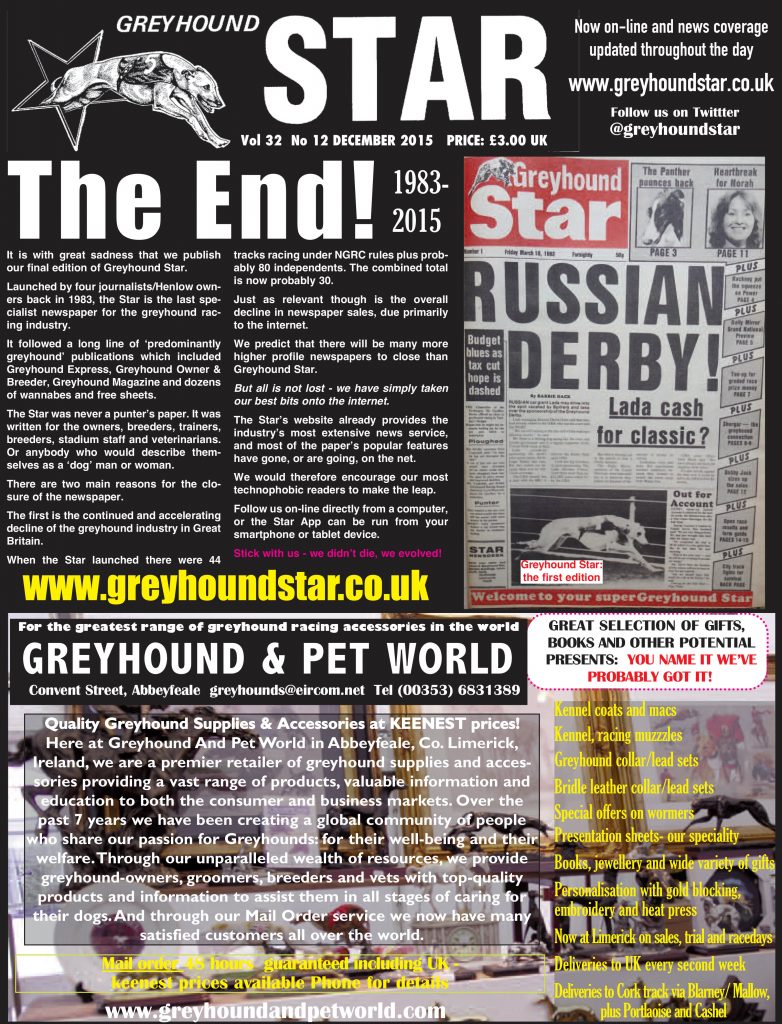 You start off by losing probably three quarters of your readership, advertising plummets, and in the background, two individuals, who I shall only refer to as 'Barry and Tommy Chuckle' seem intent on closing you down.
But we've defied them. Month by month have grown stronger.
At a peak, 25 years ago, with combined around 80 NGRC and independent tracks, we probably sold around 9,500 papers per month.
When we closed the paper in December 2015, it was less than half that. I can't give exact figures because we relied on returns which might take months to receive and calculate.
But slowly the website has gained momentum and in recent months all records are being continuously broken.
The attached chart is dated for today and produced by Google, through its Google Analytics division.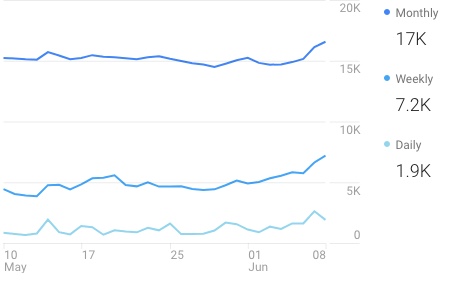 It shows that we have just under 17,000 regular active monthly users – that is not the same as hits – if you visit the site 30 times in a month, you are still only registered as one user.
The ambition is 20,000 – which would be some going in a small industry apparently on its arse.
We've evolved and moved on – and greyhound racing will do the same.
Thanks for your support folks!