It was the Hebrew book Ecclesiates which first coined the phrase 'there is nothing new under the sun".
Certainly when Glenn Hockings related the story of Batteredbroccoli, last week, I was reminded of a similar tale with a personal involvement just over 39 years ago.
To try to keep the story as brief as possible, back then the family ran a small stud in Suffolk. After numerous failed attempts, we finally managed to achieve a first mating for Scottish Derby winner, Pat Seamur. The dam was mum's brood, Ellie Sheba.
Whelped in May 1980, they proved a decent litter with five open winners. The best two though, were a blue brindle dog and a black bitch who were bought at 12 weeks old and reared by a young couple from Gorleston, near Yarmouth.
They were the first greyhounds the couple had ever owned. They converted the garage and took the pups to the local park, golf course and on the Norfolk beaches.
Everything I thought I knew about rearing pups was turned on its head. Hurry Up Sheba became the first pup ever to break 29.00 on debut at Yarmouth and won many opens. Foolish Hero ran second to the brilliant British bred Duke Of Hazard in the Silver Collar at Walthamstow and was quoted at 33-1 for the English Derby.
Ellie Sheba's litter do not merit more than a half a breath in a review of British breeding, but the Brits inability to acknowledge the quality of their own stock has driven me to distraction most of my life.
It was a comment from The Sporting Life reporter Reg Potter "for all their best efforts, British breeders can never hope to match their Irish counterparts" – I have never forgotten it – that drove a furious 14 year old me to pen my first 'letter to the editor".
It was ignored, though it might have been the inspiration that led to my penning the Life's breeding column from 1983 until they bought out Racing Post and amalgamated the two.
(Yes, contrary to popular belief, the Life bought the Post – not the other way around. It's a long story).
Most people will acknowledge the genius of Nick Savva – for my money the best breeder of greyhounds, anywhere, ever.
But as great as the Westmeads have proven (and be sure to include the non-prefixed runners, Sonic Flight, Phantom Flash, Spiridon Louis etc), they were not in isolation.
For years, Joe Cobbold gave Nick a run for his money with the 'Decoys'. It was a friendly rivalry, they even share litters. Nick's brother Theo produced a string of quality 'Rikasso' hounds. Joe's son Trevor also added to the Decoy legacy.
Who remembers Jane Hicks with Yankee Express, Lone Wolf and the rest? Or Surrey based John O'Connor, breeder of Irish Derby winner Daleys Denis and English Derby winner Shanless Slippy. Or Alice Swaffield who won an Irish Derby and Leger in the same year with York born Batties Rocket and Batties Spirit?
What about Willie McAllister (Slippy Blue)?
Want more great Brits? Jimmy Lollie, Staplers Jo, Palace Issue, Bobs Regan, Glatton Grange, Sports Promoter, Gigolo Diomedes, Eden The Kid, Larkhill Jo. And more recently of course, King Turbo, King Elvis, Queen Beyonce . . .
But it has always been that way – even before your time Mr Potter!
The first ever Triple Crown winner (English, Scottish, Welsh Derbys) Trevs Perfection was born in Northumberland.
Narrogar Ann, Ford Spartan, Endless Gossip, Rushton Mac, Chittering Clapton, John Silver to name but six – all won English Derbys.
Did you know that the first English Derby winner Entry Badge was born on the Isle of Thanet, and that the second, Boher Ash, was born in Scotland?
So where is this leading?
Well, due to a combination of factors, for the first time in a very long time, there is a growing reason to breed British.
These are various issues as I see them, and the reasons why home bred might be an option:
Cost
The greatest reason NOT to breed has been cost. Why spend £1,500 buying and rearing a pup when you could buy a perfectly decent Irish bred for £800?
But we live in changing time. For example, Ireland produced 36% fewer pups in 2018 than in 2008. Britain produced 68% fewer in the same period.
Yet – as we demonstrated in an article on race volume last week, the number of races hasn't fallen.
The only possible solution is to lower the standard. Scrape deeper into the barrel.
We are now in a situation whereby any greyhound that chases the lure can find a grade somewhere and thus has a value.
If your dog needs a 15 metres start in a handicap, check it isn't a fat Labrador. Yet these dogs regularly find their way off the sales benches. You get a lot less for your £1,500 now than you did three years ago – not that that is a bad thing.
For breeders, there has never been a problem selling the star of the litter, it has been the inability to move on the seventh or eighth string in the litter.
Thanks to the media rights issue and the lowering of quality, those dogs now have a value. They may not be worth what they cost to rear, but at least they are offsetting some of the cost.
So what does it cost? That depends very much on how much you are prepared to spend on the pup and the rearing.
But working to round figures, the cost of rearing a pup with someone of the calibre of John Mullins or Richard Devenish will probably set you back in the region of £1,800 from 12 weeks until schooling age.
Welfare
While in no way being disparaging about welfare situation in Ireland, the fact remains that Britain is better equipped to deal with welfare issues with young dogs.
Britain has never produced litters in their thousands. Last year, there were 219. Of the 1,355 greyhounds roughly 1,000 will have qualified to race.
Take out those who died of natural causes between three months and schooling age, the remainder – predominantly non-chasers – are low in number and very 'homeable'.
Any re-homing organisation will tell you that it is easier to find places for 15 month old pups than ex-racers.
Although GBGB do not have jurisdiction over breeders, there is no good reason why any greyhound who fails to make it as a racer cannot be re-homed.
Opportunities
There have been some significant additional opportunities for British bred greyhounds this year.
In addition to the Produce Stakes, British Breeders Stakes and Northern Plate, there have been decent competitions at Henlow, Sheffield, Harlow and Doncaster.
But there is another far more important aspect to 'opportunities' that makes breeding so exciting.
It is the only chance that the average owner ever has of owning a champion. The days of barely schooled emaciated youngsters being put into greyhound sales by Irish farmers and then turning out to be superstars are long gone. Not that they were regular occurances even then.
The vast majority of greyhounds sold directly from Irish breeders are fully exposed to the seller after countless schooling trials.
Who can blame them? It is no good them selling you a £10K greyhound for £1,500. Owners are quick enough to moan when dogs don't make the grade, but very few will be phoning up and say "Very good dog that, I must owe you at least another £8,500."
This is nothing new of course and many trainers will take a chance on a well bred and well reared unschooled litter at £3-4,000 each and hope there is a star among them.
The reality is, most champions could have been bought for reasonable money when they were weeks or months old.
For those of us without the wherewithal or inclination to spend £30K on a top open racer (not that the come with guarantees), or £3,000 on a dog already known to have a limit as a top grader, it is a chance to dream.
Involvement
For me, this is the clincher!
Don't try to tell John Mullins that winning a Gold Collar with a dog bought for £20K carries the same emotion as a pup you have known and see grow up since it was a few weeks old.
Even grizzled old dog men like Rab McNair admit that there is a huge extra buzz from going open racing with a hound – or van full – that you have brought into the world, played with in the paddocks, taken to the schooling track and ultimately seen cross the line in front.
That personal involvement takes greyhound racing to a whole new level for most people.
In fact, you don't even need to own them. The breeder of a litter doesn't care if he has undersold sold a champion. There is a bond that will always tie him or her to that dog.
On Derby final night, the only person cheering louder than the owner who has watched a champion grow up is the person who brought him into the world.
TIME TO ENGAGE?
There are only two rules to remember if you are thinking of taking a chance on a youngster, or two.
1) Buy the best pup you can afford
2) Always, always, always, insist on the best possible rearing.
Failure to do BOTH of the above, is a recipe for mediocrity or failure.
Both can be quite complex issues and we will be bringing back a regular breeding column – as used to appear in the newspaper – in the coming months to address some of the issues.
In the meantime, if you are interested in the sort of pups currently being bred in Britain. Take a look at the list of litters born in 2019 to date. There are some incredible litters in there.
You never know, some may even be for sale. . .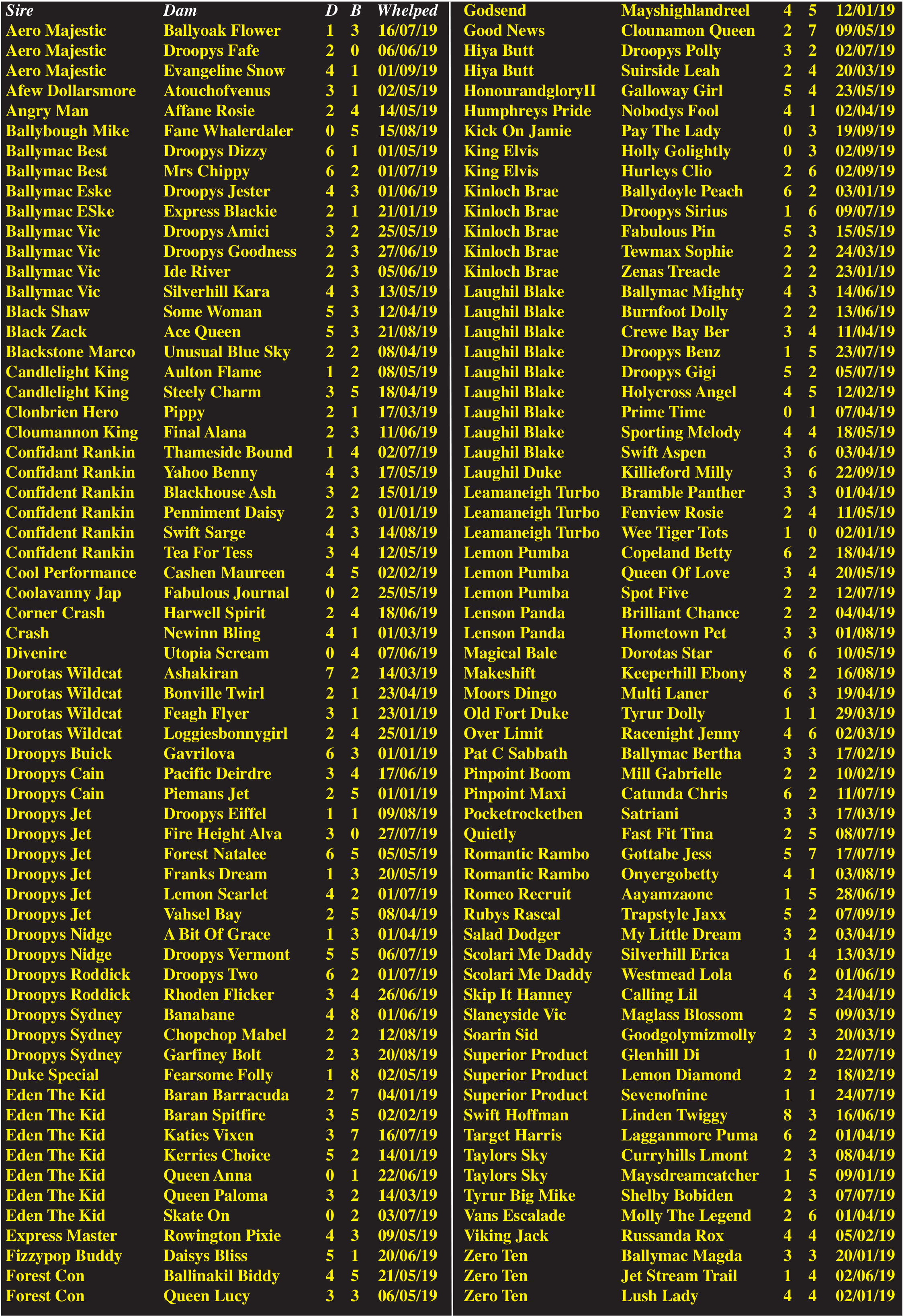 FINALLY – my thanks to Warrick Pinder, who many will remember in his days working for Harry Crapper, for the following link to Youtube.
Warrick writes: "I was wondering if it is of any interest at all to you that I had an old VHS copy hanging around the house that I managed to salvage onto disc before it got lost forever. I got a friend to upload a Yorkshire television documentary about greyhound racing from 1982 onto you tube.
"It's called Gone to the dogs from the series called Cleggs People. It featured footage at the kennels of Peter Beaumont as well as racing at Owlerton Stadium. I do find there is very little preserved film of this type.
So I was hoping it would be of interest to you and the team."