By general consensus the 74th RPGTV East Anglian Derby on Wednesday night will not necessarily be remembered as 'vintage' but even the slimmed down 36 runner version has produced a competitive final with six high class hounds in the line-up.
Previewing the whole card is the man who has overseen the nine qualifiers to date, plus the heats of the two traditional supporting events – racing manager Marcus Westgate.
He said: "There are a few more local runners in the opens than would be ideal, but we are delighted to have the night on and I do think it is a very competitive Derby final. As for the three graded races, I was quite restricted by the available runners, as to which trainers wanted to travel with a limited number of options, but I think they hold together pretty well.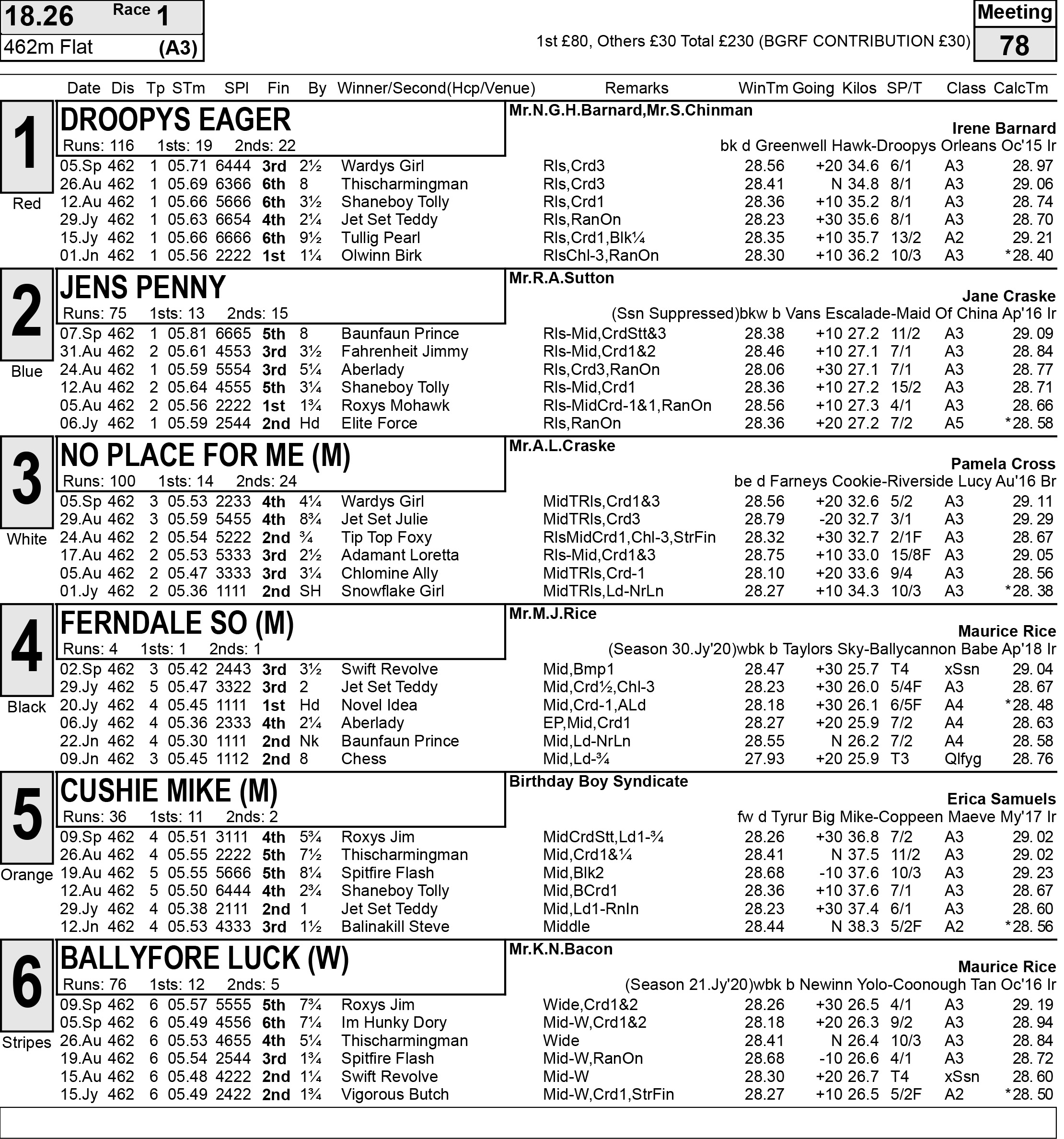 They are pretty much a solid bunch of A3 runners. Ballyfore Luck has been running higher grade but I don't think she is far enough out of season to be at her absolute best. I think Cushie Mike will be well supported in the betting but I think Droopys Eager will take a lot of beating in his usual draw on the rail after a good run last time out.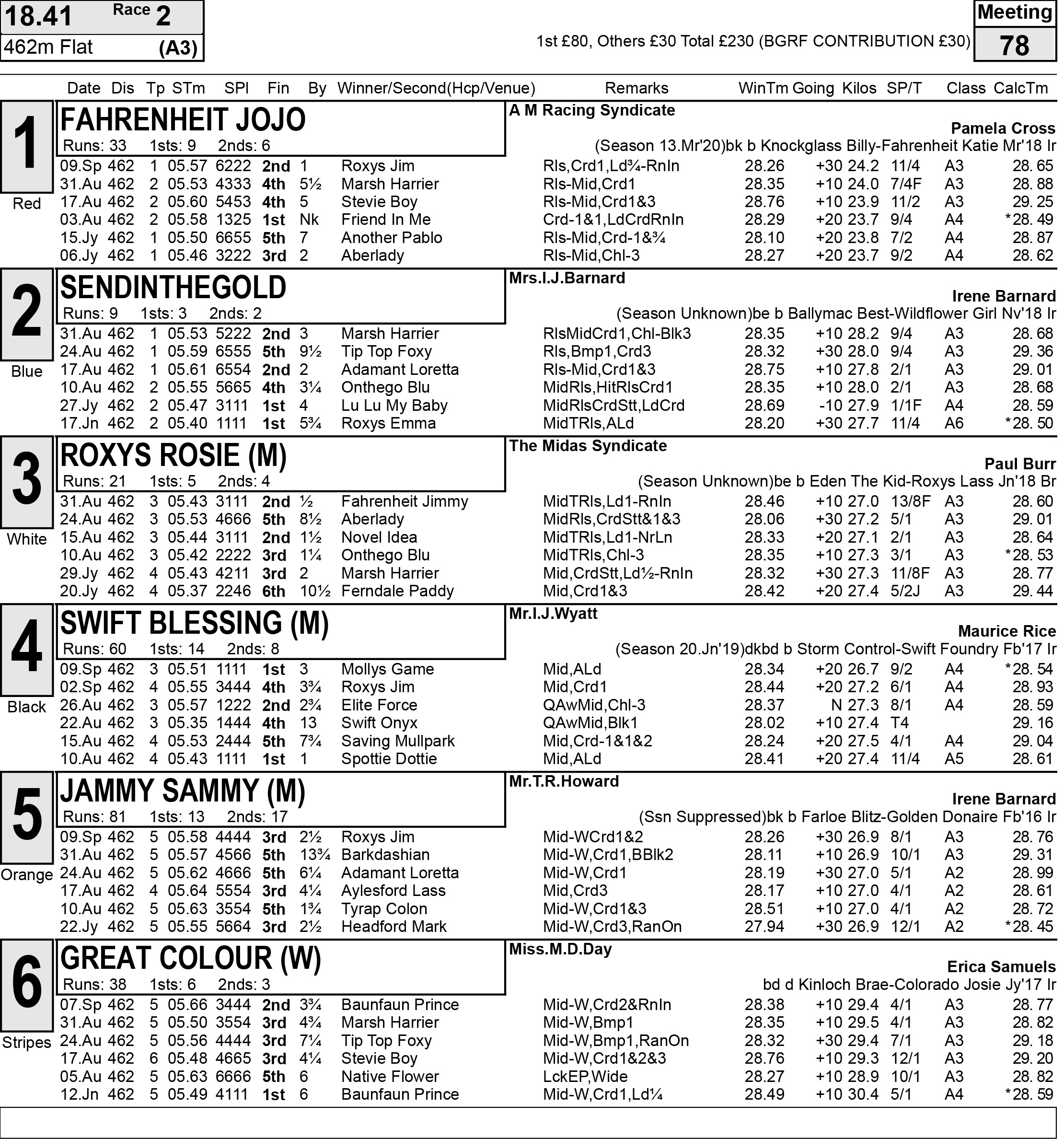 I expect Roxys Rosie to start favourite after a narrow defeat last time out but I have a suspicion that Sendinthegold will be good too good for her. Irene Barnard's puppy overcame all sorts of trouble last time out and is improving with every outing. Swift Blessing ran well last time out but has an upgrade and I would expect Great Colour to be running on in the latter stages.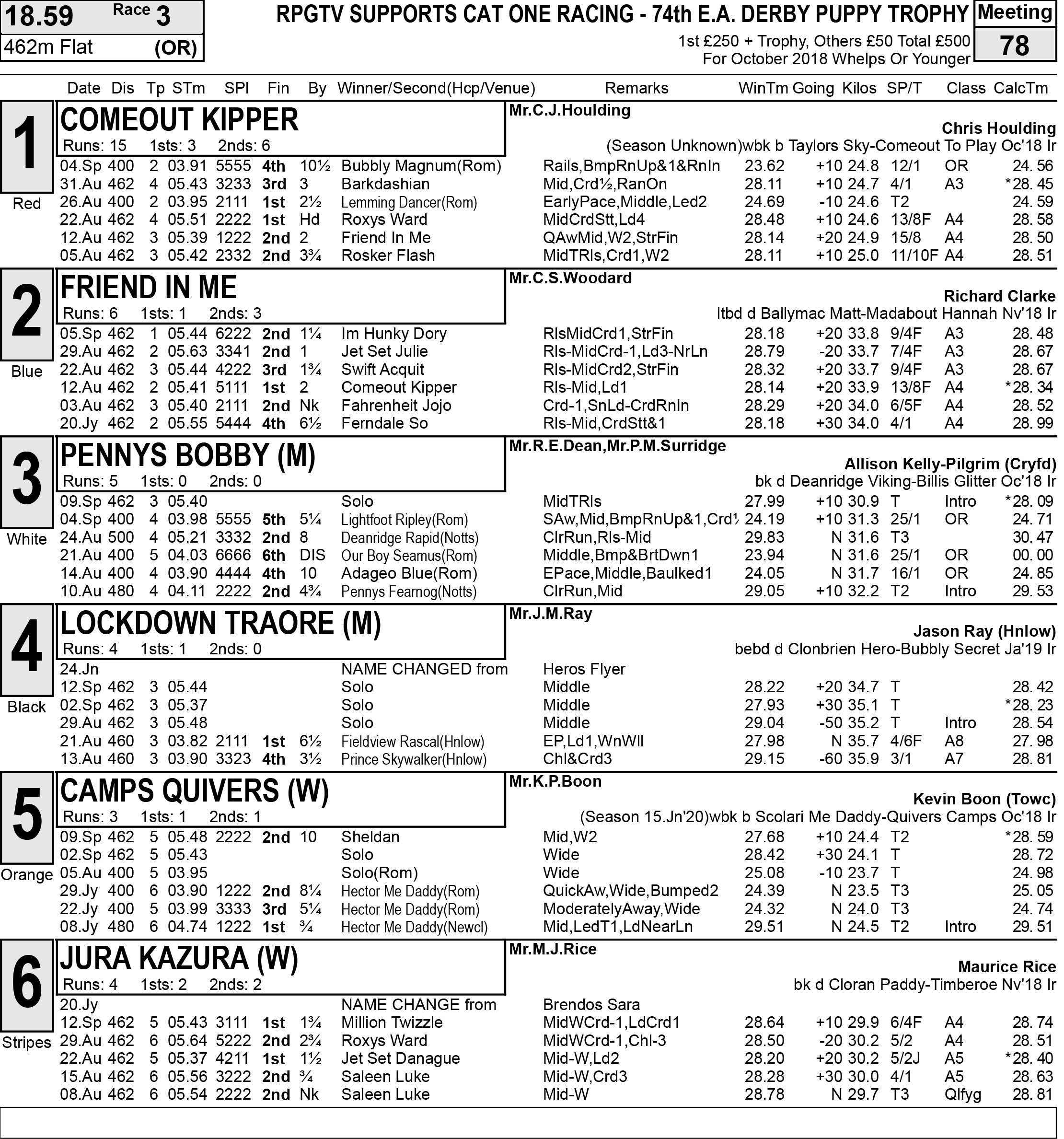 I have never professed to be a great open race student and don't know how well the three outside runners will adapt to the track in race conditions, though they have all trialled. Of the three locals, Friend In Me has really impressed me in his six races to date. He was narrowly beaten in his last three A3 races and is capable of better than he has shown so far.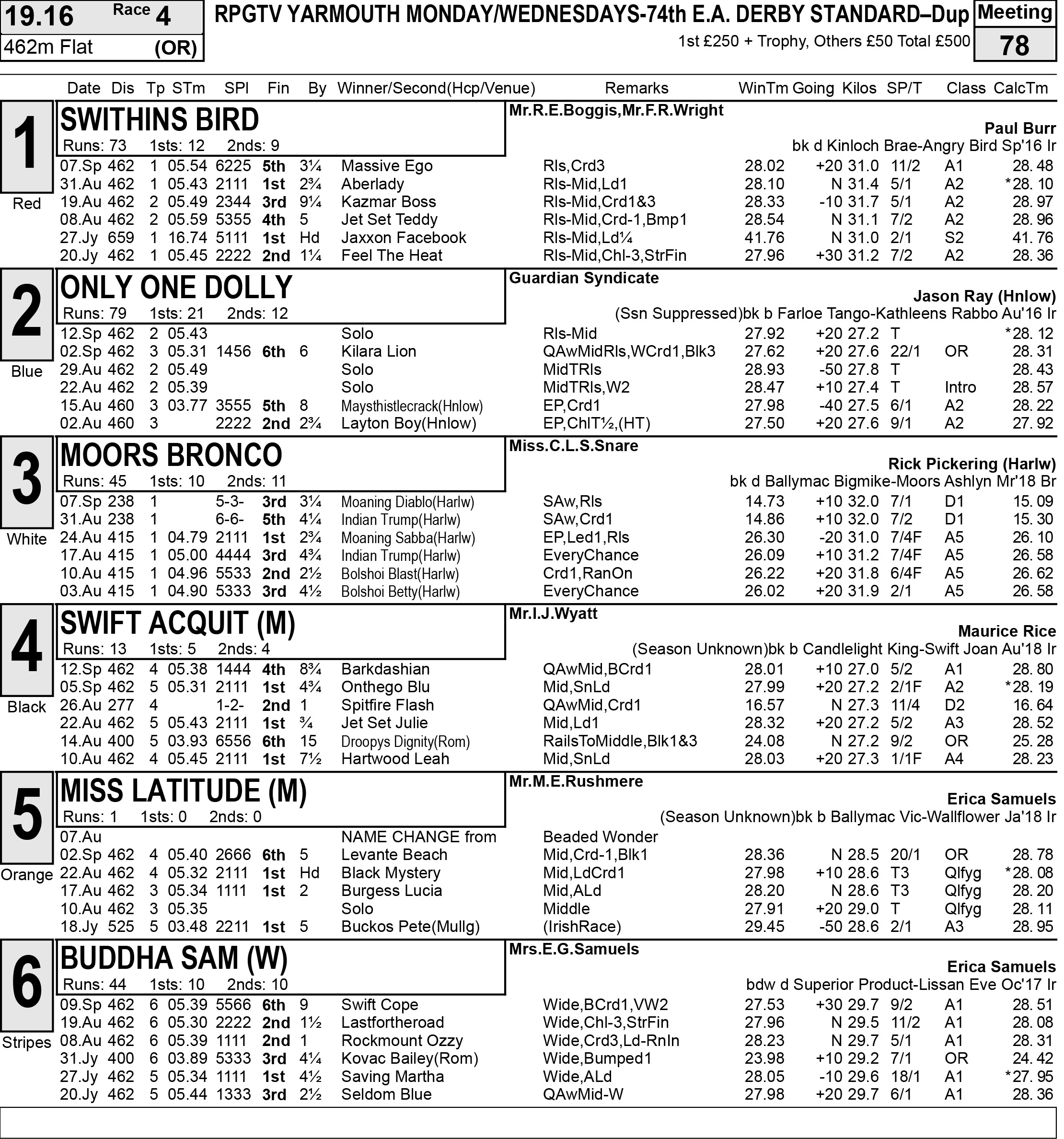 I thought Miss Latitude might have gone to the latter stages of the Derby after going well in her trials. She is a sister to Lastfortheroad and I think Erica Samuels will have her absolutely buzzing for the big night. Swift Aquit looks the obvious danger.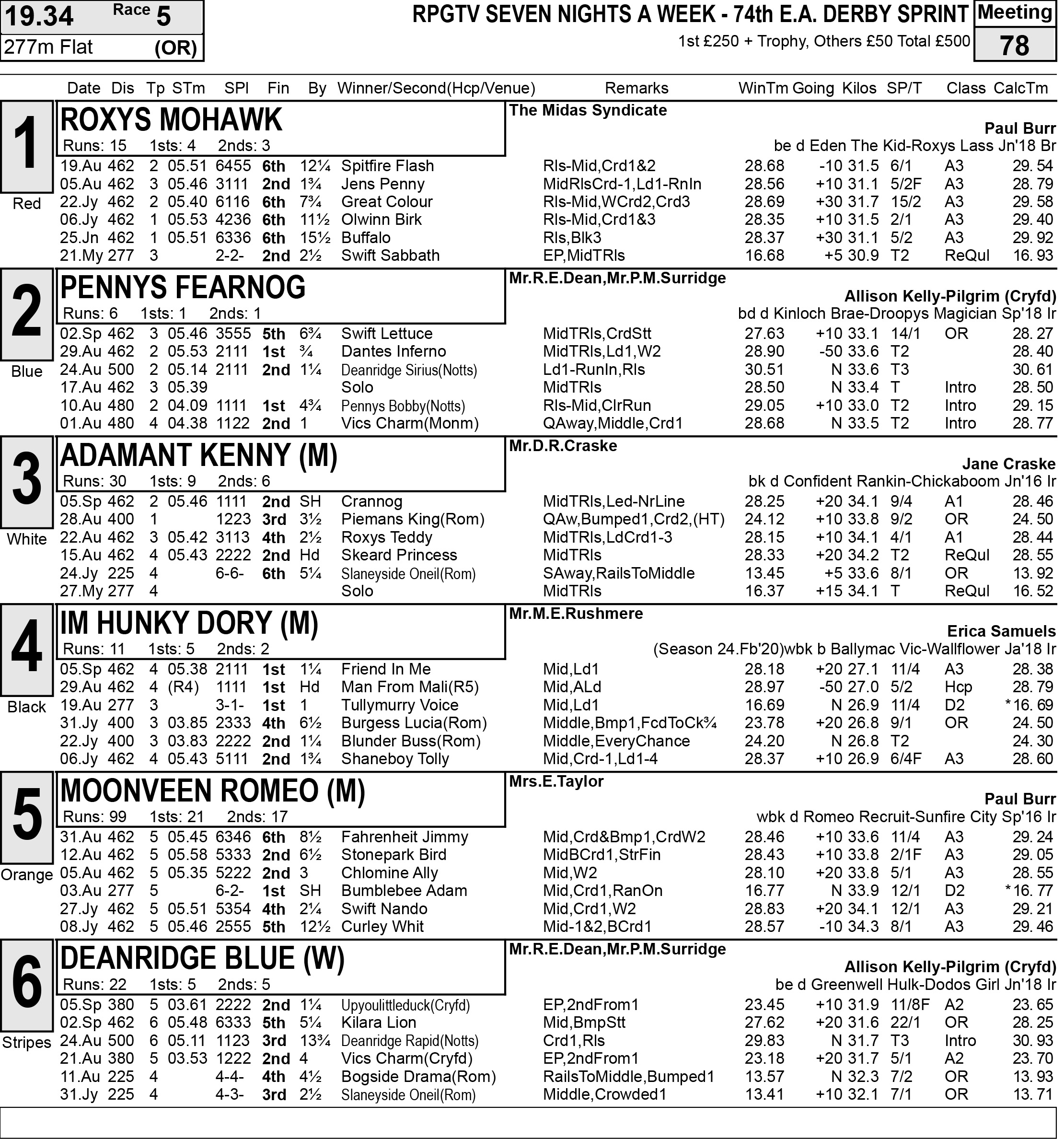 I was a bit concerned over the draw prior to it being made, but thankfully Moonveen Romeo is drawn the widest of the middle seeds. There are very difficult to split but I think the draw will suit Im Hunky Dory with Adamant Kenny as the danger.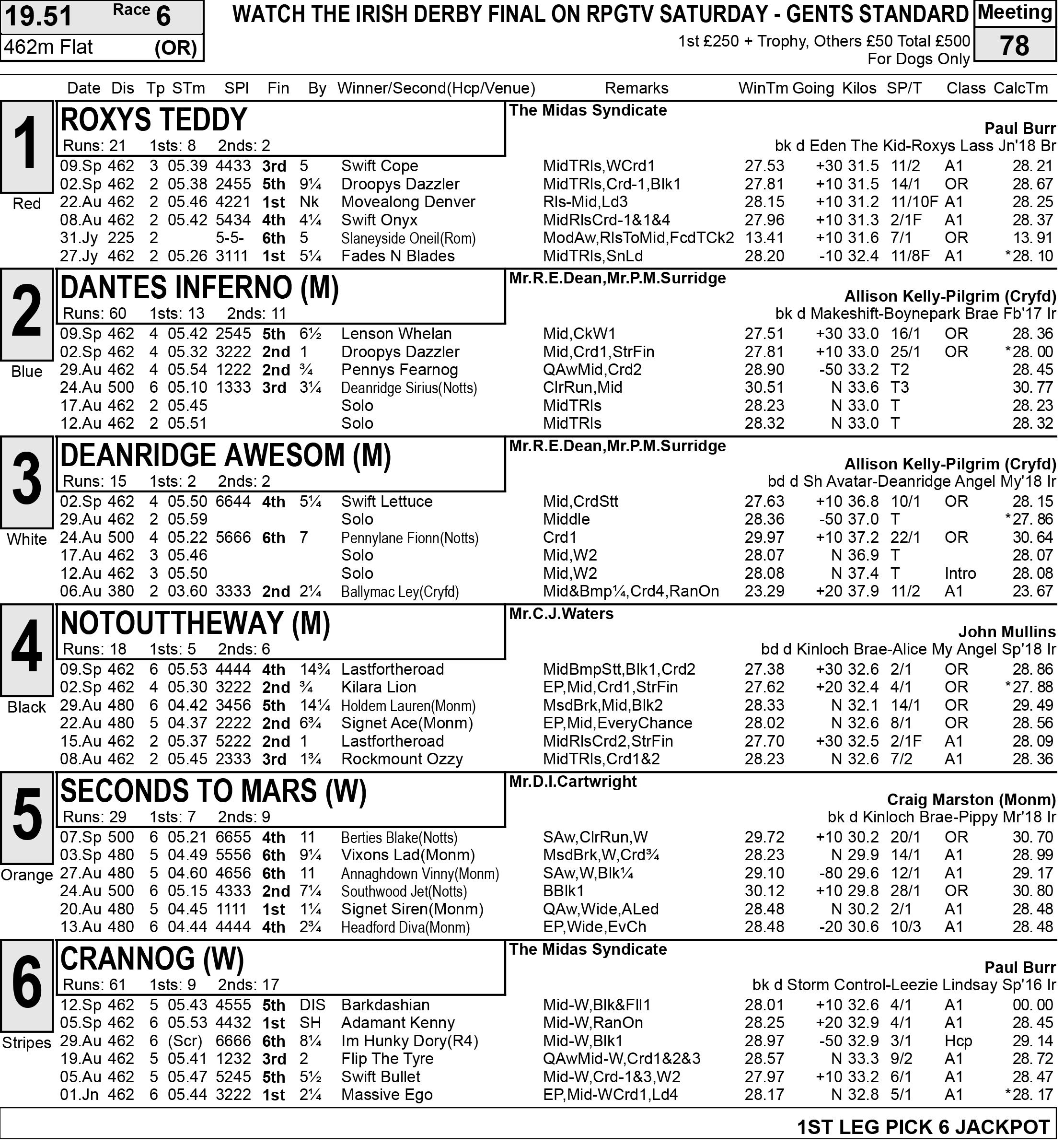 The six is a non-runner and will be replaced with Swift Addition, but it is quite a hard one to call. If John (Mullins) can get Notouttheway out the boxes, I think he will take a lot of beating. Roxys Teddy will give him a real battle from trap one and Dantes Inferno never runs a bad race here.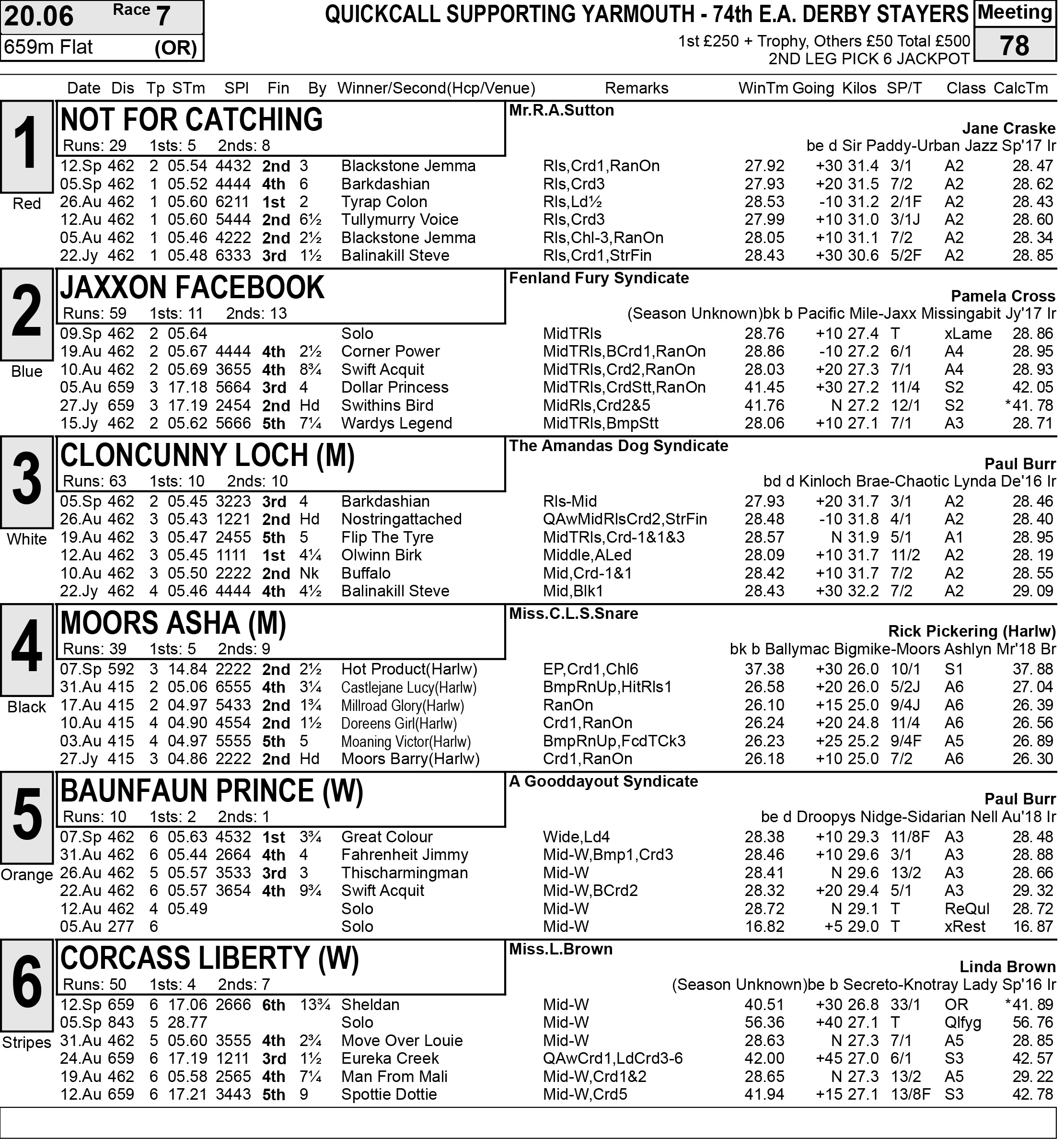 This is the weakest race of the night with very little of proven open class quality. Jaxxon Facebook is a proven stayer so will be my selection, but I have a suspicion that Barnfaun Prince will see out the trip which would make him a serious contender.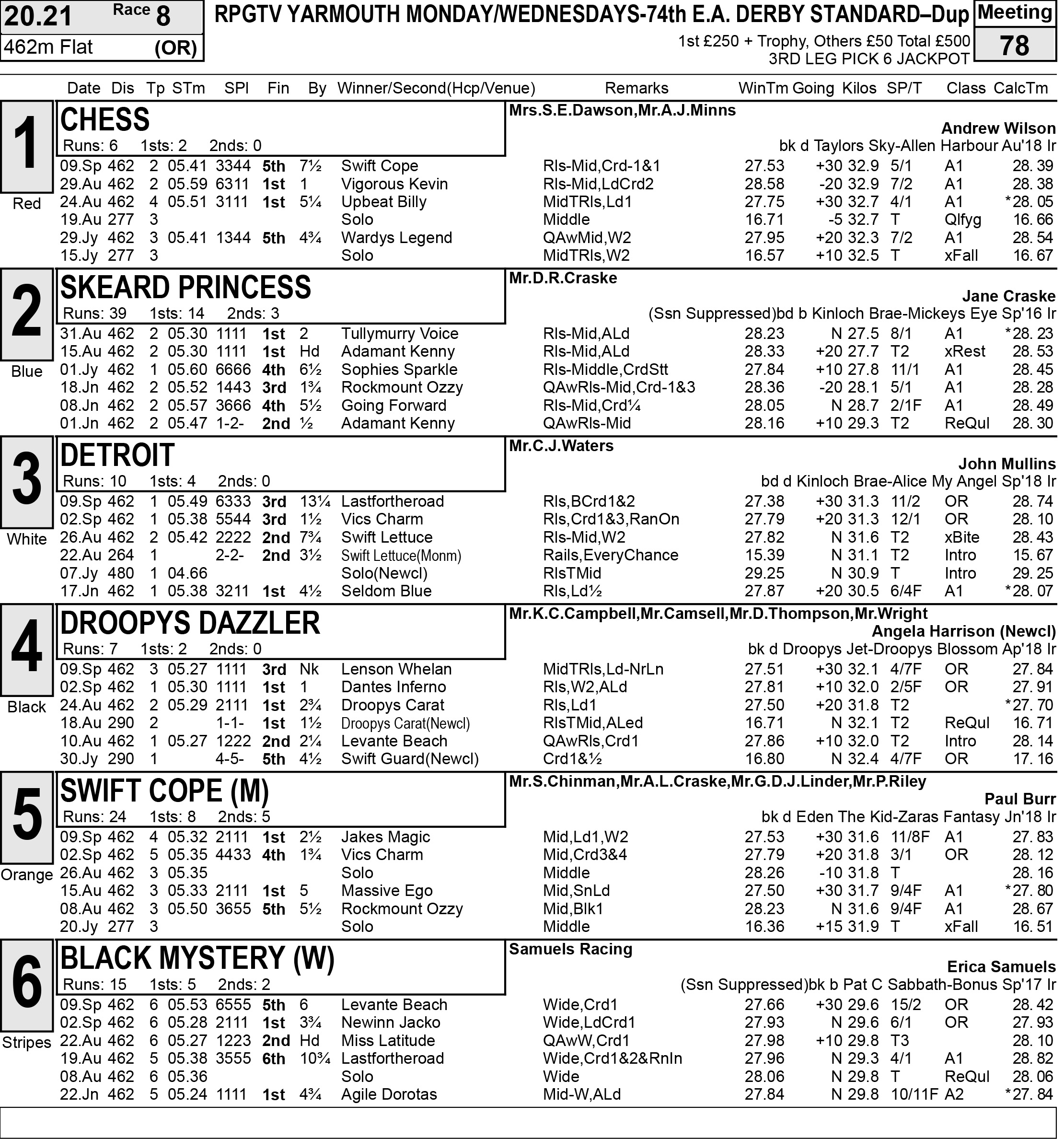 Droopys Dazzler doesn't seem to see out the trip, but he might be far enough in front to hold on. I see him and Skeard Princess disputing the early lead with Swift Cope the one most likely to catch him.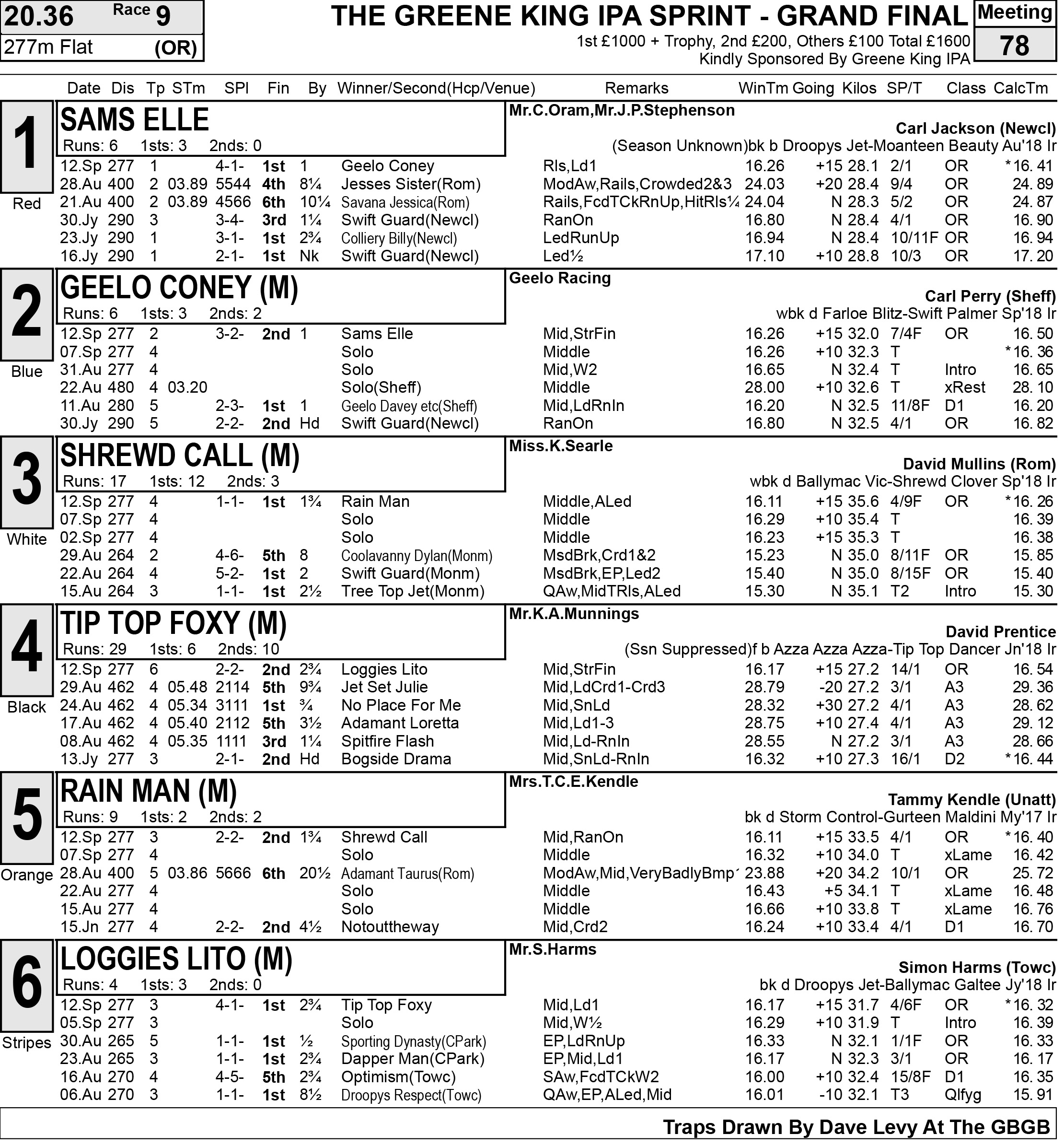 What a cracking race this should turn out to be, I can't wait to watch it. The three main contenders would appear to be the heat winners and I have to go with the obvious choice, Shrewd Call. He is an absolute machine and such lovely dog to look at. But don't underestimate Sams Elle. They weren't able to get a trial into him before the heats, due to various setbacks but I thought he produced a stunning run in the first round.
Before previewing the final – we thought we would give you a reminder of the three semi finals:



I have to be honest and admit I didn't realise how good Lastfortheroad actually is. He impressed me so much on his first trial last year, when he clocked 27.57 that I had to tell Paul that I couldn't grade him. In fact, even when the Derby started, I thought there were several other locals who had more chance. It was only after the semi finals, that I was reminded of that first trial.
In terms of the draw, it couldn't have worked out any better for him, and as the only local in the field, I am obviously a bit biased. But I can honestly say that I would be happy with any of them winning it. Patrick has been coming here for years, originally when he was working for Mark, so it would be nice to see him get his first winners. David, like the rest of the family, have always supported us over such a long time.
I don't know Angela Harrison at all, all my dealings have been with Ian Sutherland, who I have known for many years. But they were absolutely gutted when Droopys Nadal broke a hock in the first round. Winning the final would hardly amount to consolation, but at least it would be something.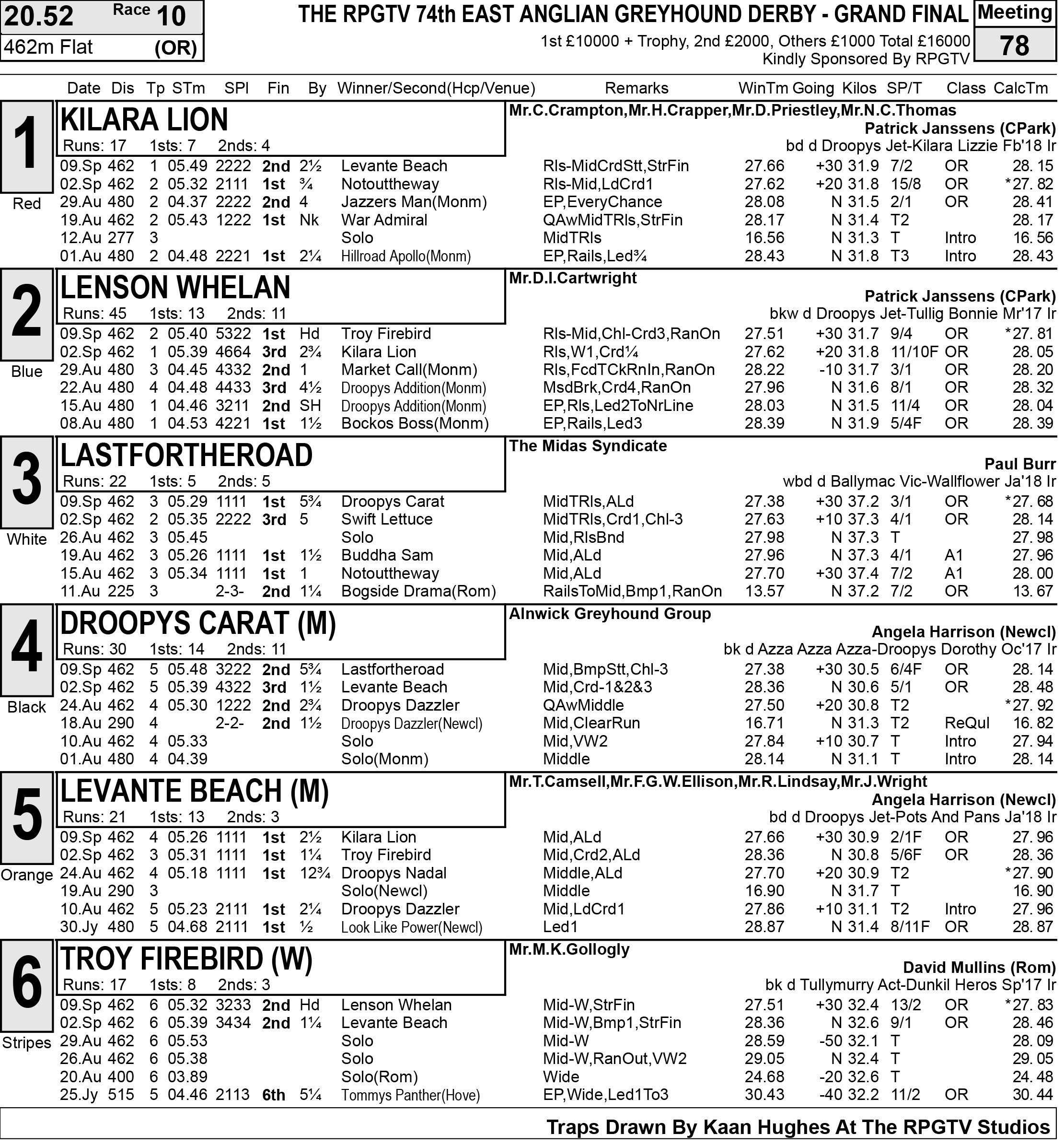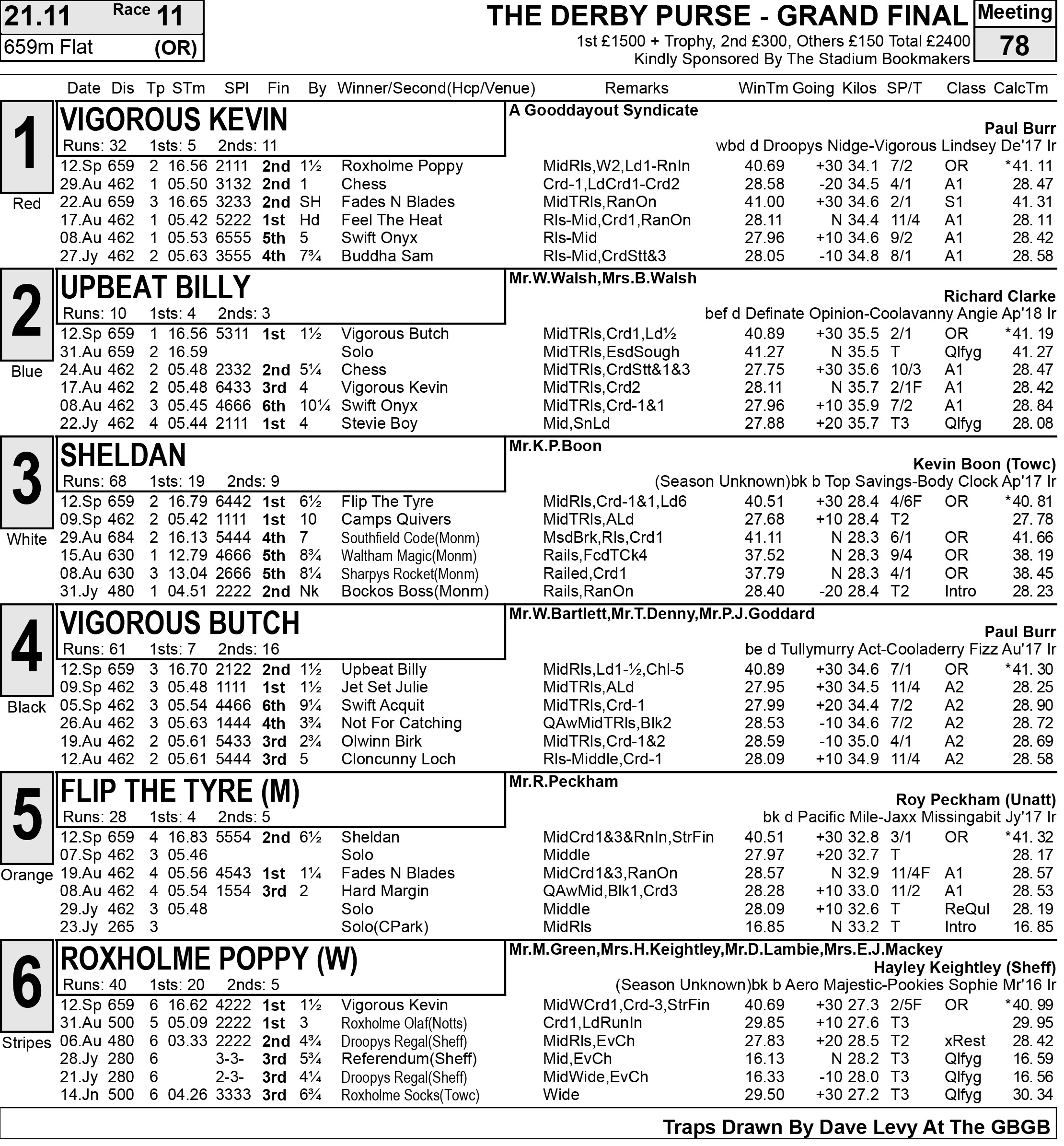 Sheldan knows the place of course having won in A4 back here when she first arrived. Kevin wasn't then too impressed when I upgraded her to A1! I think she is the one to beat, given her record in top class company. You obviously have to pay the utmost respect to the track record holder Roxholme Poppy, though I thought she looked a bit short of her best form in the heats.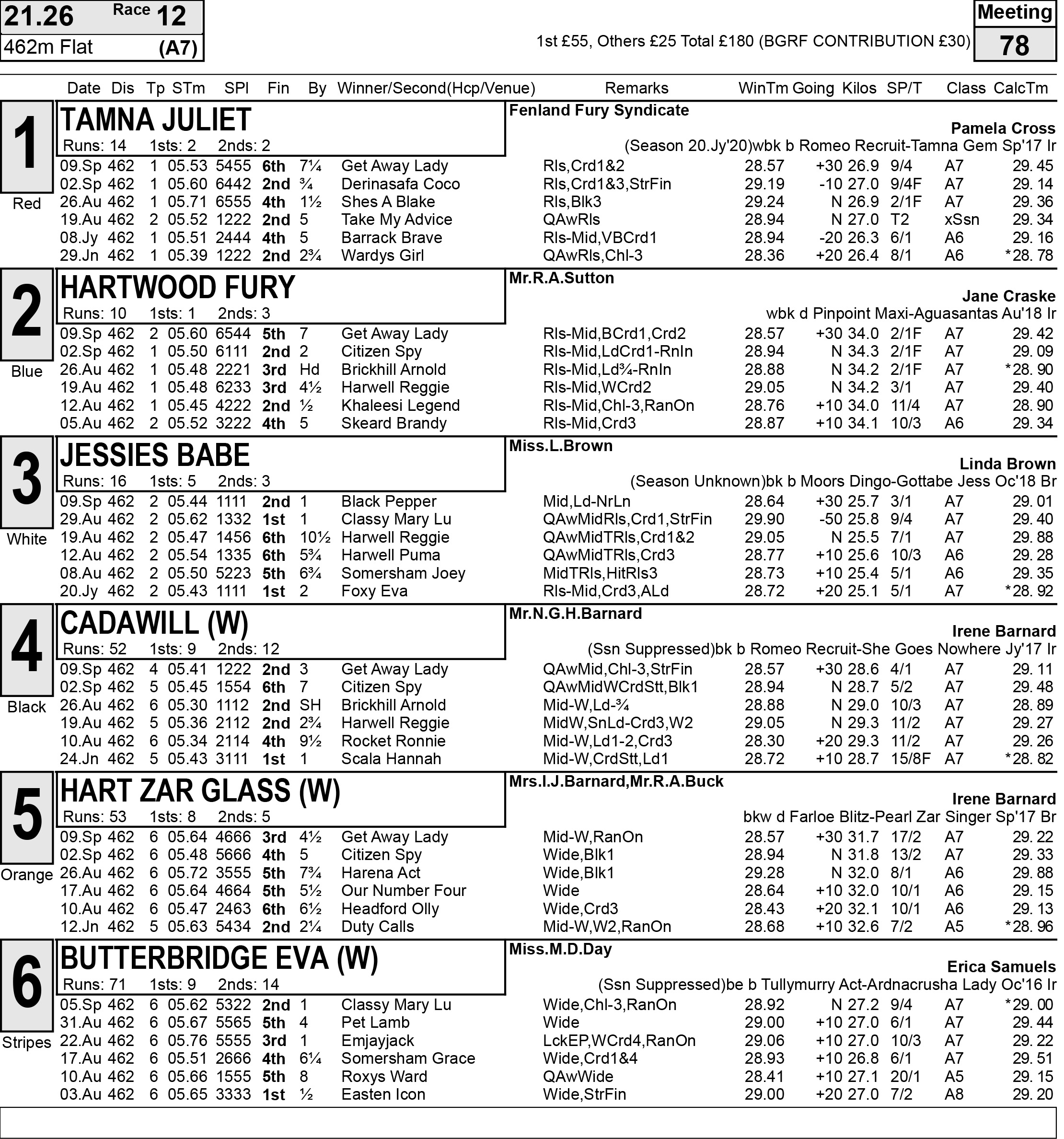 We finish with another graded race and if I am right, it will be another winner for Irene Barnard. Cadawill seems to have the best chance of her two though I expect Hartwood Fury to have plenty of support.