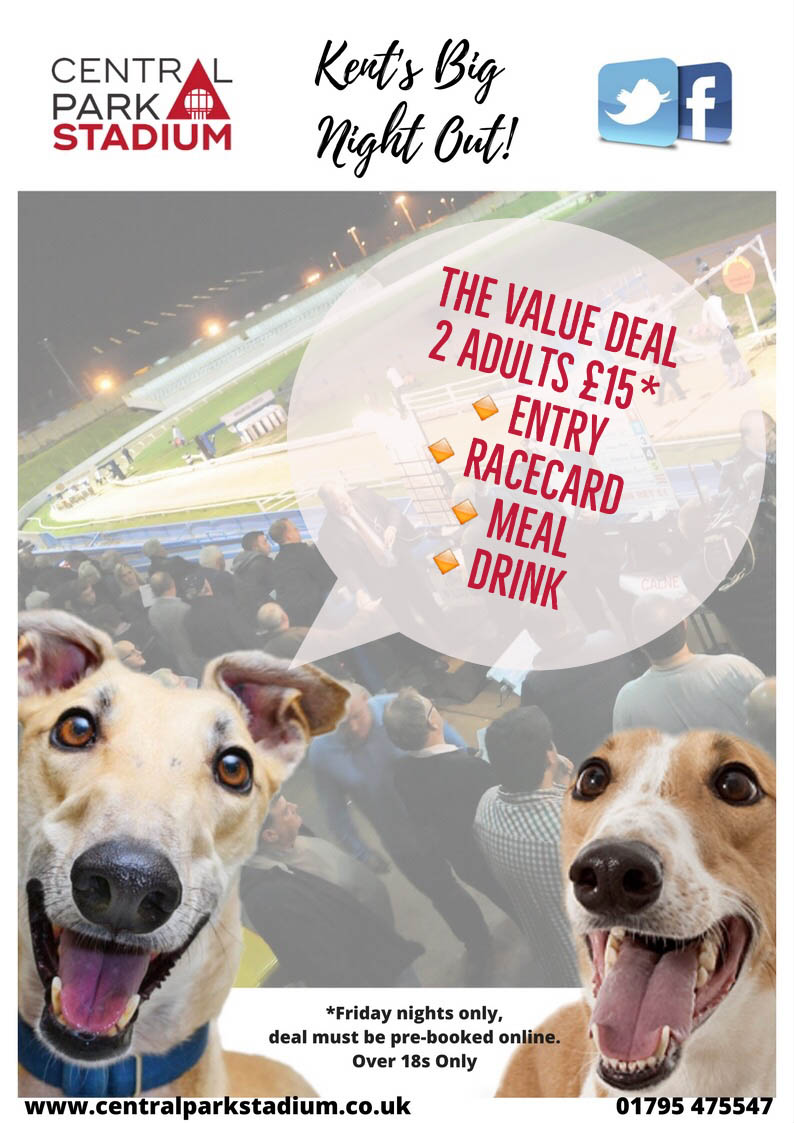 Daniel Wallis trained the 2018 John Smiths Grand National winner Parkers Dynamite as dad Mark and another 23 members of the Calco Club cheered home the winner from an iPad in Cambridgeshire.
The 7-4 chance with an "awkward" on his card during an uninspired flat career, took a first bend lead in the £8,000 Central Park decider and came home more than five lengths clear of the of defending champ, Razldazl Raidio (4-5f). The winner's time was a superb 29.46 (-30).
(By means of a comparison, at the arguably the peak of his career in Sep' 2016, Raidio clocked a 28.99 track record on normal going. The last two Nationals were won in 29.32 and 29.61 – both on normal going)
The second 'Cat 1' win for the kennel in the space of 10 days came as the champion trainer enjoyed two days golfing with the syndicate who have enjoyed such success as owners.
Mark said: "It has been absolutely manic. Monday to Wednesday really took their toll in terms of massaging and preparing the dogs for while I was away and I could barely walk on Thursday when I turned up for the golf.
"Thankfully, I have top class staff and my only additional instruction for Dynamite was, 'don't do anything to wind him up'.
"Dynamite is quite a fraught type and I wanted him to remain as calm as possible. He needed to be really chilled to be at his best and as soon as he came out of the traps, I knew he was in for a big run. We were waiting to have dinner and there were probably 23 golfers leaning over my shoulder and cheering the roof off when he crossed the line.
"I was delighted for Daniel who handled Dynamite and Swift Dartmoor, who also ran well and thrilled for owners Gary Pascoe and partner Sarah Parker.
"The dog originally came to us with Brendan Matthews for last year's Derby. After he was eliminated, Brendan said he would take £7,000 for the dog, which seemed a decent price for a Derby dog of barely two years old. We took him to Romford and he did 23.93 for the 400m, which was very encouraging, but soon afterwards he was marked 'awkward' in a Henlow open, which came as a bit of a shock.
"I asked Gary if he was prepared to try the dog over hurdles and it has all gone from there. Although I knew how fast Dynamite was on the flat, I was particularly delighted by his jumping in the final. He is getting better every run.
"He is our third Grand National winner (Lethal Rumble/Cornamaddy Jumbo). We don't have many hurdlers, but the graded races at Towcester mean that it is now feasible to have a few.
"The Champion Hurdle is the obvious next target and I am sure Ricky will be lying in wait with his formidable team; Lenson Wilson, in particular looks a very special hurdler.
"I would like to go on record with thanks to Central Park for keeping hurdling going with such good sponsorship, and Ricky plays a major part in making it happen.
"Without his perseverance, I am not even sure there would be a Grand National. If we do ever get that SKY deal, I would implore GBGB to push for a hurdle open on every SKY card where the track stages hurdle racing. It is important to keep hurdle racing viable."
Central Park reported a paying attendance of around 370, including a large percentage of pre-booked restaurant reservations.