The Star Sports, ARC and LPS English Greyhound Derby has already provided no end of drama and talking points and we're so far just two rounds through the event. For the first time in the competition all remaining greyhounds will compete on the same night. Eight third round heats where the dreams of the 24 sets of connections who progress to next weeks quarter finals, will become a little more real with each passing day.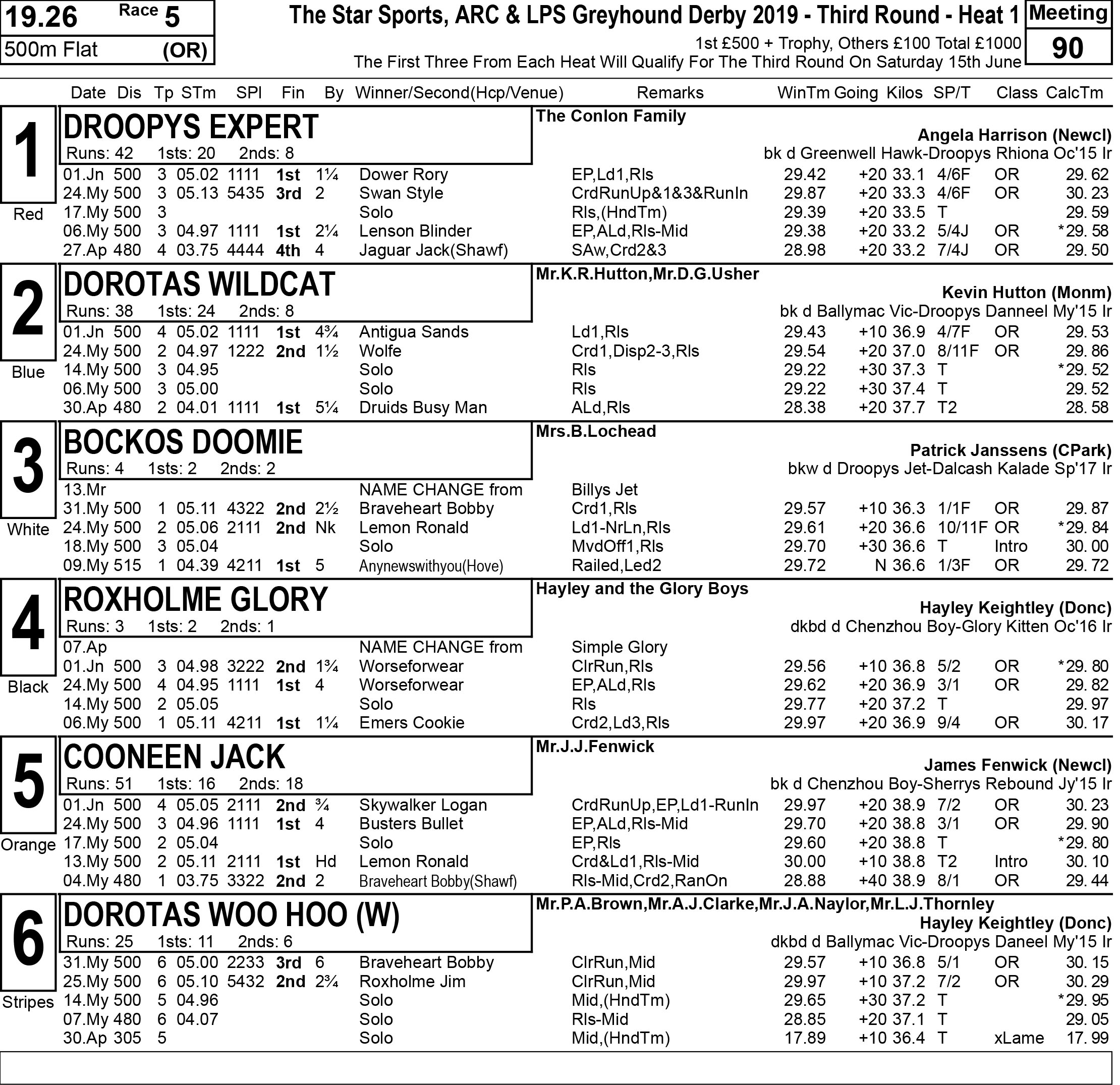 Although likely to be priced short enough for what is a race of huge class, it's near on impossible to oppose Dorotas Wildcat. Kevin Hutton's 2018 Derby Champion came into this years competition a little short of work according to connections. A bacterial infection was diagnosed after his long odds on defeat in the heats of the Winter Derby at Hove. He then finished second in a Swindon open before being put away for the Derby.
His pre-competition trials at Nottingham were nothing short of outstanding and though going down to a narrow defeat by Wolfe in the first round, he lost nothing in defeat in what was a terrific buckle between the two. His second round trap draw looked extremely tricky, drawn in trap four with pace on his inside, there was every right to be concerned.
We needn't have worried. Despite being slowly away, maybe even marginally last to show, then taking a bump from King Idol on the run up, The Cat soon turned on the afterburners and made the turn in front with some degree of comfort, from that point home, the result was never in doubt.
Once again the draw hasn't exactly been kind, with Droopys Expert to his inside, running as well as ever and with the up and coming Bockos Doomie drawn to his immediate outside (sure to be heading rails), he can't afford any slip ups. With a fair enough break though it looks near on impossible to prevent Wildcat from making the bend in front.
Angela Harrison's Droopys Expert can follow round in second and should have no problems staying in that position. Roxholme Glory was purchased off the back of a 28.05
A1 victory at Shelbourne specifically for a tilt at the Derby. This stunning looking dark brindled greyhound has been improving with each passing week, he possesses a huge amount of early and back straight pace, he will have to play his cards right from what is a poor draw out in trap 4 here, but he can find a way through and can claim the third qualifying spot for next weeks' quarter finals.

Latest betting: 4-5 Dorotas Wildcat, 11-4 Droopys Expert, 8-1 Bockos Doomie, 10-1 Roxholme Glory, 14 Cooneen Jack, 20-1 Dorotas Woo Hoo
Ante post: 6-1 Dorotas Wildcat, 18-1 Droopys Expert, 40-1 Bockos Doomie, 80-1 Roxholme Glory, 100 Cooneen Jack, 150-1 Dorotas Woo Hoo
---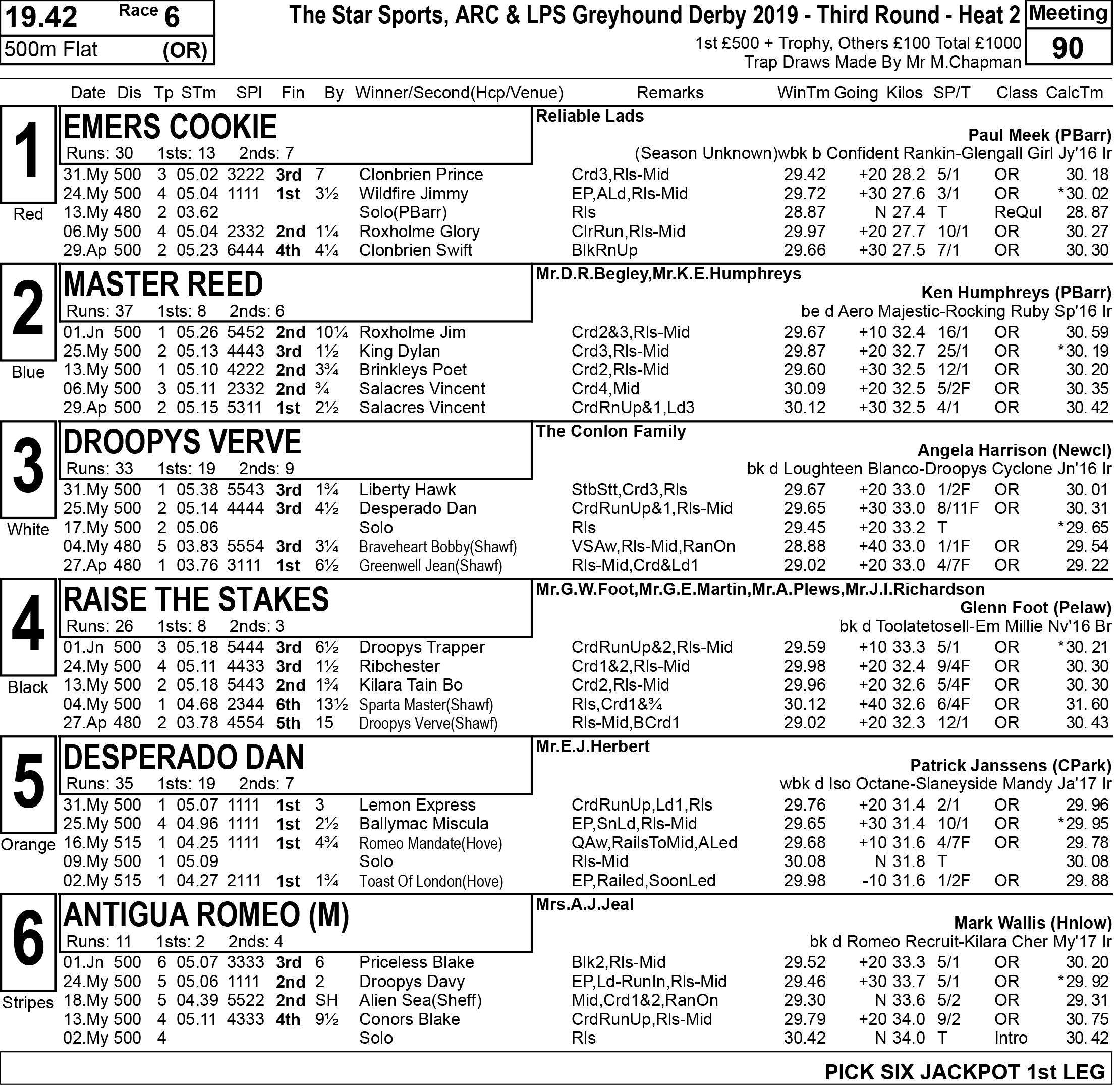 Draws win races, but there are also plenty of examples of class winning races when draws don't appear to be kind.
There is no doubting that Droopys Verve has been a little inconsistent at the start and early in his races just lately, yes in some ways he's rode his luck in the opening two rounds of the derby, third place finishes required on both occasions to take him through to this stage.
What isn't in doubt though is that Angela Harrison's superstar retains all of his ability 'line to line' and he is in training hands that are more than capable of helping Verve to rediscover his early sparkle. It won't be easy pickings though, with greyhounds drawn to his immediate inside that will be moving middle and with others to his outside that will be heading inside, it could become very congested on the run to the turn.
Verve can prove too strong though and his class can shine through. Emers Cookie can take second place for Paul Meek whilst Raise The Stakes, running under the guidance of Sunderland based boxer Glenn Foot, can take third and keep the derby dream alive for yet another week at least.

Latest betting: 4-5 Droopys Verve, 10-1 Desperado Dan, 13-2 Antigua Romeo, 8-1 Emers Cookie, 12-1 Raise The Stakes, 33-1 Master Reed
Ante post: 16-1 Droopys Verve, 66-1 Desperado Dan, 125 Antigua Romeo, Emers Cookie, 150-1 Raise The Stakes, 300-1 Master Reed
---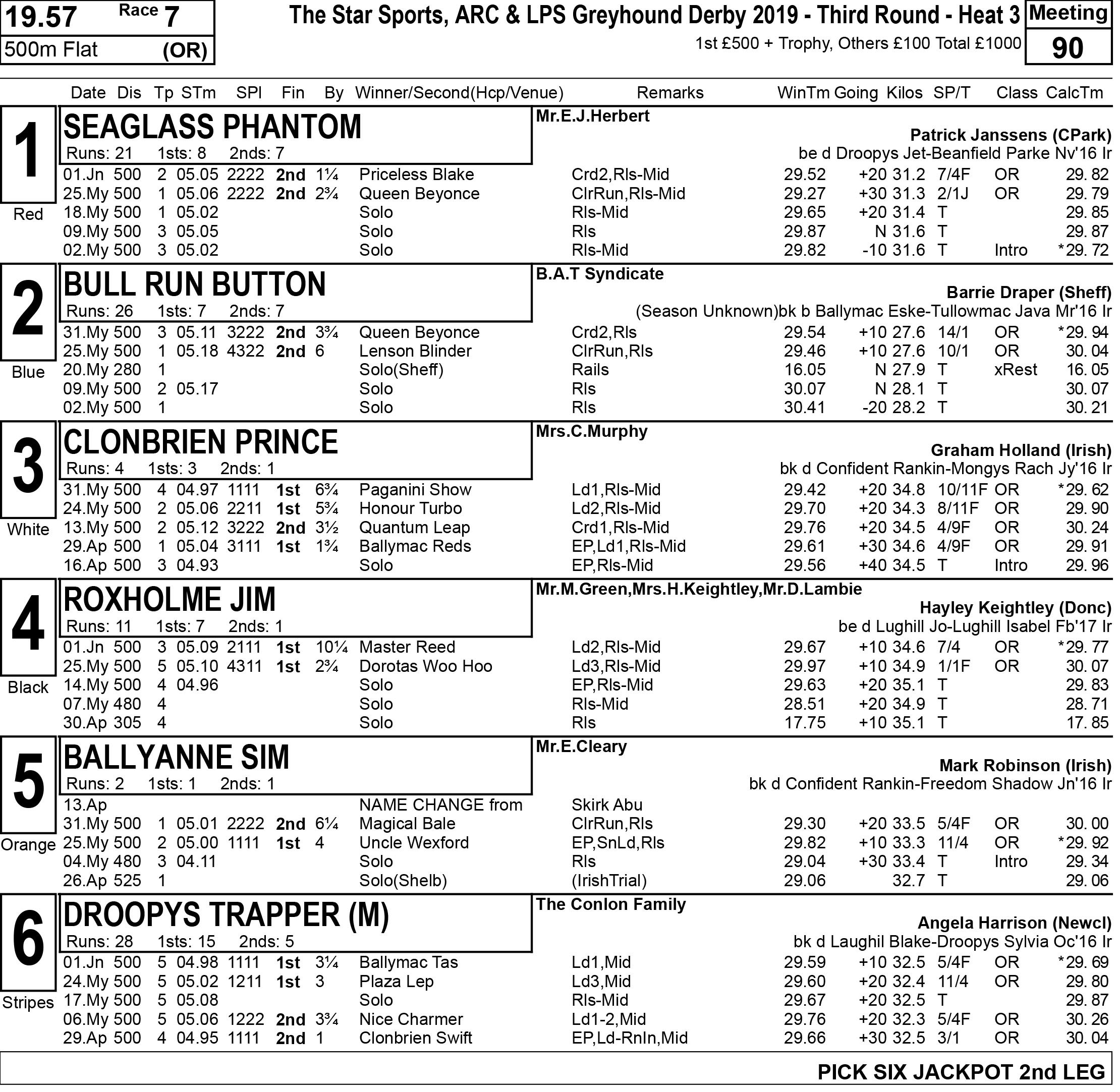 All the talk this week has been about what Irish raider Wolfe did or didn't do in last weeks second round when laying in a clear second behind Roxholme Jim at the third bend.
Whatever went on in the mind of Wolfe, and I'm convinced whatever it was, was in his mind and his mind alone, the performance of Jim was one right out of the top drawer and that of a rapidly improving young greyhound.
Jim is going to need a smash break from his draw in trap 4, but I yet again expect him to find improvement and if gaining the lead by the first, he can make it 3 wins from 3 starts in the Derby so far for Hayley Keightley and the team.
Clonbrien Prince is a classy sort for Graham Holland, he ran superbly well when winning by over 6 lengths in his second round heat, he can take second.
Droopys Trapper is well drawn on the outside, Angela Harrison's dog thrives for every run he has at a track and he can improve with each passing round. He can claim third and with it a place in next weeks quarter final.
Latest betting: 11-8 Clonbrien Prince, 7-2 Droopys Trapper, 9-2 Seaglass Phantom, 5-1 Roxholme Jim, 10-1 Ballyanne Sim, 33-1 Bull Run Button
Ante post: 10-1 Clonbrien Prince, 28-1 Roxholme Jim, 33-1 Droopys Trapper, Seaglass Phantom, 40-1 Ballyanne Sim, 250-1 Bull Run Button
---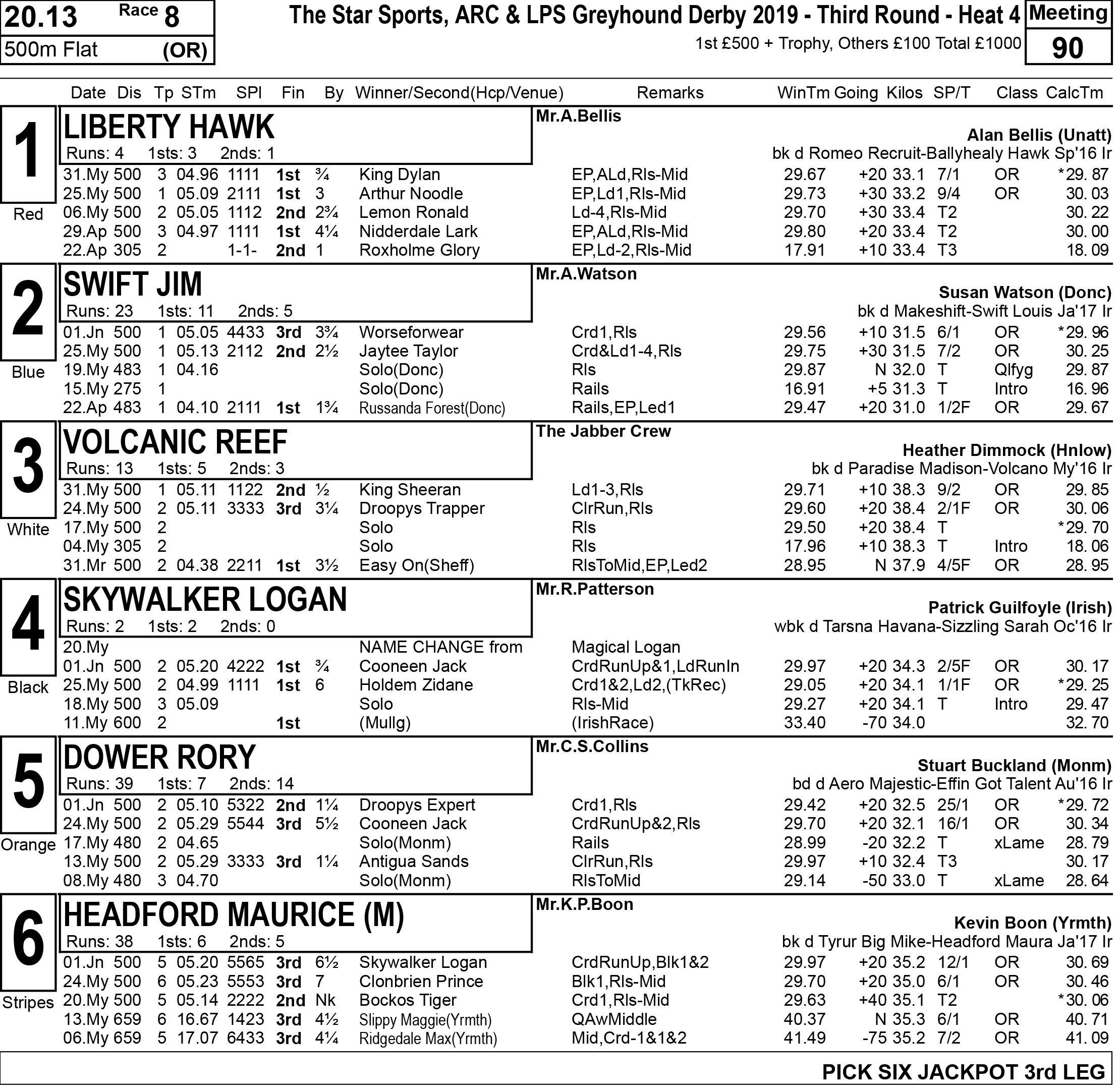 Alan Bellis might not be a name familiar with many, however for those familiar with the North West independent scene and in particular his work whilst in charge at Bolton, Alan would be a very recognisable and well liked character.
He's also nobody's fool when it comes to training a dog. Liberty Hawk had trialled well around Nottingham prior to the Derby starting, however Alan told Greyhound Star readers that the dog could only improve with each passing round.
Hawk has ran out a ready winner of both his first and second round heats, holding off the constant challenge of King Dylan last time out. This dog has excellent early pace and if trapping well he should secure the lead as the dogs round the opening turn.
Skywalker Logan was a somewhat fortunate qualifier from his second round heat, he looked in a poor position at the opening turn, the front runners came together, a gap appeared and Logan needed no second invitation to run through it and drop into a clear second behind leader Cooneen Jack.
Eventually claiming Jack by 3/4 length on the run in, his winning time of 29.97 (+20) was a long way behind his 2905 (+20) when setting a new track record in his first round heat.  Dogs aren't machines though and in the end Logan did what he had to do to both win and to qualify.
From a tricky enough draw in trap 4 he can find a way through to take second place whilst Dower Rory, a finalist in the 2018 Eclipse, can overcome a poor draw in five to yet again use his tremendous finishing pace and take the third qualifying position.

Latest betting: 4-6 Skywalker Logan, 4-1 Liberty Hawk, 6-1 Volcanic Reef, 12-1 Swift Jim, 16-1 Dower Rory, 16-1 Headford Maurice
Ante post: 10-1 Skywalker Logan, 66-1 Liberty Hawk, 80-1 Volcanic Reef, 125-1 Swift Jim, 250-1 Dower Rory, 200-1 Headford Maurice
---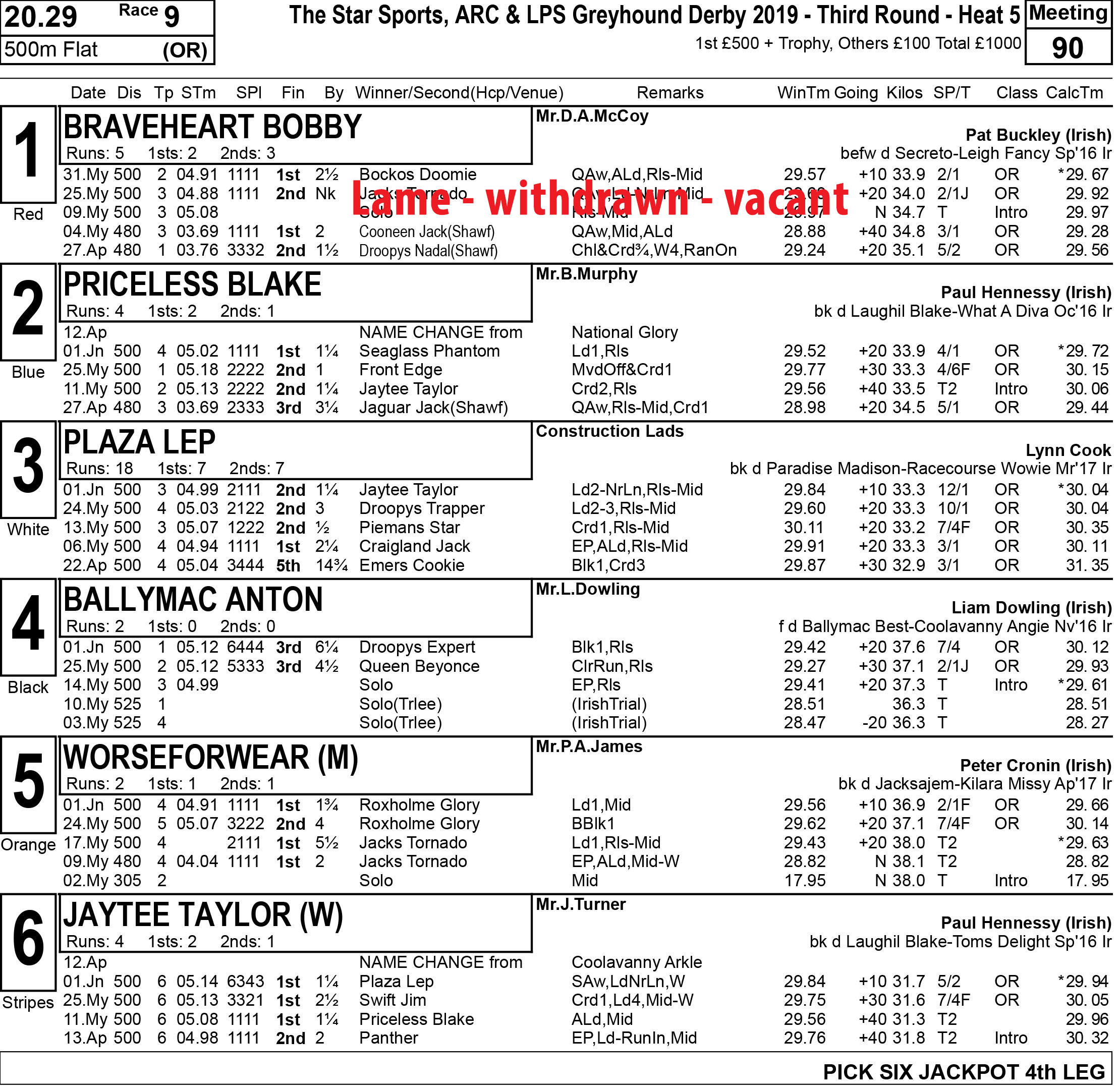 After the extremely unfortunate withdrawal of 2019 Scottish Derby Winner Braveheart Bobby, we are left with a 5 runner race for heat five.
Priceless Blake looked to have precarious draw to the immediate outside of Bobby, however with trap 1 now vacant, he will have all the room he requires on the run to the turn should he break in a timely fashion.
Blake had to work his way across to the turn from his draw in four last week, yet still posted a more than decent 5.02 sectional. With a level start, a sub 5.00 sectional is more than a possibility for Paul Hennessy's dog and despite facing some classy rivals, they would be hugely disappointed if he were to be back run from that position.
We have yet to see anything like the best of Liam Dowling's Ballymac Anton in this competition so far. Despite this, he has still managed to qualify comfortably enough in both of the first two rounds courtesy of third place finishes. Anton has a poor draw to overcome in four, but he's not a dog that necessarily has to lead, certainly not to qualify at least and he can navigate himself into a qualifying position in second.
Last years Irish Derby Finalist Jaytee Taylor can come through late to secure third. He's a dog with superb late pace and is a dog who you can see visibly moving through the gears with each passing late stride. Taylor isn't well drawn, he is on the outside of Worseforwear, who possesses massive early pace and should be well suited by his draw in trap 5.
Taylor can eventually find a way past that rival though and secure a place in the draw for next weeks quarter final. Plaza Lep is doing the locals proud for Nottingham trainer Lynn Cook.
He possesses excellent early pace and gave Taylor supporters a fright for a long way in last weeks second round, he could though be denied the clear lead that he craves here and if that's the case, then qualification would be a tough ask.

Latest betting: 2-1 Jaytee Taylor, 9-4 Worseforwear, 3-1 Priceless Blake, 9-2 Ballymac Anton, 14-1 Plaza Lep
Ante post: 14-1 Jaytee Taylor, 20-1 Worseforwear, 40-1 Ballymac Anton, 50-1 Priceless Blake, 200-1 Plaza Lep
---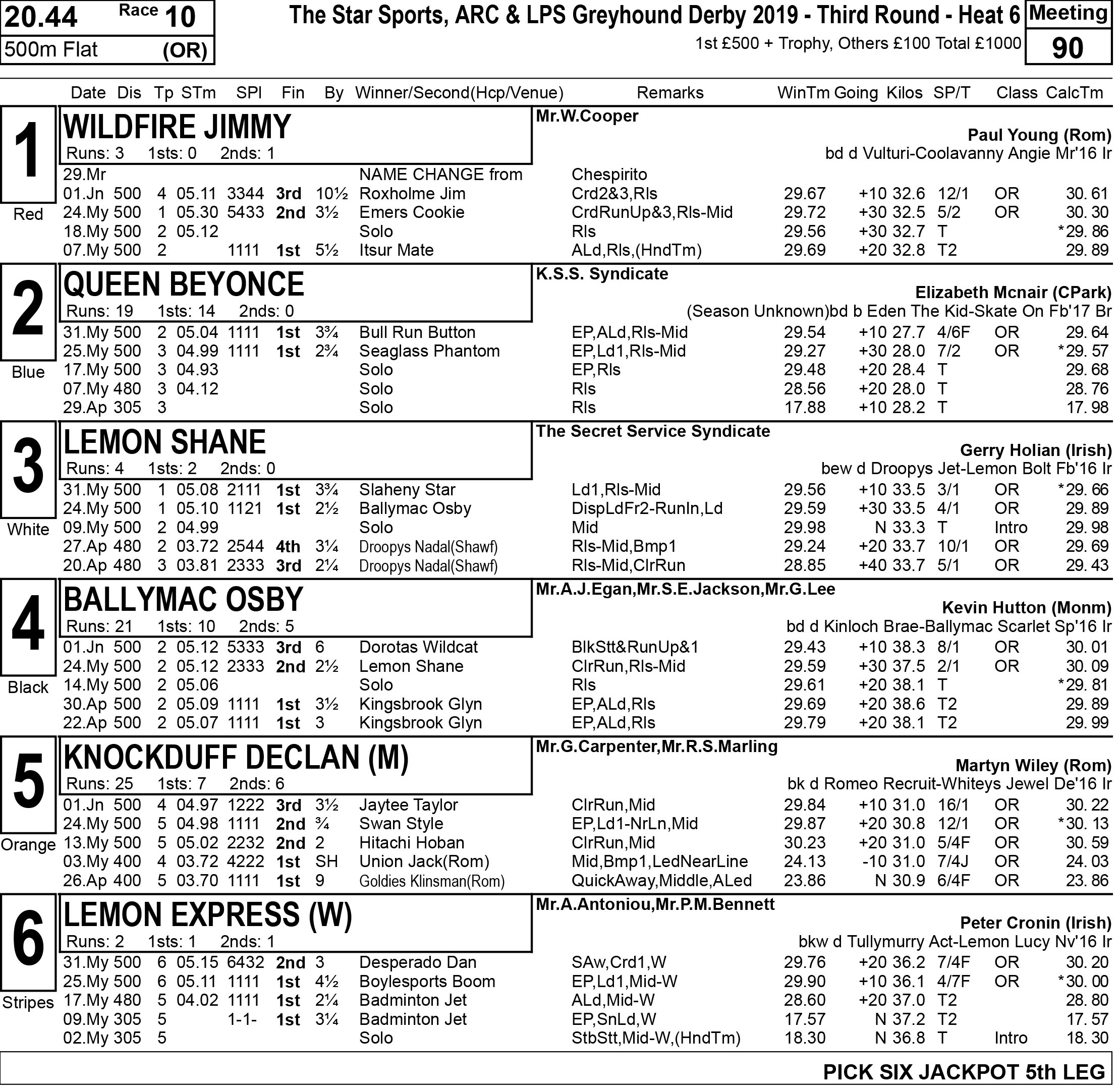 Queen Beyonce is the apple of Liz and Rab McNair's eyes and it's not difficult to see why. Beyonce is a bitch that has it all, wicked early pace, superb middle and stays extremely well.
Coming into the Derby as fresh as a daisy and at the perfect point post season, she can do nothing but improve. Beyonce didn't quite come away as well in the second round as she had in the first, however after a few yards the afterburners were engaged and she scorched to the turn in front.
This is a better race than she's found herself in for the first two weeks, but a good start and Beyonce can take the lead by the first again and can make it 3 wins from 3 starts in the competition so far.
Lemon Shane was an impressive winner in the first round and improved when taking his second round heat, he can claim second for Gerry Holian whilst Lemon Express for Peter Cronin looks well placed in trap 6 to navigate his way to the third and final qualifying position.

Latest betting: 6-5 Queen Beyonce, 11-4 Lemon Shane, 7-2 Lemon Express, 10-1 Ballymac Osby, 20-1 Wildfire Jimmy, 25-1 Knockduff Declan
Ante post: 16-1 Queen Beyonce, 33-1 Lemon Shane, 40-1 Lemon Express, 66-1 Ballymac Osby, 150-1 Wildfire Jimmy, 200-1 Knockduff Declan
---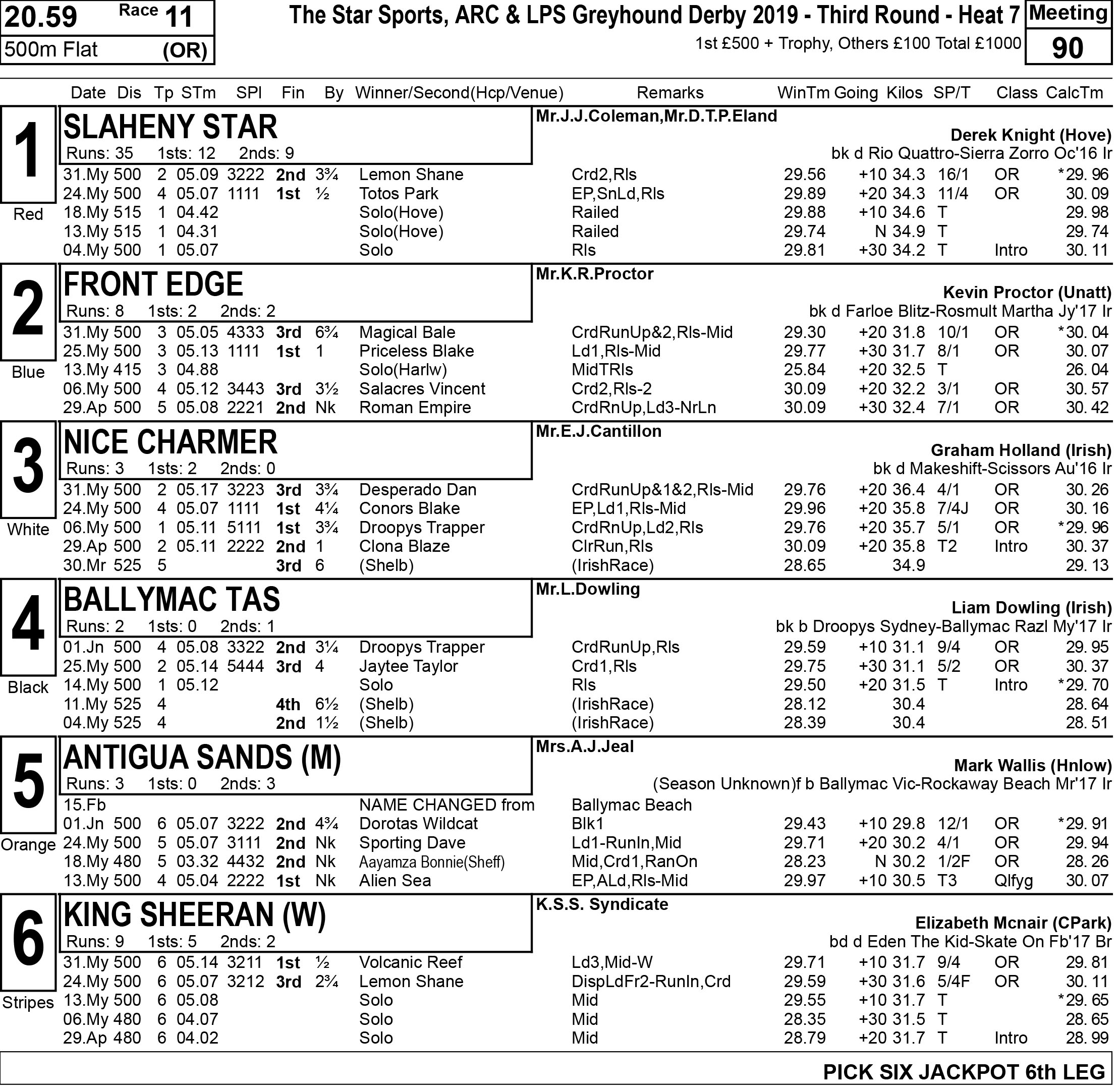 King Sheeran can make it a quick fire double for Liz, Rab and the KSS team. Sheeran looked in a winning position turning for home in the first round but faded a little on the run in to just about claim third place. Rab told people not to panic though, the dog needed the run and would improve for the second round.
Anybody who doubted that might think twice next time as Sheeran ran out an impressive winner by half a length over Volcanic Reef in 29.71 (+10).
Sheeran looks like he will improve for each passing round, he's likely to get his preferred trap 6 draw much more often than not and from what is a good make up here in the third round he can claim both victory and more importantly a place in the quarter final draw.
Antigua Sands for champion trainer Mark Wallis is a bitch with huge all round pace, she can take second place whilst Liam Dowling's Ballymac Tas, despite a poor draw in trap 4, can find a way to claim that all important third and final slot in the draw for next week.

Latest betting: 13-8 King Sheeran, 11-4 Ballymac Tas, 6-1 Antigua Sands, 7-1 Nice Charmer, 8-1 Slaheny Star, 16-1 Front Edge
Ante post: 40-1 King Sheeran, 50-1 Ballymac Tas, 125-1 Nice Charmer, 150-1 Antigua Sands, 200-1 Slaheny Star, 250-1 Front Edge
---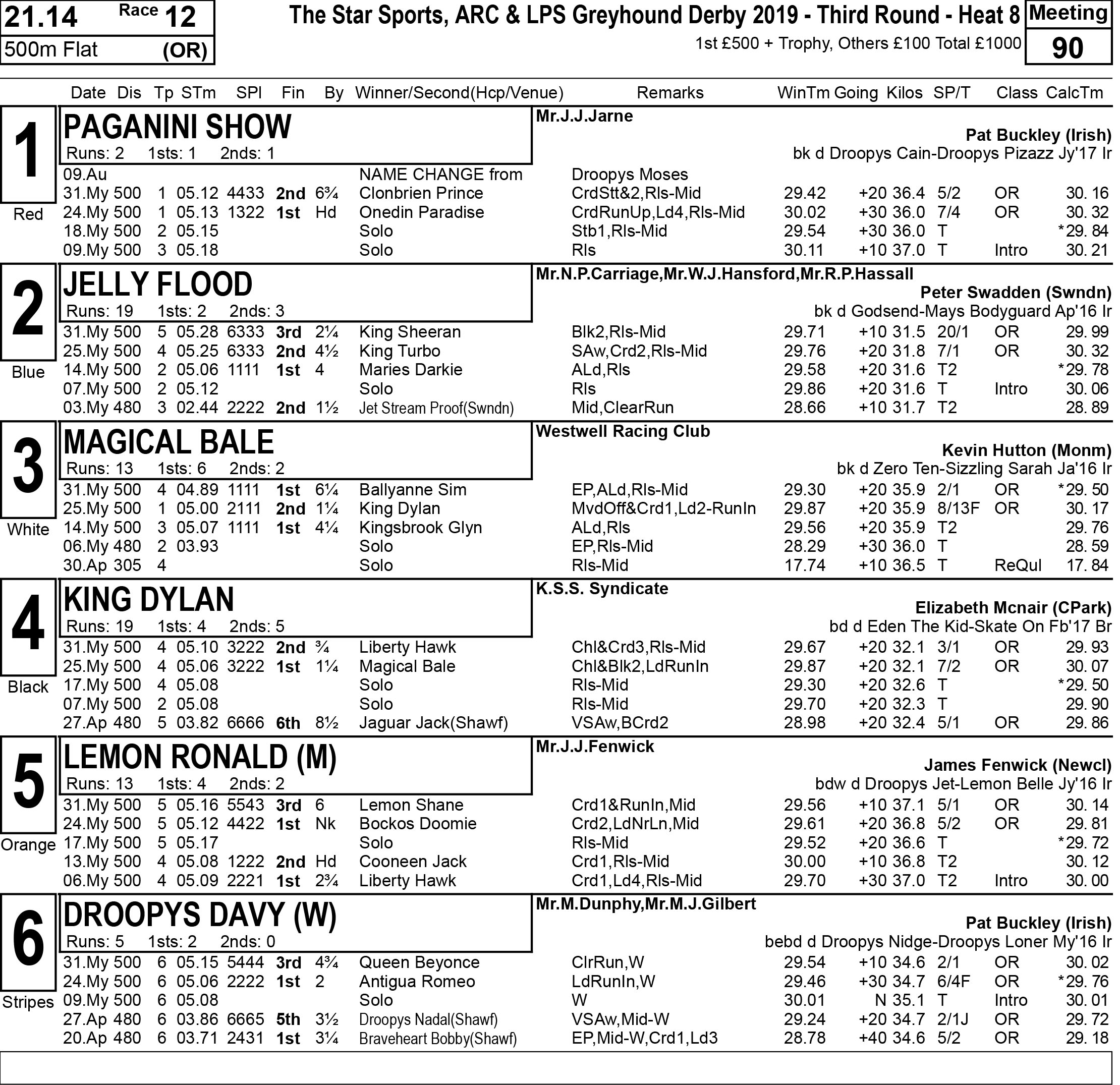 Magical Bale was simply awesome when running away with his second round heat in 2930 (+20) off the back of a sensational 489 split. This was a huge improvement on his first round 29.87 (+20) and was a performance much more like it from the 2018 Irish Derby Finalist.
He looks ideally drawn in the white jacket of trap 3, he can fly the lids and run out an impressive winner. King Dylan can book himself and the KSS team yet another quarter final place by following Bale around and running second.
Pat Buckley's Pagannini Show looks well drawn on the rail and though Droopys Davy will push him all the way, he can hold off that rival to take the third and final qualification spot in the draw for the next round.

Latest betting: 8-11 Magical Bale, 5-1 Droopys Davy, 13-2 Paganini Show, 8-1 King Dylan, 16-1 Lemon Ronald, 25-1 Jelly Flood
Ante post: 12-1 Magical Bale, 28-1 Droopys Davy, 50-1 Paganini Show, King Dylan, 80-1 Lemon Ronald, 125-1 Jelly Flood