The Star Sports Bookmakers & ARC English Greyhound Derby quarter finals took centre stage at Nottingham on Saturday evening.
Graham Holland's Wolfe reaches veteran status in just a couple of weeks time but there was no sign of age related performance issues here as he overcame what looked a tricky looking draw out in trap 5 to take the first of the evening's quarter finals in a fastest time of the night 29.47.
Noel Hehir's Coolavanny Chick was slowly away from traps but took advantage of a plot draw on the outside to claim second with Alison Kelly-Pilgrim's Deanridge Rapid just about claiming the third and final spot in next weeks semi finals.
Rapid is struggling to convert his top class trial form to races at the present time but connections will be buoyed by the fact that he has reached the semis without doing so. If they can get him back to the form that had many local's sitting up and taking serious note then he could yet have a say on where the famous old trophy end's up. Sponsor Ben Keith will be having one or two restless nights just yet having laid 'Rapid' for serious money at no less than 125/1.

Richard Rees' Southwood Jet took his UK race record to 6 wins from 6 starts when landing the second of the evenings quarter finals in 29.54. As with Wolfe in the previous race, 'Jet' had a tricky looking trap 5 to overcome. Fears were soon turned to cheers though as he sprung from traps and claimed the inside berth that he desires.
This was a stunning performance from a hugely talented greyhound. The remaining qualifying places went to Dave Mullins's Troy Firebird and current leader in the race for Champion Trainer honours Patrick Janssen's Lenson Whelan by 1 1/4 and 3 lengths.

The third semi final of the night went the way of Seamus Cahill's Smurfs Machine. Winning by 2 1/2 lengths from Lynn Cook's local Churchill Holly in 29.49. This was a serious run from 'Smurfs', no doubt about it a career best performance. Could he just be finding the form of his fledgling career at just the right time ? 'Holly' meanwhile run yet another storming race in claiming a semi final spot.
Another greyhound who had a tough looking trap 5 draw, she pinged out before cutting across her rivals by the first bend and despite appearing to lose concentration slightly on the run in, with noticeable checks over each shoulder, she comfortably held off Graham Holland's Ballydoyle Valor who took the third and final spot in next weeks semis.

Pat Buckley must have been cursing his luck as he drove back down south to his base with June Harvey after last weekend's second round.
All three of his second round winners being drawn in the same quarter final. The one saving grace for Pat was that all 3 appeared to have their preferred draws. He couldn't quite get all 3 through to next weeks semis but will be happy enough to see Knocknaboul Syd who pinged from trap 4 to take this race in 29.49 and Deerjet Sydney beaten just 1/2 length despite charging the traps in the hat for the semi final stage.
There was serious trouble at the first bend for the other 4 runners here, Glengar Bale again for Buckley was out of qualifying contention at this stage as was John Mullins's Rockmount Ozzy. Heading along the backstraight Matt Dartnall's Distant Village held a comfortable third place from Peter Harnden's Kilara Icon, though Icon tried his upmost to reel in Village, it was the Dartnall runner who took the twelfth and final place in the draw for next week, holding off Icon by 1/2 length at the finish.
With less than a length separating the winning times of all four quarter finals, the competition is still wide open and it would be a fool who wrote off the chances of any of the twelve greyhounds still remaining.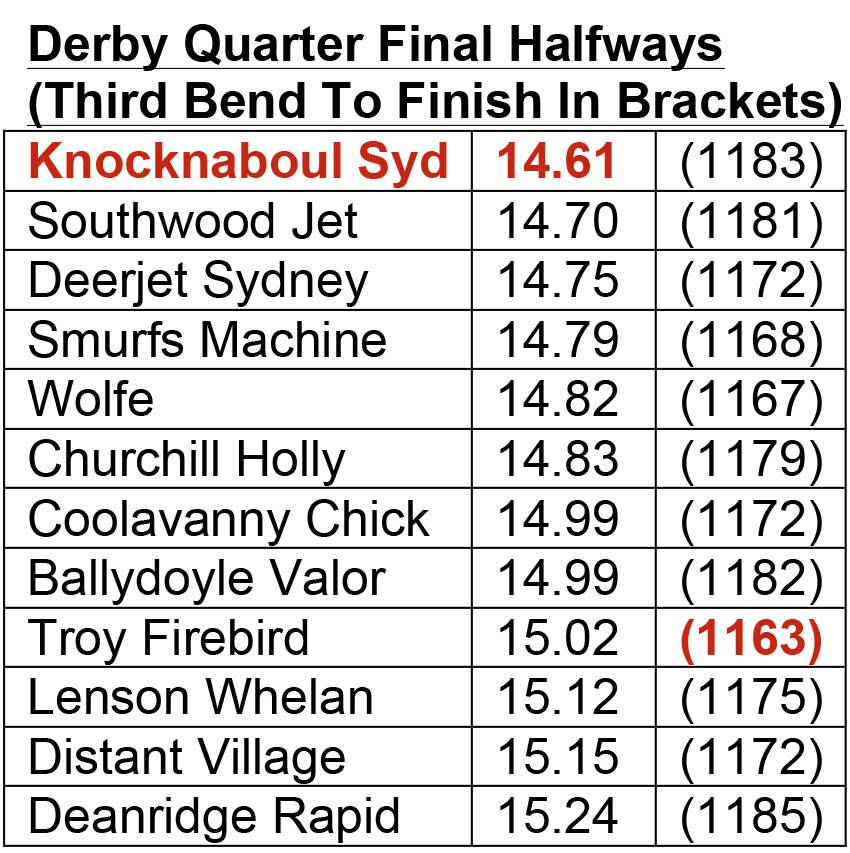 When your livelihood depends on graded dogs and a greyhound of the calibre of Southwood Jet comes along, the world suddenly seems a very different place.
Having never been led and boasting a 6:6 racing record, how does it feel to be Richard Rees going into a Derby semi final?
"Exciting and nerve wracking at the same time but loving it. He came to us on recommendation of Rachel Wheeler who said, 'he is a much better dog than his Irish form shows.'
"We watched the videos and he showed flashes, you could see there was something there, but wasn't she proved right.
"Jet is such a lovely dog, very laid back. I can't tell you how easy Jet is to handle. So far he has been faced with a series of different challenges and he has dealt with all of them, including some unusual trap draws. He moved in from the five last night, but the bump in his stride.
"You never want to get ahead of yourselves, but we really couldn't have asked for a better draw in the semi final on all known form.
"His sectionals from one haven't been as good as in two and five, but I think that is because he has improved rather than trap one not suiting him.
"We are really looking forward to next Saturday but a this stage it is all about getting in the first three."