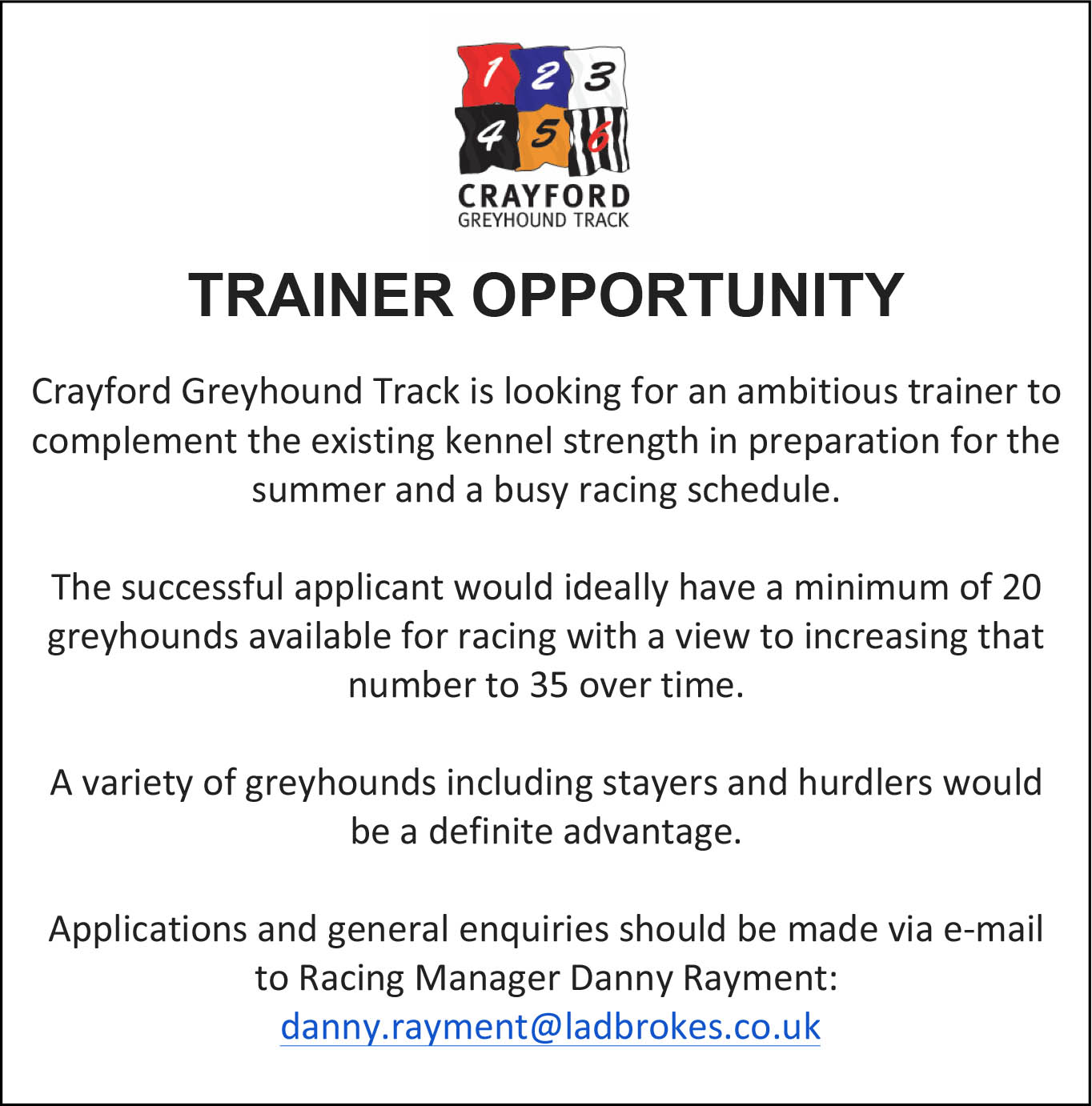 Crayford are looking to recruit a 13th contracted trainer as they embrace their new 2018 schedule of six meetings per week.
Ladbrokes Head of Stadia Richard Brankley said: "We aren't short of runners but we could do with some reinforcement of certain grades and seedings. Also, with the summer coming up and the issue of bitches coming into season, I wouldn't want to leave the racing office in a difficult position.
"But with the increased schedule, we thought it made sense to review the requirements on the trainers. Now we are racing six times a week, it will still suit some of the bigger kennels, with maybe 80 runners, to continue to supply runners for all six meetings.
"But we are conscious that there are smaller kennels, with maybe 30 dogs, who may ask to only be considered for three or four meetings per week. At this stage, the minimum requirement that we would be looking for, would be for 20 dogs."
Brankley also held out an olive branch to trainer Ricky Holloway who recently offered to make his extensive hurdle strength available for graded racing at Crayford.
Brankley said: "We are very grateful for Ricky's support with his hurdlers. Although we don't plan to have non-contracted runners in graded races, we have designed an open race hurdle schedule, including some confined races for dogs who have won no more than two hurdle open races, which should provide Ricky with ample opportunities on Tuesday and Saturday nights.
"I appreciate the value that hurdle racing brings to greyhound racing, and I would remind all trainers that we continue to appearance money for non-contracted trainers in open races. I had hoped that our introduction of the scheme last year would have caught on with the majority of tracks, though sadly that appears not to be the case."