Kinsley's Betfred Gymcrack closes two weeks today, but a couple of the more interesting potential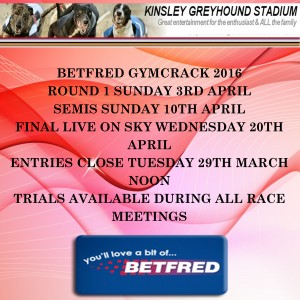 runners may still not ever have raced.
Step forward 'Lowgates' Malfoy and Hagrid. If the prefix sounds familiar, it should because the pair are from a repeat mating to the 2014 Litter of the Year. Whelped two years and two months after the first batch, which included Lowgates Onyx, Jasper, Jet, Rock etc, this latest product of the cross between Windy Millar and Hawks Dutchess are the 'Harry Potter Lowgates'.
Bred by Jim Hayton and whelped in August 2014, they are all unraced but showing great potential in qualifying. Lowgate Malfoy clocked 27.73 for the track's 462 metres in his most recent qualifying trial, brother Hagrid did 27.55. (Another brother 'Lucius' did 27.82 and 'Sirius' has a best of 27.81). Considering Stay Loose recorded 27.50 when landing last year's decider. . .
Kinsley's joint racing manager Andy Mascarenhas said: "They are obviously very exciting and are due to make their debuts. It remains to be seen, of course, whether they can reproduce trial form up against five other runners."
So far only a handful of potential runners have gone into pre-competition 'testing' at the Yorkshire circuit, but that should change within the next week.
Mascarenhas said: "Pat Rosney has brought Newinn Champ along, John Marriott also has a couple, and there is one due to trial for Craig Dawson, but really, we are expecting the interest to increase once the Monmore puppy race is out of the way."