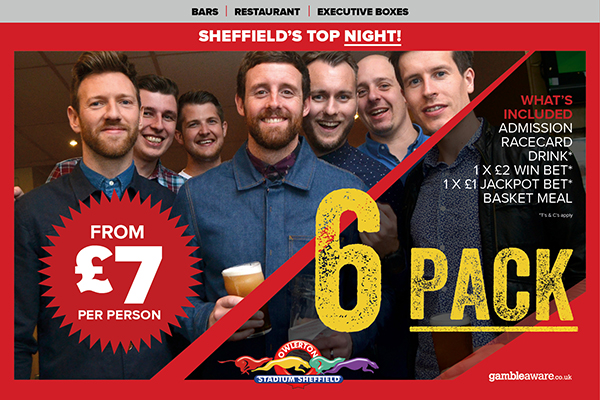 It isn't often that a supporting event threatens to put the main feature in the shade but that could happen in next Tuesday's Betfred Steel City Cup meeting at Sheffield.
Defeats for Tynwald Baz and Dropzone, plus the elimination of Dorotas Woo Hoo were the main talking points the feature event. However, the emergence of a new event, the George Carrigill Memorial, will provide the track with a bonus crowd pleaser.
The opening semi of the £10,000 Steel City Cup was slated to be an gimme for the dog with the two fastest times of the year over course and distance, Tynwald Baz. The 1-2f ran in blue, but would find himself out-trapped and  bullied for the rail by the 25 kilo Yahoo Benny (Mall Brandy-Calzaghe Pearl, Aug 14) who ran from trap three and started at 8-1. Shaneboy Bowie (7-2) ran from trap one . . .

The second semi was reckoned to be a match between Dorotas Woo Hoo (T6 6-4f) and Dropzone (T4 2-1) who was chasing his tenth consecutive victory. They hadn't though considered Ricjard Hanikanai's Cappoquin Jack (Top Honcho-Swift Vicki, Aug 14) who went from trap two as a 4-1 chance. Look out too for the winner's Norfolk compatriot Shaneboy Freddie in red.

Supporting the main event is a new competition – the dual distance George Carrigill Memorial – heats over 500m but with a 660m final.
The £5,000 open race competition was dominated by locally trained runners including four Tykes in the first heat. They included the Elaine Parker duo Blackstone Lyric (Sh Avatar-Rising Song, Feb 15) and Slaneyside Bingo who ran from five and three respectively.

The second semi saw the return of another of the Parker all-star team, the beaten favourite in April's Three Steps To Victory, Droopys Live (Tullymurry Act-Live Queen, May 15) who went from red as the 4-7f. In stripes was another local, the BGBF Puppy Cup winner Geelo Monty. . .

The third qualifier featured the winner of that Three Steps event, and the more recent Lowther Stakes, Carl Perry's brilliant blue Geelo Sapphire (Ace Hi Rumble-Droopys Raeh, Jul 14). She went from four with Pointless Pearl in trap three.