June Harvey is hoping that next Thursday will be a 'two biscuit' day after Clares Kyletaun eased his way into the Coral Regency Final with an impressive 41.43 victory.
In a trouble strewn race in which Apache Kid and Slick Straus were both KO'd, the sole wide seed beat Russelena Reggie by 11 lengths on going rated .15 slow.
The earlier two qualifiers to Mullins/Wallis forecasts.
The first was won by John's Bangor Ella with the four Wallis kennelmates finishing 2nd, 3rd, 4th and 6th,

The second semi was dominated in the early stages by Clares Kyletaun's litter sister Zenas Treacle, but when she was put out of the race by the subsequently disqualified Shreyas Solitair, it was left to Minnies Highway to hold off Cincinnati.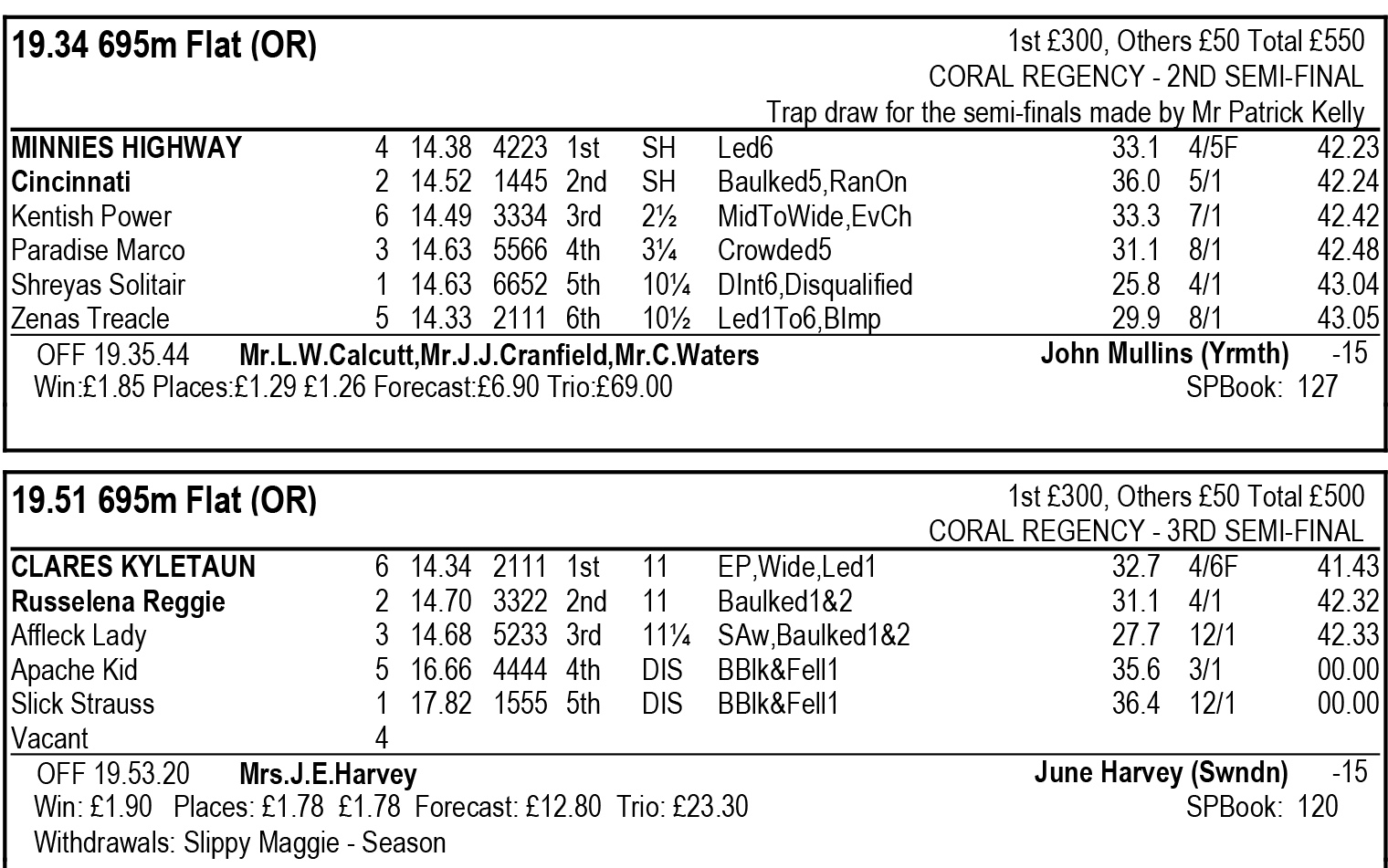 Mrs Harvey admits that she had to watch the replay of Clares Kyletaun's qualifier to see how he ran.
She said: "I was watching the two dogs who were knocked over. Thankfully they both seem to come off okay but it is a horrible way to win a race. I was pleased with the time. I actually thought the track was actually a bit slower than -15, particularly for the inside runners."
Two years ago today, the Hampshire based handler saw her short priced favourite Fizzypop Buddy beaten in the Regency decider and June confesses that she would rather have a big priced runner in a final.
She said: "I hate having favourites, I am waiting for something to go wrong. I definitely feel the pressure. I know we are are taking on trainers from the top of the tree and their dogs are always likely to do something a bit special in a big final. But it won't affect how Kyle is trained this week; it will be everything just the same as usual."
Should the Poole record breaker extend his winning sequence to four, his reward has already been sorted.
June said: "We don't lock the kennel until 10pm every night and the last thing that I do is give each of the dogs a biscuit. They expect it. If they have won, they get two biscuits. Now everybody might think that I am a potty old lady, but I swear they know. If they have won, they are waiting for the second biscuit.
"If Kyle wins next Thursday, he just might get four."