The BGBF British Breeders Stakes at Nottingham reaches semi-final stage this evening at Nottingham's Colwick Park stadium and that competition is supported by 3 first round heats of a new competition introduced by the BGBF in the shape of the BGBF British Bred Midlands Sprint.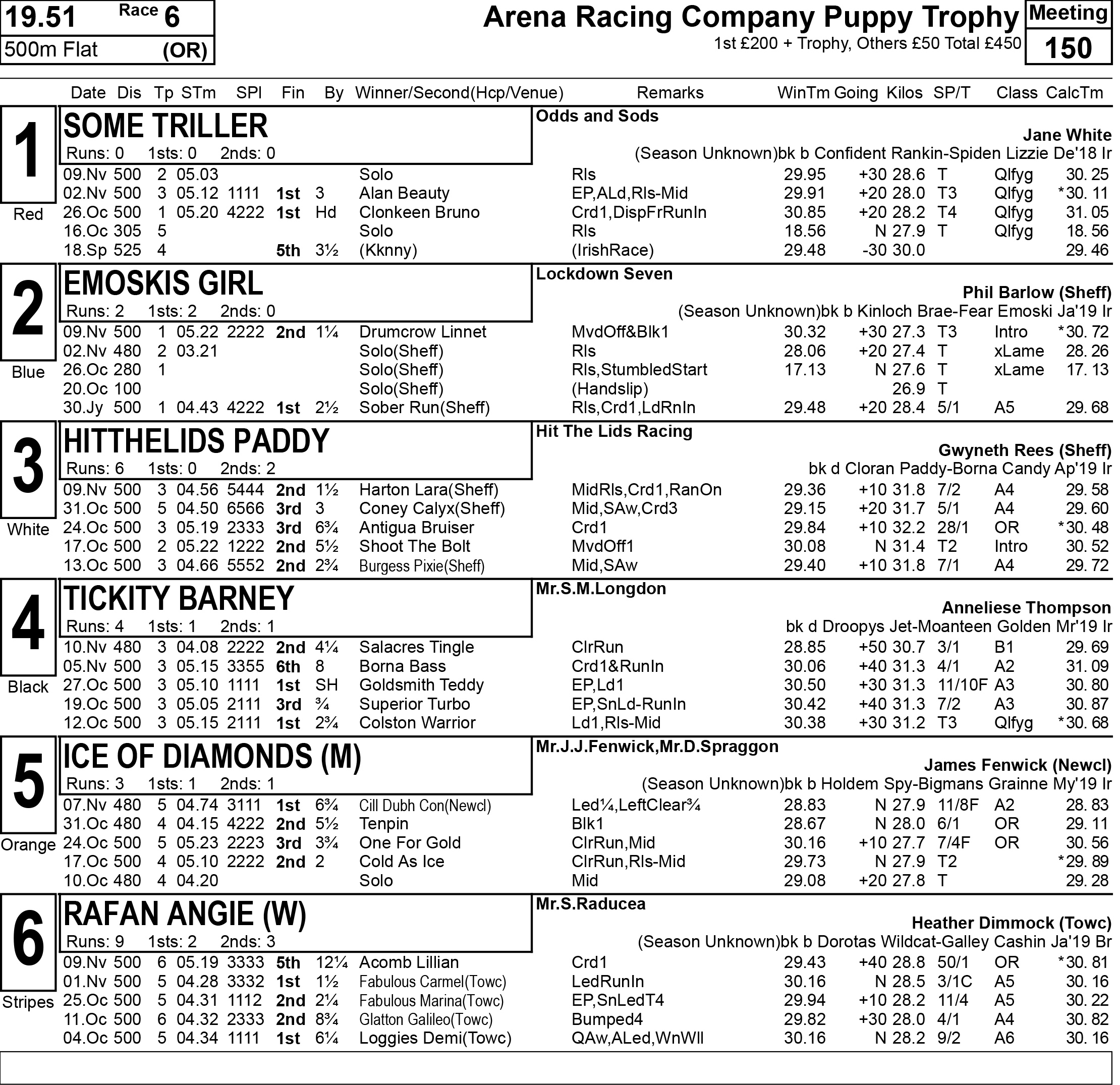 First up though we have an interesting puppy race sponsored by Arena Racing Company. Jimmy Fenwick's Ice Of Diamonds, a half sister to the kennels now retired superstar Ice On Fire, backed up some hugely promising performances here at Nottingham in recent weeks when landing an A2 at home track Newcastle in comfortable style.
She'll have to avoid the early pace of Anna Thompson's Tickity Barney in the early stages but if doing so she should prove too good. Jane White introduces what looks to be a highly promising young bitch in the shape of Some Triller whilst Phil Barlow's Emoskis Girl left plenty on the track on what was her first sighter of the circuit in a trial last week.
Either of those two would prove dangerous to the selection if they managed to get clear on the inside of the track and if the selection underperformed however on all known evidence Diamonds should be too good at this stage and rates a confident selection albeit is likely to be priced accordingly.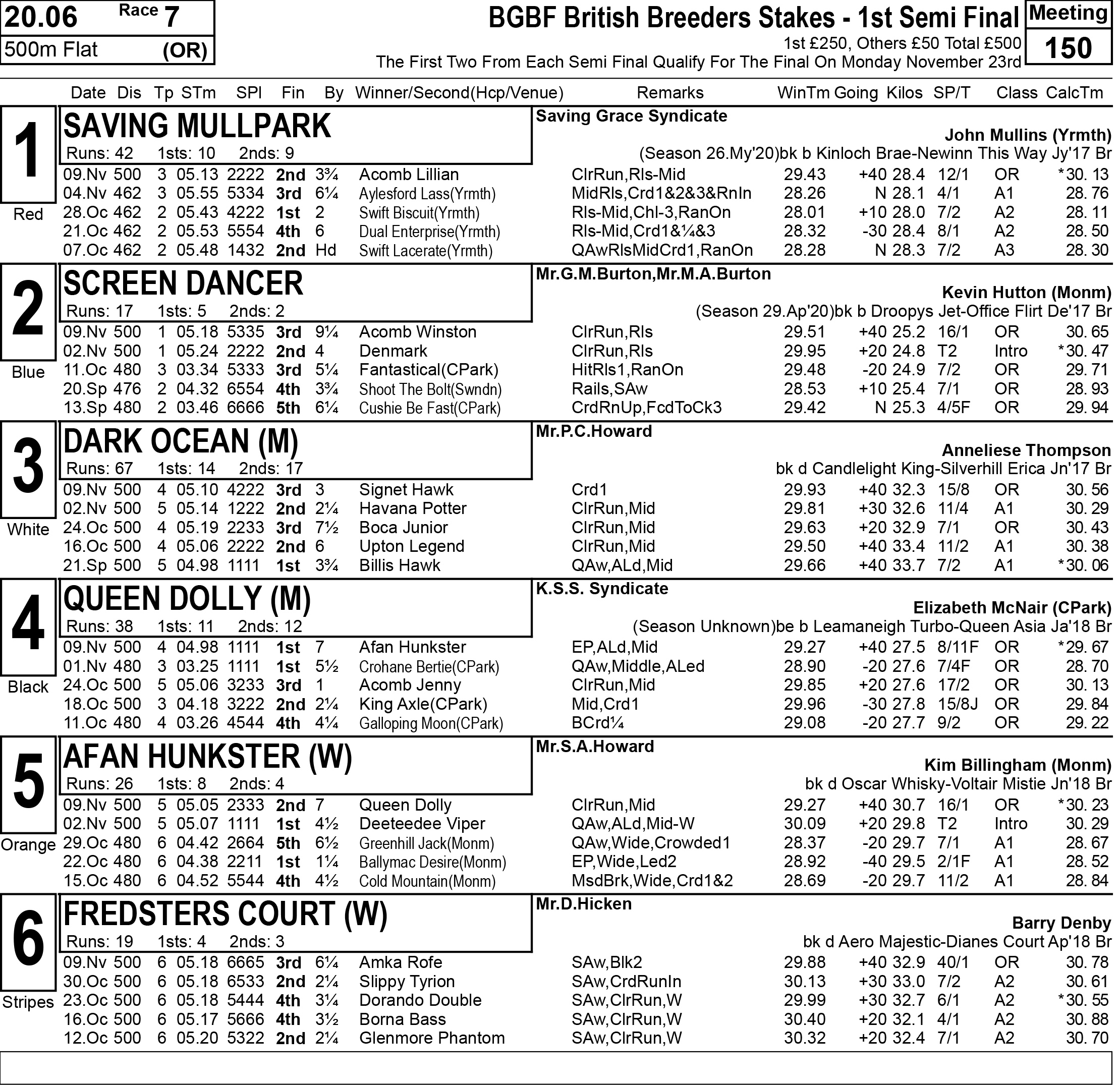 Queen Dolly was simply sublime when destroying her heat opposition last week by 7 lengths in 29.27 (+40). This time equalled the previous best time ever recorded over course and distance by a bitch, which incidentally was also achieved by the McNair team when their Queen Beyonce did so in the first round of the English Derby in May 2019.
Assistant trainer Rab McNair has spoken during the past week of freshening up the mindset of Dolly somewhat after she appeared to be going through the motions, this freshening up might not see such a vast upturn in fortunes forever although it would be foolish to oppose her here and anything like a reproduction of last week's effort should be more than good enough to take the evening's first semi-final of the British Breeders in style.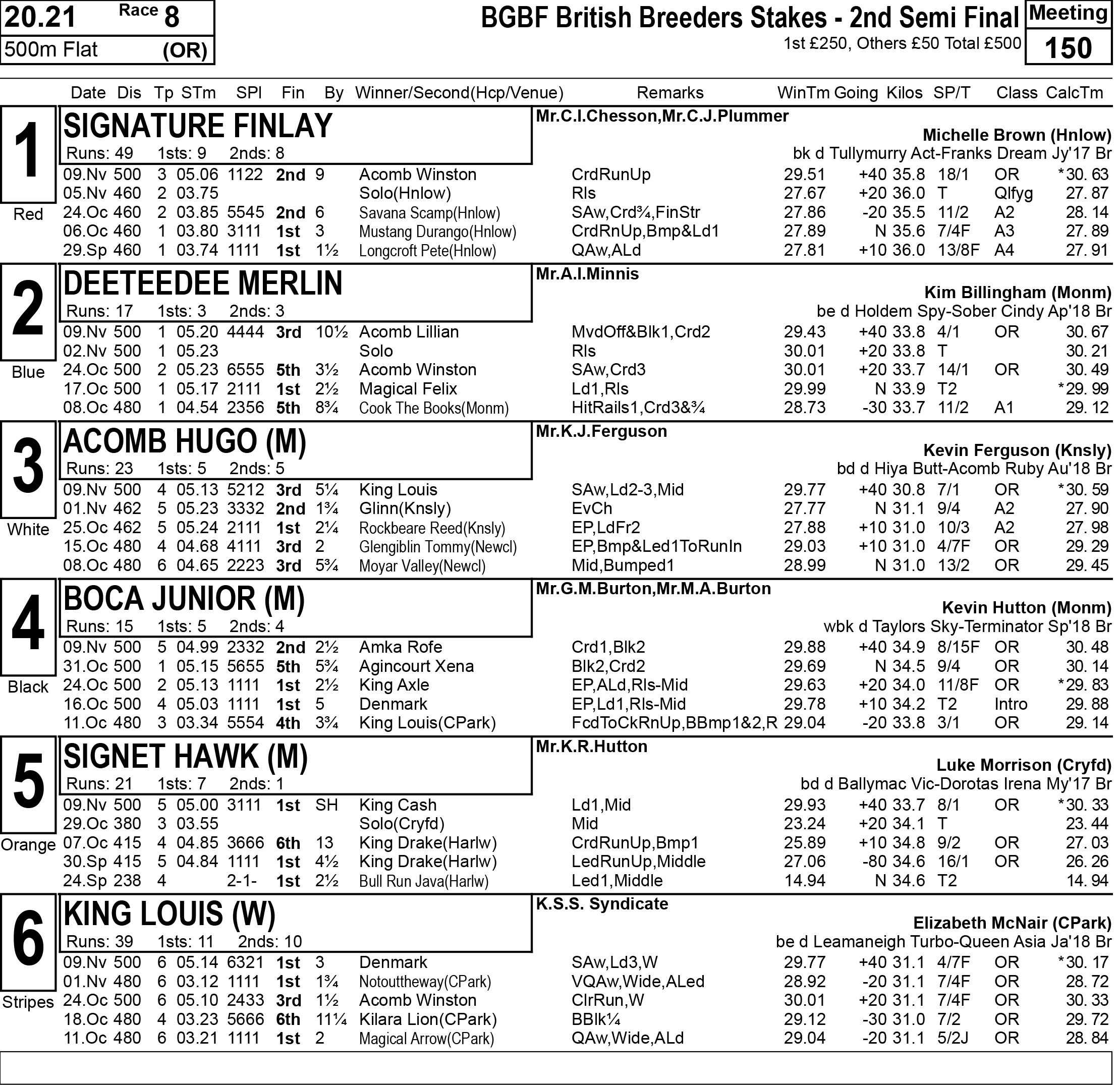 King Louis can provide the McNair kennel with a quickfire double in the second semi. He was many people's banker on last week's card but after a tardy start he gave supporters many moments of worry in the initial stages of his heat. Louis eventually proved far too good though, showing excellent middle pace, taking command heading into the third turn he came home strongly and silenced any doubts that this 500m trip might prove in anyway problematic if led early. Signet Hawk and Boca Junior drawn to his immediate inside are live dangers based upon last week's efforts so Louis will likely have to be a fair bit sharper at the traps tonight, however that being the case he will prove difficult to beat.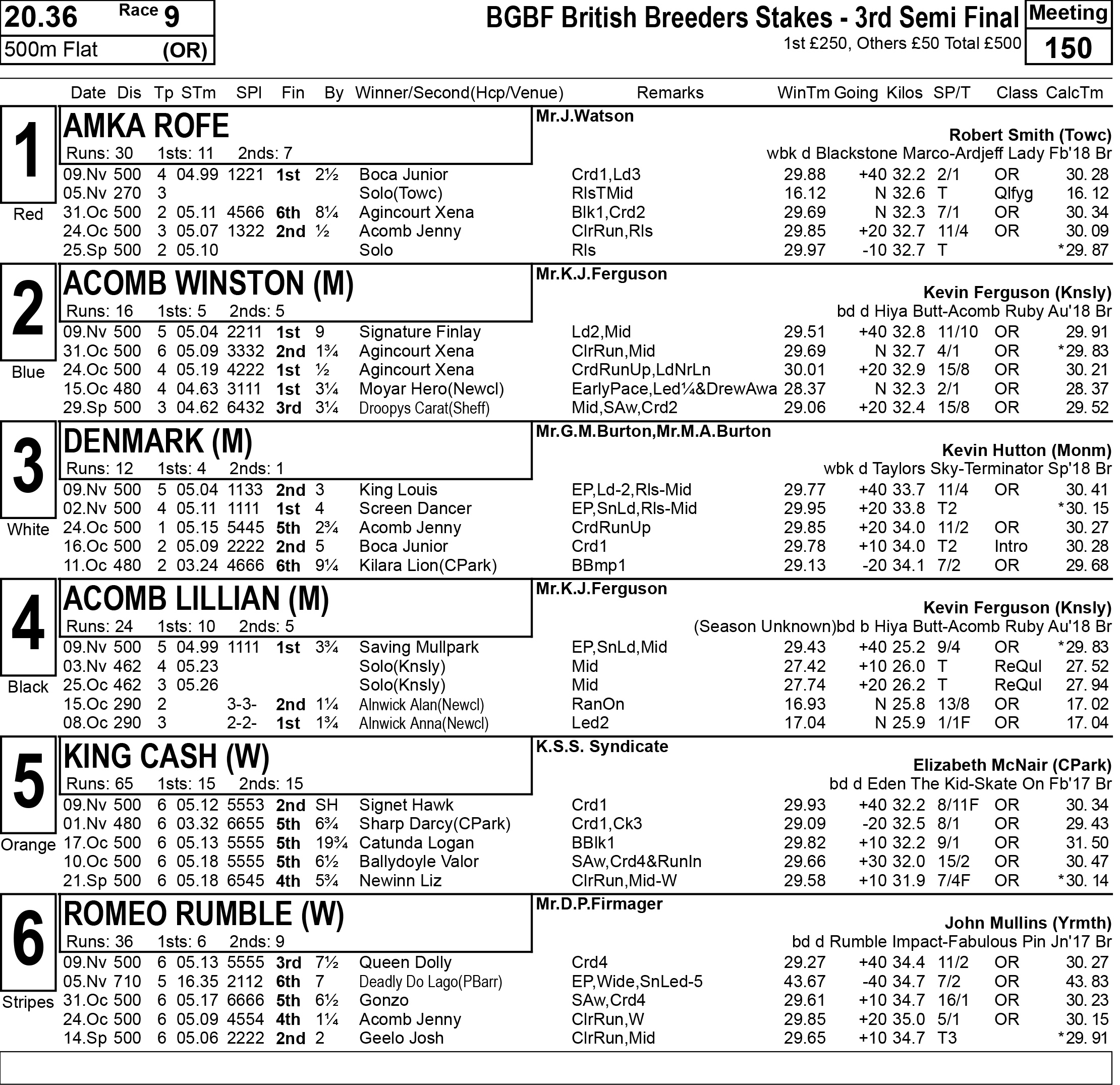 Acomb Lillian came into last week's heat without the benefit of a trial however it proved no hinderance as she landed her heat by fully 3 3/4 lengths in 29.43 (+40) off the back of an excellent 4.99 split. Trainer Kevin Ferguson is doubly represented in the third and final semi-final, he's also got live chances with his Acomb Winston who races from trap 2. This is a race where stakes should be kept respectable, it's a competitive enough affair and the chances are that it could become congested up the middle of the track. The selection though is with Lillian who with a break can pace up and take command by the turn.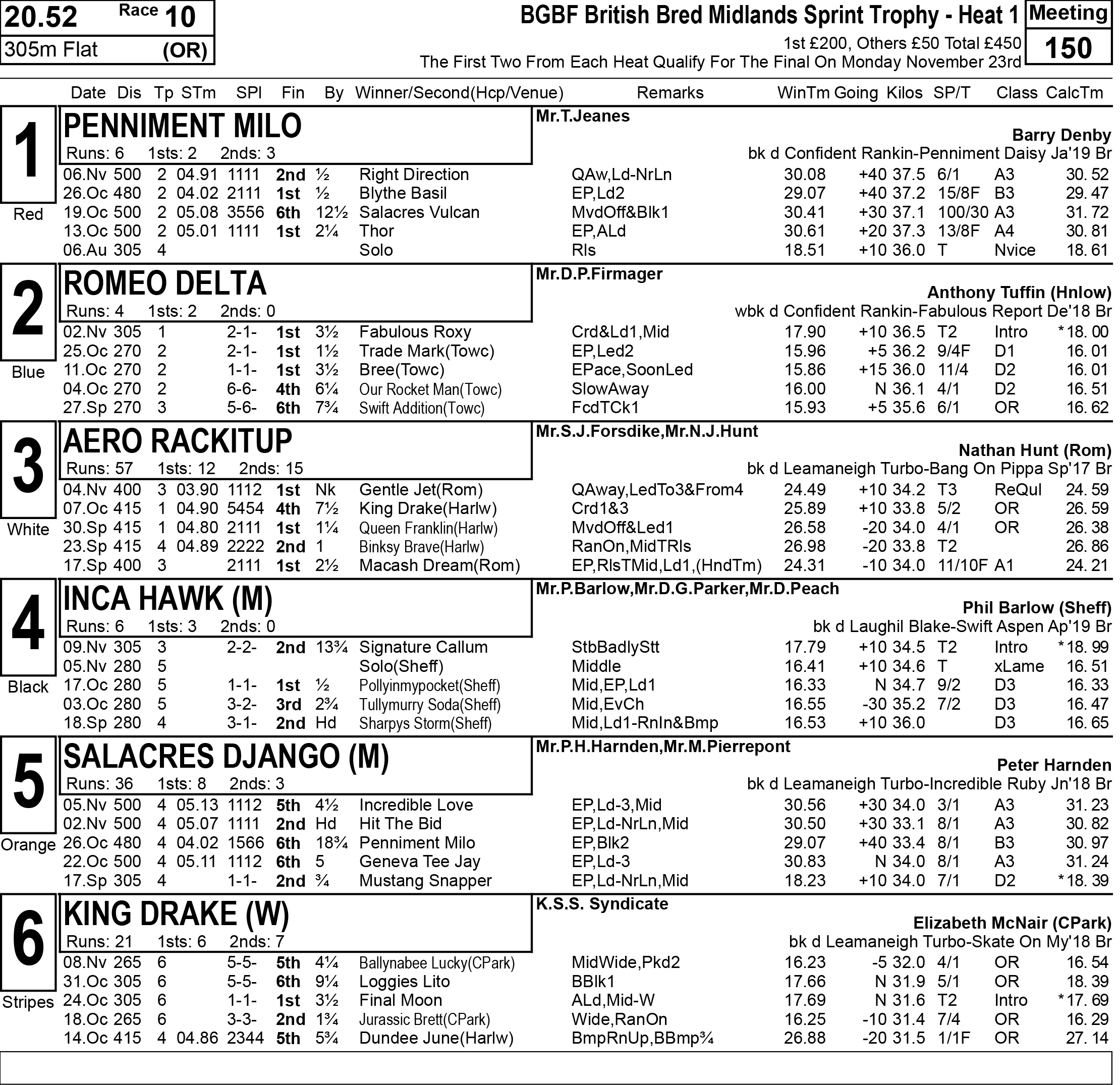 King Drake looks well drawn to take the first heat of the BGBF British Bred Midlands Sprint, anything like a reproduction of his 17.69 trial here a few weeks ago will be more than good enough.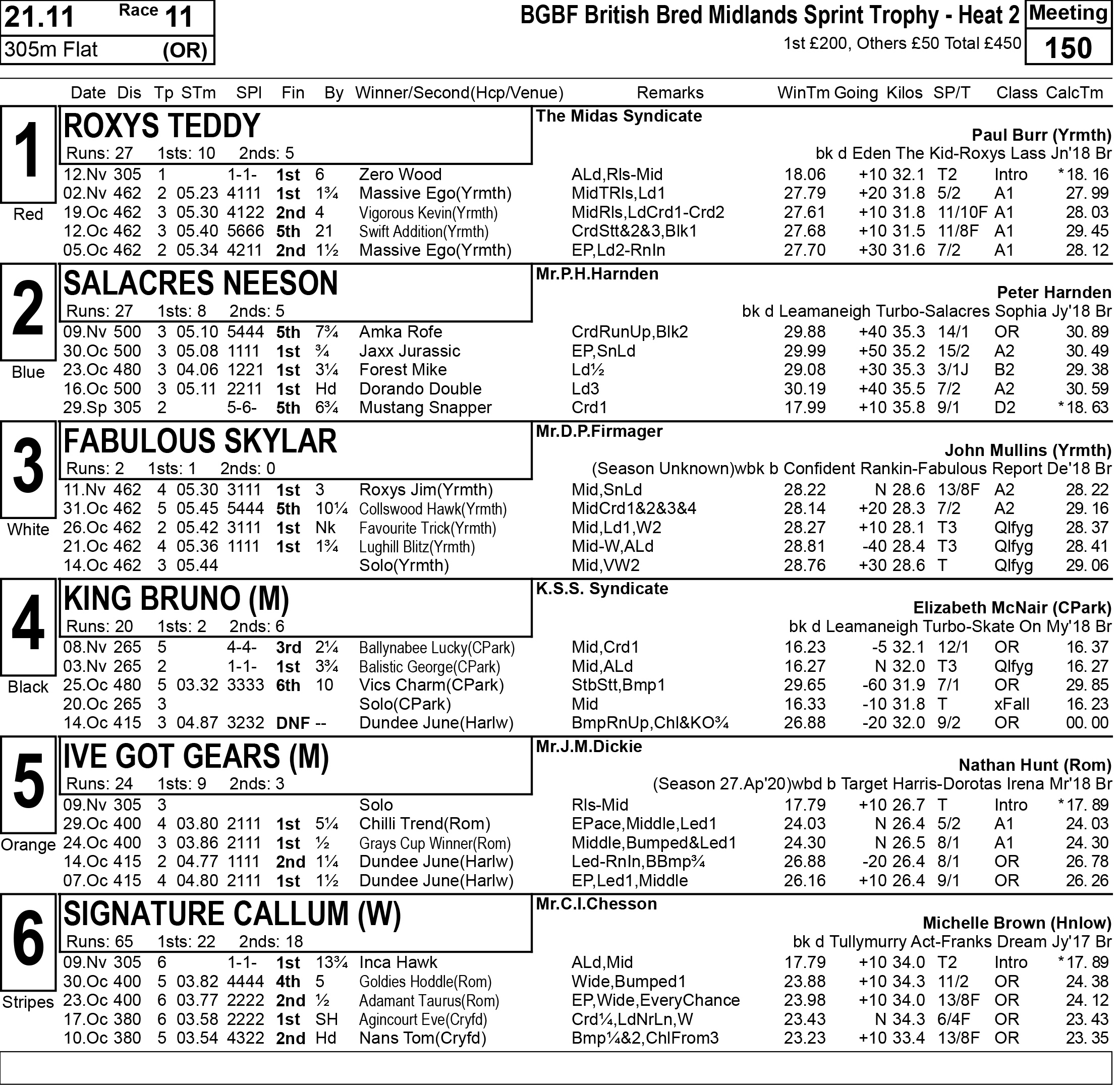 The second heat looks a fair bit more competitive, both Nathan Hunts Ive Got Gears running from trap 5 and Michelle Brown's Signature Callum look reasonably closely matched greyhounds and confirmed that viewpoint perfectly when recording identical 17.89 trial times over this 305m course at last Mondays pre racing trial session. A chance is taken with Ive Got Gears given that he has the inside line on Callum, their main market danger looks to be the McNair trained King Bruno who lacks a look around and isn't the most consistent at the traps.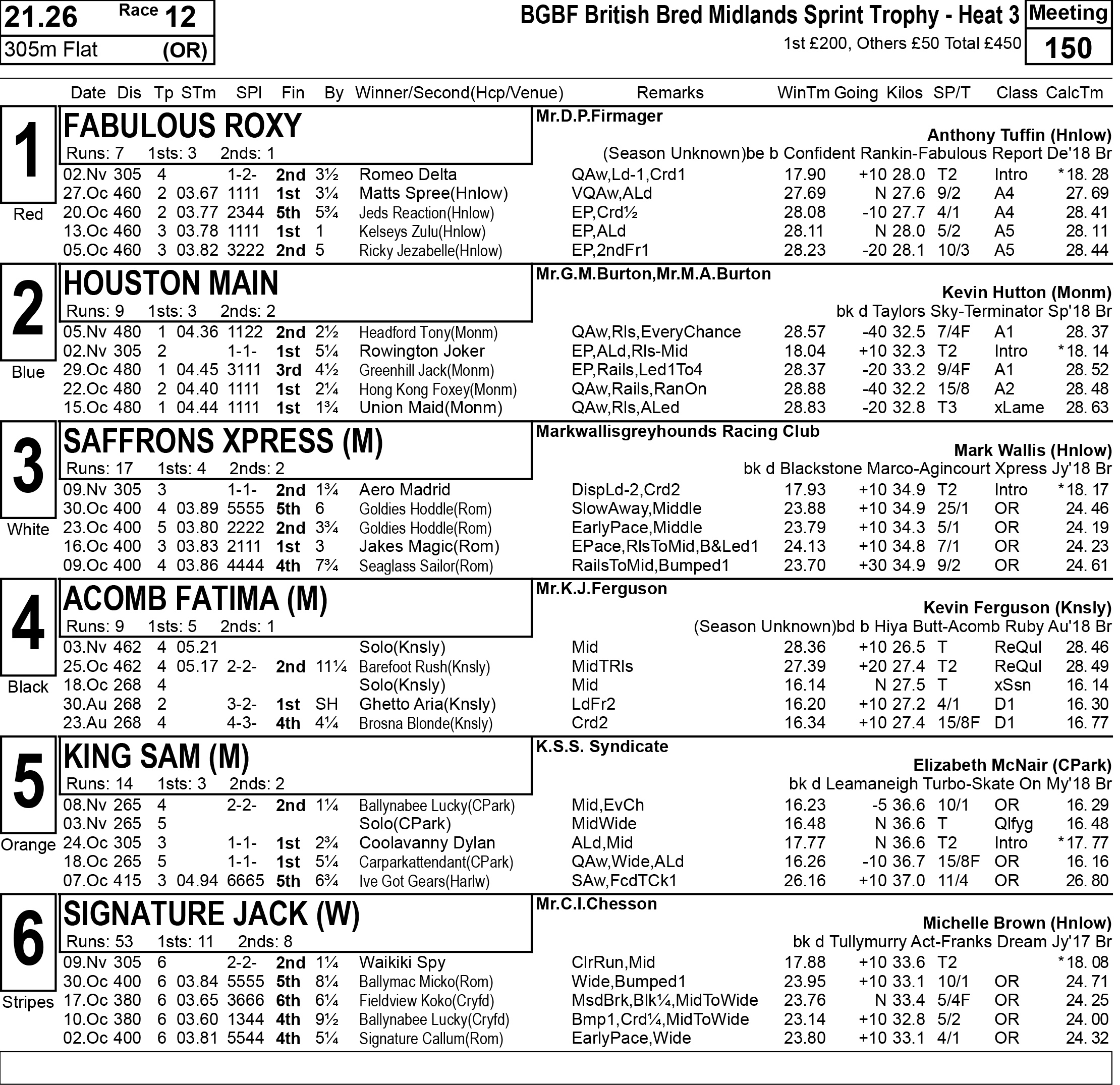 Given the gaps on the card of King Sam he's obviously not the easiest greyhound to train for Liz and Rab. He's a pacey sort however and moved very well when beating off Coolavanny Dylan by 2 3/4 lengths in a trial over course and distance here a few weeks ago in 17.77. That kind of run will be more than enough to land the third and final heat of the BGBF Midlands Sprint and can round up what is potentially a very good night for Team McNair.