Ratings and Analysis by Pete Walker
The category one competitions come thick and fast now with the British Bred Produce Stakes for 2 year olds worth £15,000 to the winner. All breeders of greyhounds reaching the final get a bonus as well. The event takes place at Swindon over their four bend 450m distance with sixty-one runners initially competing over 12 heats. We are now down to the last sixteen with two five dog contests following the withdrawal of Prime Time and Manny Pac. The second round heats were kind to the favourites with four winning and two qualifying in the runners-up position. I have compiled comparative ratings with the top three from each race indicated below as well as the overall top five of the semi-finalists with prices available only from Ladbrokes at the time of writing.
1st Semi-Final
T3 (R) – 150: Carn Brea
T1 (R) – 135: Brookside Alice
T4 (M) – 135: Westmead Freddie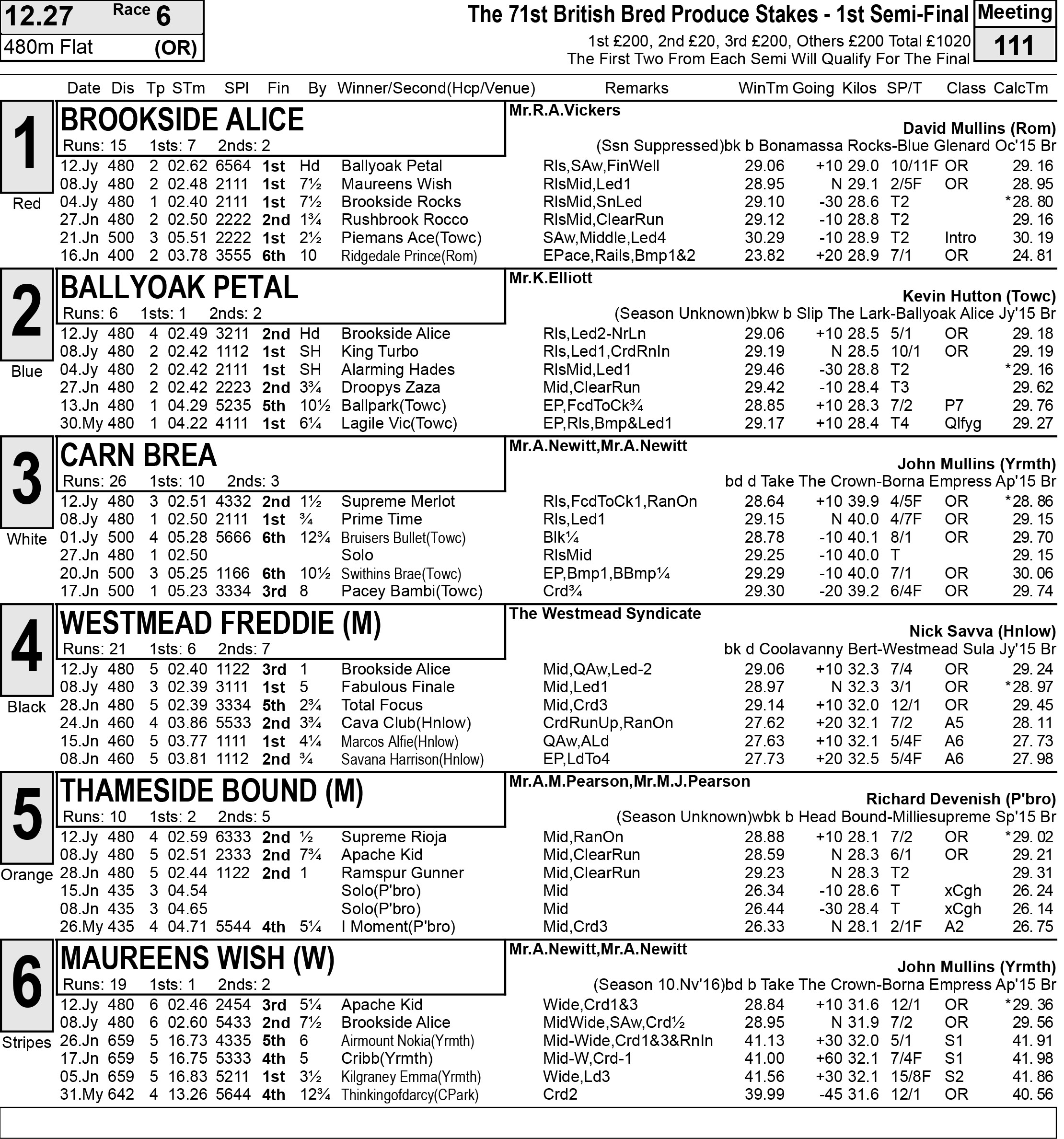 2nd Semi-Final
T6 (W) – 179: Supreme Merlot
T5 (M) – 161: Rushbrook Rocco
T3 (R) – 144: Take The Crowd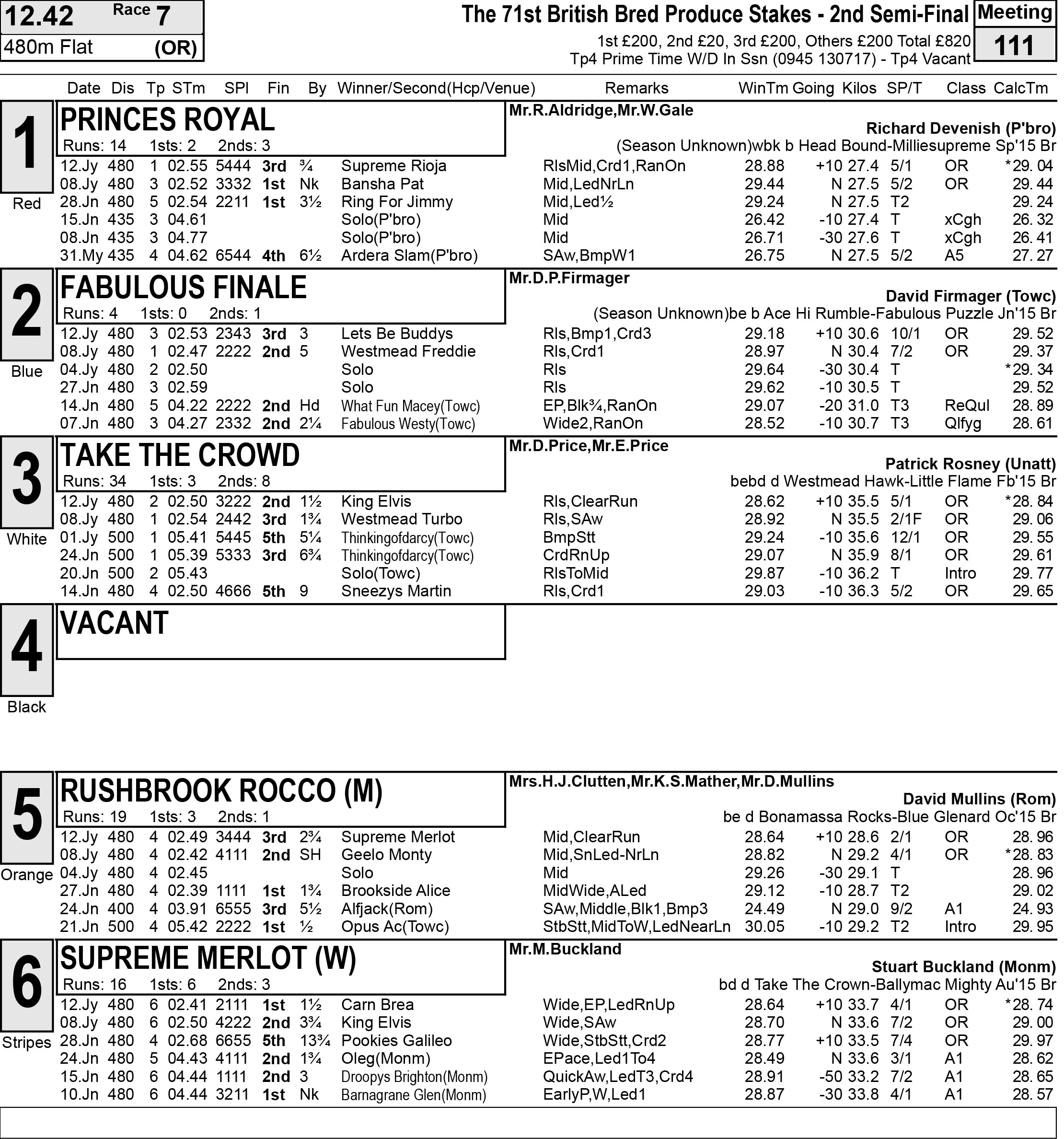 3rd Semi-Final
T3 (M) – 193: King Elvis
T5 (M) – 159: Apache Kid
T6 (W) – 144: Supreme Rioja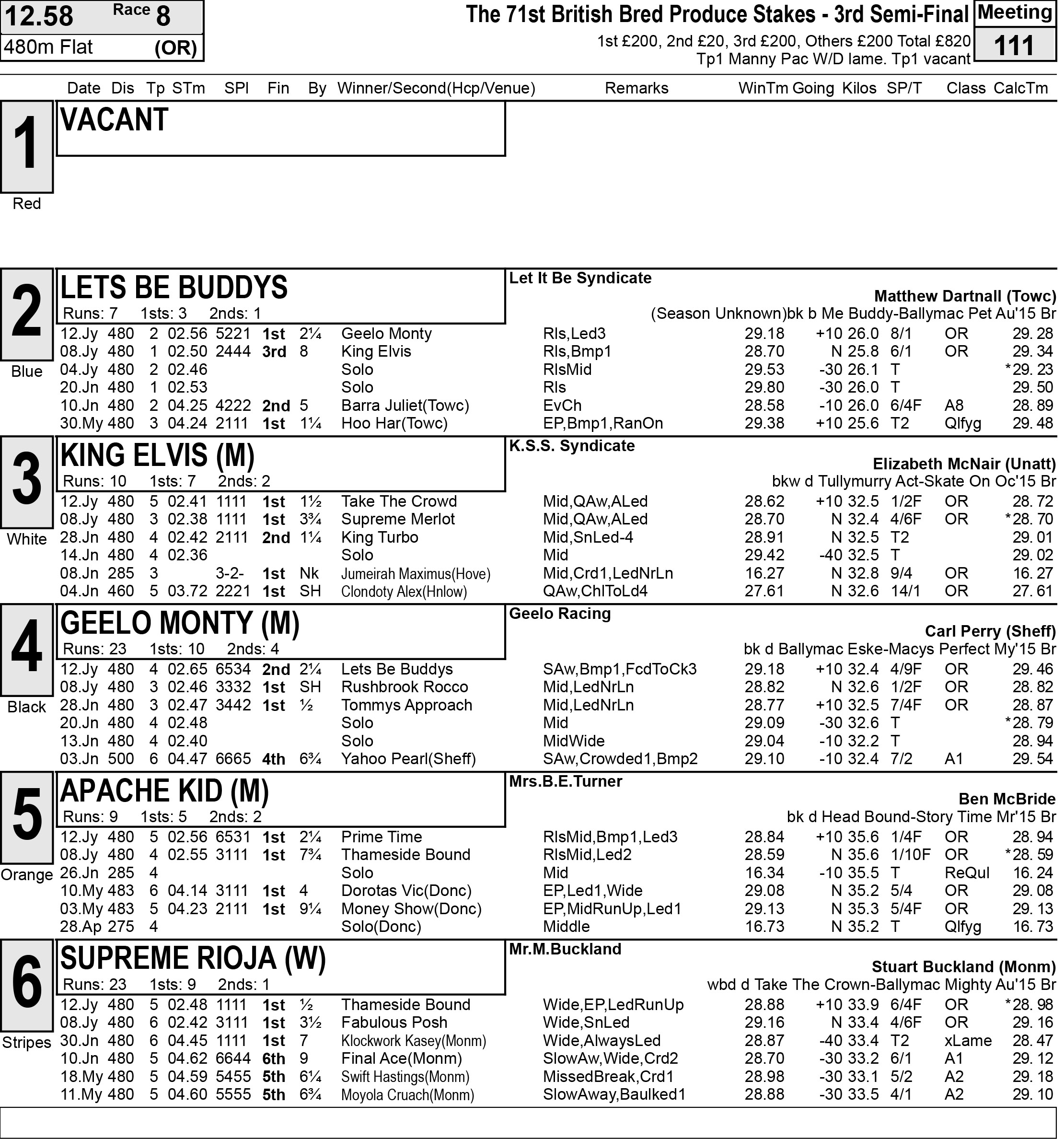 Top 5
(193): King Elvis (11/4)
(179): Supreme Merlot (14/1)
(161): Rushbrook Rocco (16/1)
(159): Apache Kid (5/2)
(150): Carn Brea (6/1)
Ratings based on a maximum of 200 reflect only recent performances over the course and distance. Track conditions at the time of racing may affect future performances of course. The first semi-final includes Carn Brea who looks strong enough to win this race although has had his fair share of traffic problems in the past to contend with. The following race includes four heat winners but the fact that King Elvis (11/4) is on the inside of the other middle seeded runners gives him an advantage with his customary slick exit. He is preferred to Apache Kid who is slightly shorter in the market priced up by only one bookmaker up to press. He came from last to first in his previous heat but this is a tougher assignment. Supreme Merlot (14/1) runs in the last five runner semi-final as the only previous round winner and should qualify if repeating that level of performance. He could well be the solo wide seed in the final and his odds of winning outright look very generous.