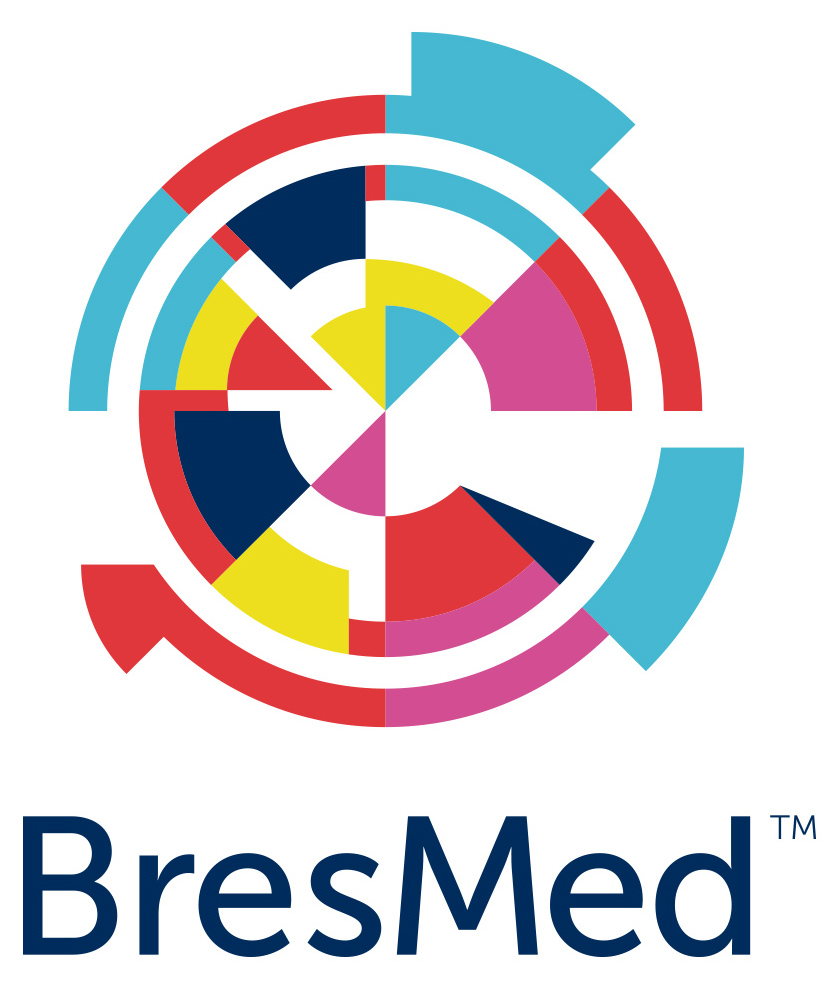 Three semi finals of the BresMed Northern sprint take place at Owlerton Stadium, Sheffield this evening.
The first round last week saw 36 of the fastest, most powerful greyhounds in training line up for an event that sponsor Nic Brereton and his company BresMed could rightfully be proud of.
This evening, the 18 remaining greyhounds line up in their bid to prove themselves the best of the best in what has quickly established itself as the most prestigious open race sprint event on the GBGB calendar.

Semi final one sees recent, and defending, RPGTV Steel City Cup winner Roxholme Nidge (1-1f), line up from trap 1. Trained by Hayley Keightley, Nidge is all class.
Stepping back in trip to this 280m sprint course raised a few eyebrows in certain quarters but the Keightley team are nobody's fools and their open race strike rate this year of 48% (14 winners from 29 runners as of 22/04/19) shows that when it comes to deciding in which races to place their greyhounds, they are the best to do so.
In last weeks first round, Nidge (T3) was initially beaten to the punch by Sleepy Genie (T6). He soon showed superior pace to the bend and after running the turn superbly well he was in front as they headed up the straight, eventually running out a comfortable 2 3/4 length winner in a time of 1587.
Trap 1 isn't renowned as a brilliant box to break from in Sheffield sprints though and in a race that contains class throughout, he'll have to be on his toes early if he's to qualify for next weeks Category One final. Nidge faces no less than 3 first round heat winners here in the first semi final.
Patrick Janssens' Goldies Hoddle (6-1)runs from trap 2, a winner of his heat in 1597whilst the Phil Simmonds trained Grays Cup Winner (10-3) lines up from trap 3, an impressive winner in his heat when pinging from trap 5 last week, winning by 1 3/4 lengths in a fastest of the round 15.84.
Lynn Cooks Nottingham raider Wokeen (9-2) looked sure to improve on his pre competition trial of 16.20.In last weeks heat he initially lay second to Argentina, though soon had that rivals measure and beat him off by 1 1/2 lengths in a joint fastest of the round 15.84.
Coney Sabella (40-1) and kennel mate Coney McKenna (33-1) both ran very similar races when qualifying via third place at double figure odds from their respective heats for local trainer Tony McKenna.
Both drawn in trap 6 last week, they kept themselves to themselves out wide to qualify for tonight's semi final.
They are sure to find things a lot tougher this evening and being drawn next to each other may prove as troublesome this evening as it was beneficial last week.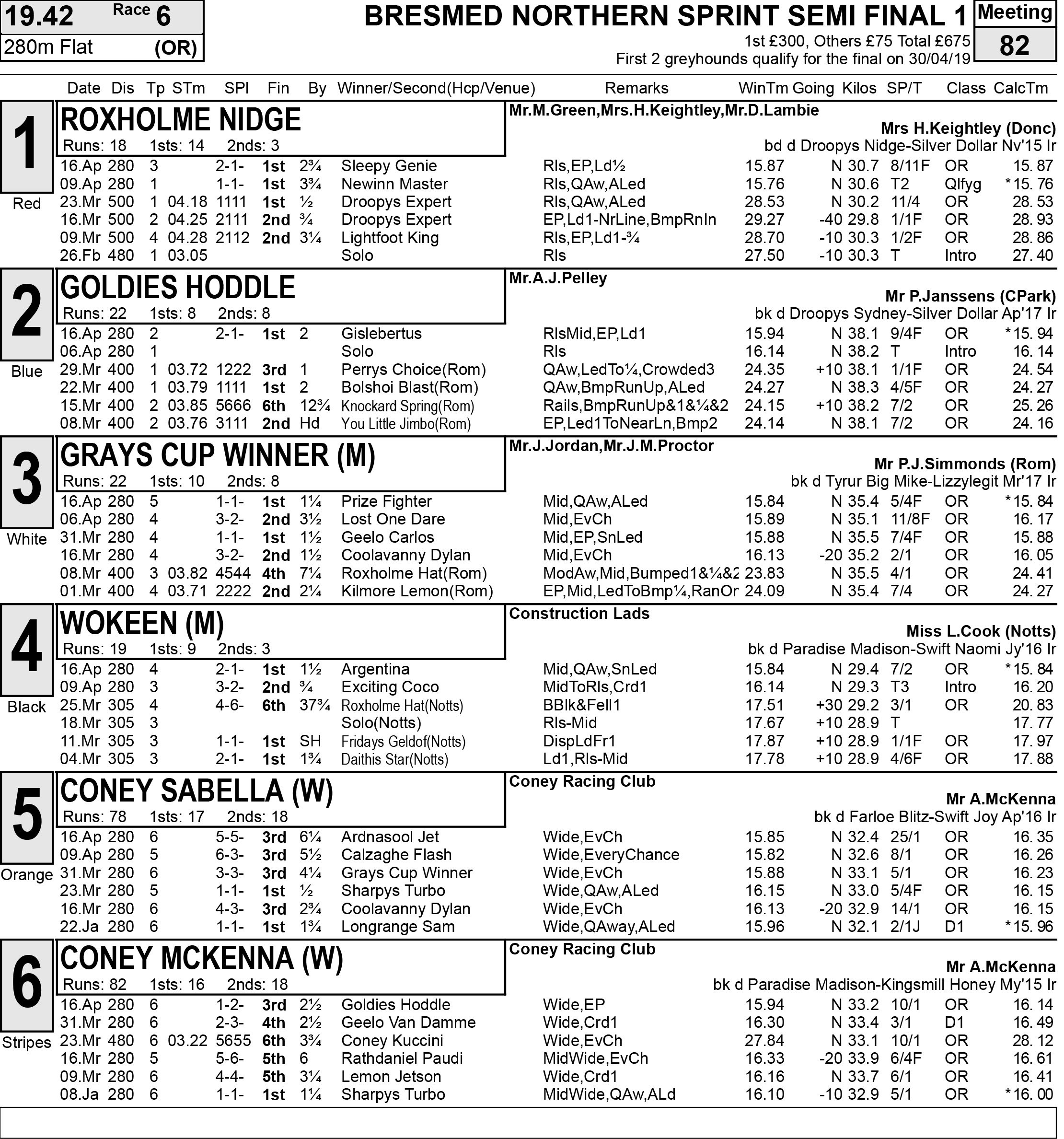 Semi final two sees Cathal McGhee's dual Bar One Irish Sprint Cup winner Ardnasool Jet (1-2f) in action after a terrific debut on English soil during last weeks heats. He smashed through the bars last week from trap 2 and once taking command of the rail from Ted Soppit's Calzaghe Flash the result was never in doubt.
Jet stopped the clock in 1585, but as his pre competition trial of 15.70 showed, he has more in the locker. McGhee is currently lodging at the Geelo racing kennels of Carl Perry and will be hoping to extend his stay for another week.
Magical Houdini (8-1) lines up from trap 1 for Patrick Janssens after qualifying in third place behind Roxholme Nidge last week.
Belinda Greens Crayford raider Gislebertus (14-1)  goes from trap 3, qualifying in second place last week having looked in a poor position early on.
Skyfall Venom (40-1) runs from trap 4 for Paul Sallis, he run a game race behind Grays Cup Winner last week to qualify at a huge 16/1 whilst Kevin Hutton's Prize Fighter (5-1) is an interesting contender in trap 5.
He ran a notable race in last weeks heat when beaten just 1 1/4 lengths, again in the heat won by Grays Cup Winner.
Coney Cassius (40-1), kennel mate and litter brother to Sabella who runs in the first semi final, qualified in much the same fashion as the two other, Coney keeping a wide course throughout, he qualified at double figure odds in third behind Coolavanny Dylan.
In what looks a hot race, he will need inside crowding in order to progress to next weeks final.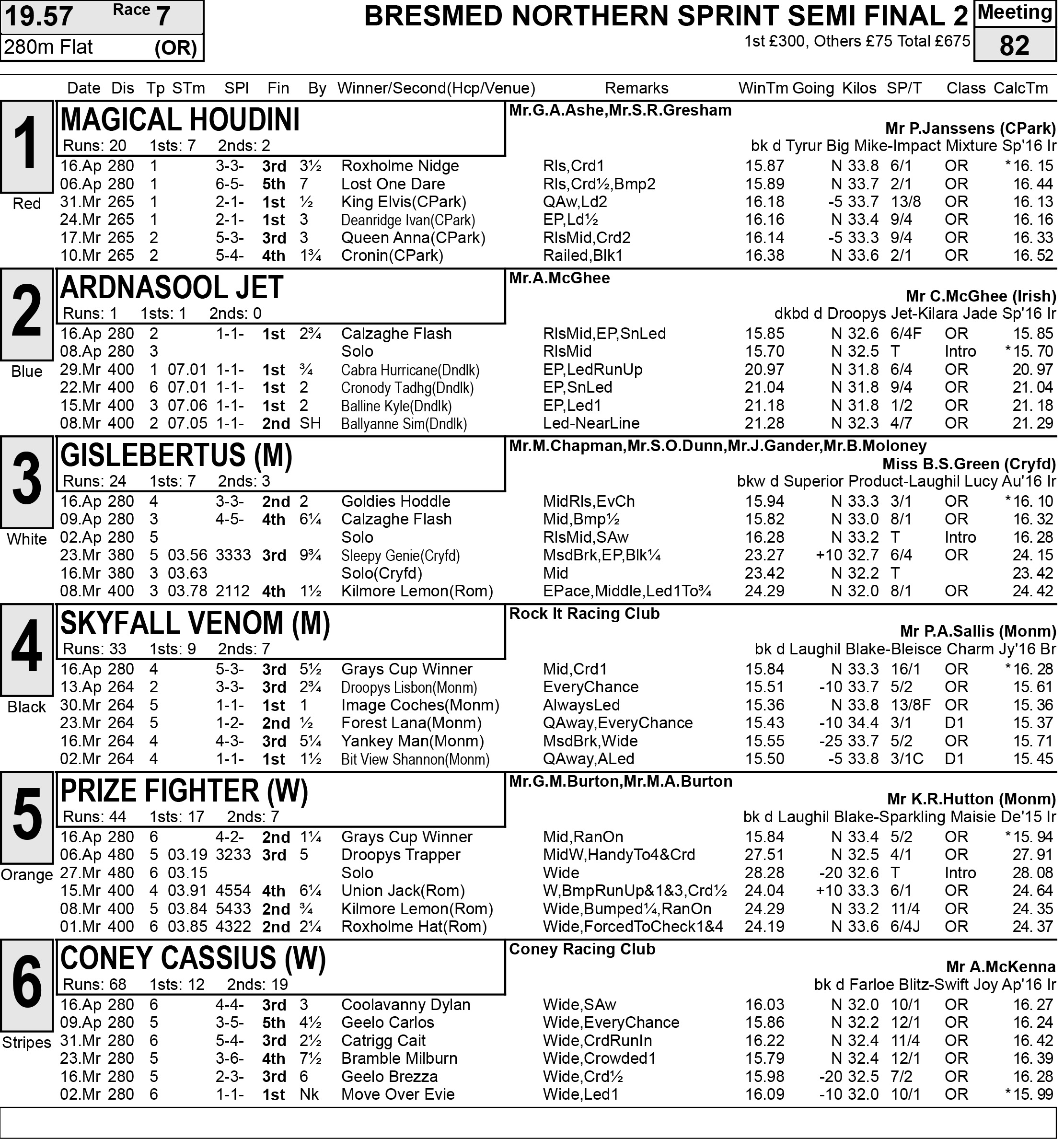 Semi final three is a very competitive affair. Ted Soppit's 2018 National Sprint champion Calzaghe Flash (7-4jf) lines up from trap 1. He lost little in defeat when just squeezed for room at the first bend last week by Ardnasool Jet.
Fridays Geldof (10-1) yet again runs from trap 2, after flashing from the traps and leading until the run in, he was eventually claimed by Kirsty Grayson's local hope Coolavanny Dylan (7-4jf), who on that occasion was drawn in trap 4.
Dylan is likely to have improved for last weeks run and is more suitably drawn tonight in trap 3. Sparkyjack (14-1) who tonight races from trap 4 ran a solid race for Belle Vue trainer Joy Andrews, qualifying in third place behind Wokeen.
David Puddy's Sleepy Genie has unfortunately been withdrawn from the competition so that leaves last but by no means least, Argentina (7-2) who races from trap 6 for Kevin Hutton.
He finished second last week on what was his first start after returning to the UK after a tilt at the Con & Annie Kirby Memorial over at Limerick. He was eliminated at the third round stage of that event, going out behind the eventual competition runner up, Herecomesdahoney.
That was no bad comeback effort, he's sure to improve and could be well enough drawn on the outside of the field.

There was a good crowd in attendance at Sheffield for last weeks heats, it's sure to be another superb evenings entertainment, if you can get to the track again to enjoy the races in person, if not be sure to catch all of the action live on Racing Post TV Sky channel 431 where your evenings entertainment will be hosted by Phil Donaldson, joined by Rose Draper and with owner Ben Green guesting.
A reminder of the first round
| | |
| --- | --- |
| Ante post |   |
| Ardnasool Jet | 3 |
| Roxholme Nidge | 4-1 |
| Coolavanny Dylan | 8-1 |
| Calzaghe Flash | 10-1 |
| Grays Cup Winner | 10-1 |
| Wokeen | 14-1 |
| Argentina | 20-1 |
| Goldies Hoddle | 20-1 |
| Magical Houdini | 20-1 |
| Prize Fighter | 20-1 |
| Gislebertus | 40-1 |
| Sparky Jack | 40-1 |
| Fridays Geldof | 50-1 |
| Sparkyjack | 50-1 |
| Coney Cassius | 100-1 |
| Coney McKenna | 100-1 |
| Skyfall Venom | 100-1 |
| Coney Sabella | 125-1 |