Ratings and Analysis by Pete Walker
Although sprint racing is not every enthusiast's 'cup of tea', it is nevertheless a category one event and well worth entering. All the finalists are guaranteed a minimum of £1,000 thanks to the generous sponsors. We are already down to twelve runners which means three now qualify from both semi-finals.
The heats proved to be a layer's paradise with only one favourite obliging, but that's the nature of sprinting where the fate of runners is usually decided in the first five seconds of the race. I have compiled comparative ratings with the top three from each race indicated below as well as the overall top four of the semi-finalists with best prices available at the time of writing.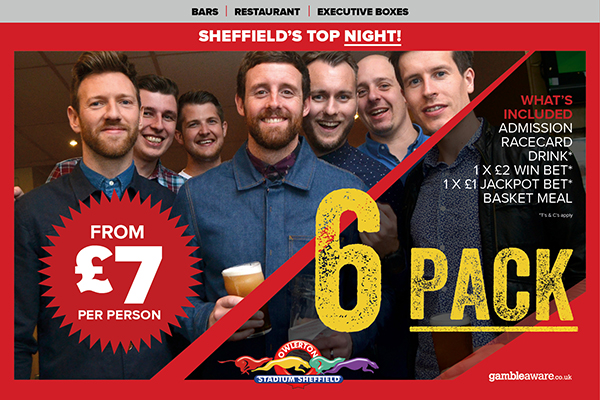 1st Semi-Final
T3 (R) – 186: Ela Ela Genie
T5 (M) – 176: Forest Natalee
T2 (R) – 164: Hiya Butt
T4 (R) – 164: Beat Surrender
Ratings based on a maximum of 200 reflect only recent performances over the course and distance. Track conditions at the time of racing may affect future performances of course. There were 8 railers and 2 each from middle and wide seeds who qualified. The first semi-final involves four heat winners with Ela Ela Genie (6/1) who seems to have rediscovered his trapping boots. With a similar performance from trap 3 again should be enough to reach the final.
However, the in-form Forest Natalie (12/1) looks a big danger at double the odds. Joint favourite Hiya Butt (9/2) only just qualified but cannot afford a tardy start in such a competitive field.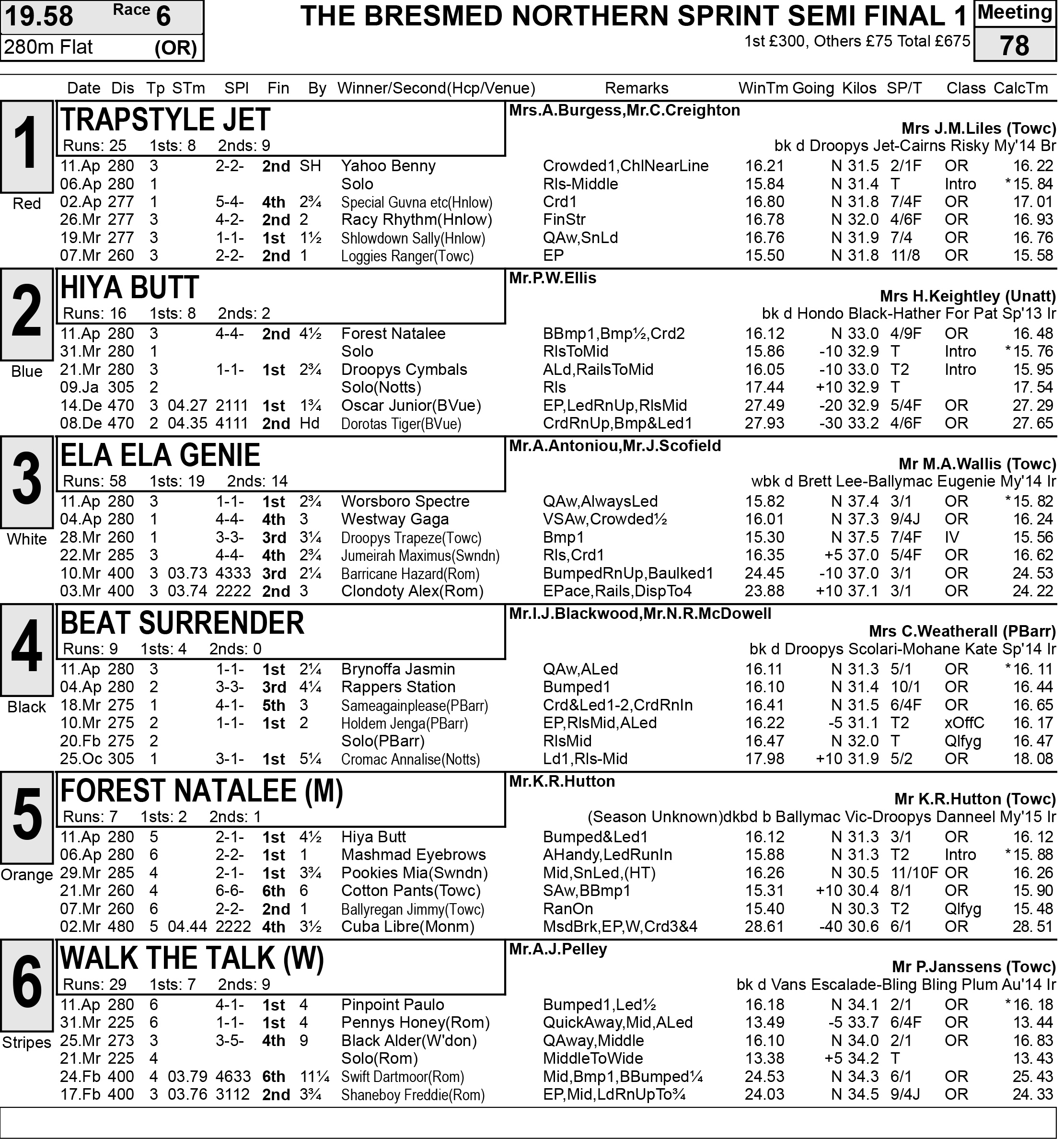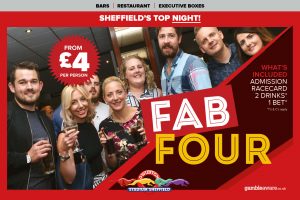 2nd Semi-Final
T4 (R) – 188: Toolmaker Rambo
T5 (M) – 169: Worsboro Spectre
T1 (R) – 164: Mashmad Eyebrows
Toolmaker Rambo (9/2) will have his supporters and appears the one to beat in the next as well as a strong contender for the eventual winner, but nothing can be taken for granted in two-bend racing.
Locally trained Worsboro Spectre (16/1) will need to step up a gear but is capable of improvement with a quick break. Good luck to all greyhounds with hopefully trouble free passages over the 280m sprint distance at Sheffield. The final is shown live on Sky Sports the following Tuesday, 25th April.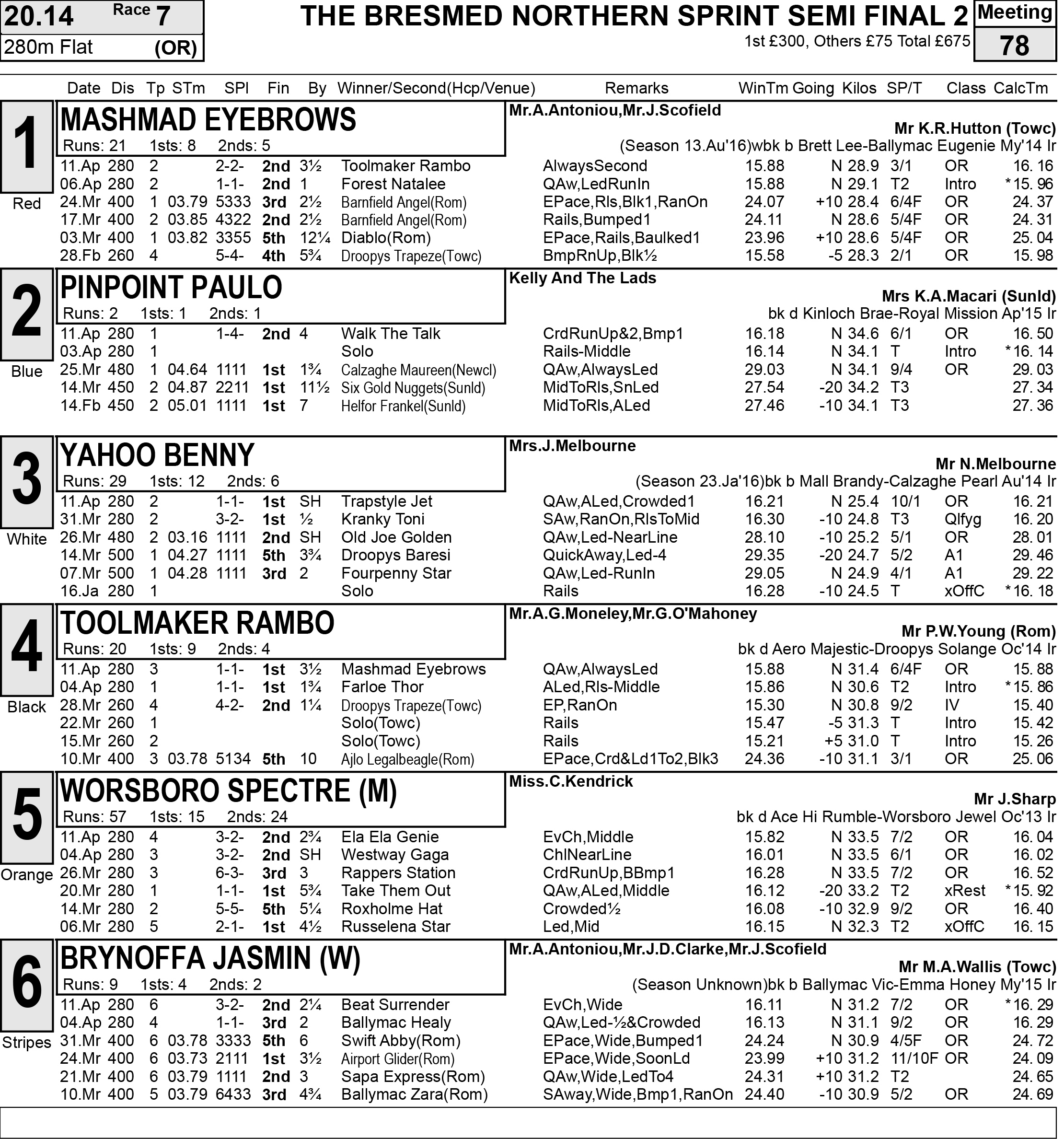 Top 4
(188): Toolmaker Rambo (9/2)
(186): Ela Ela Genie (6/1)
(176): Forest Natalie (12/1)
(169): Worsboro Spectre (16/1)