The richest sprint competition in the United Kingdom begins in earnest at Owlerton Stadium, Sheffield, this evening.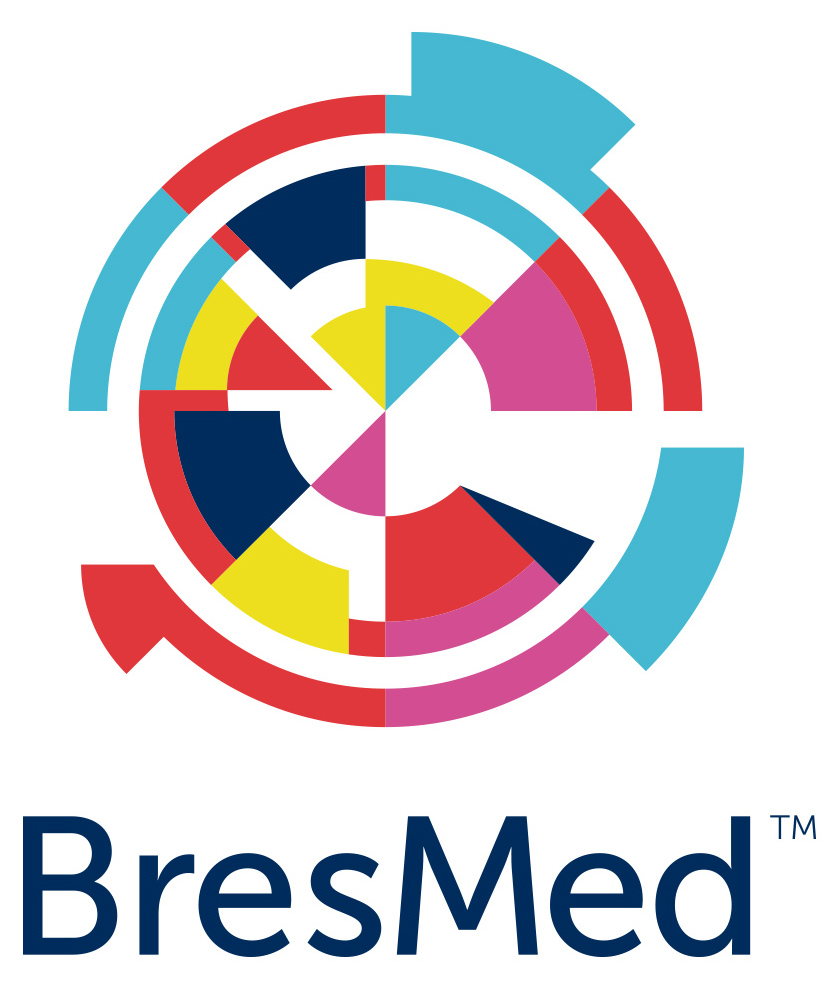 Attracting 36 of the fastest greyhounds in training, six heats showcasing the ultimate in raw power and early pace.
There will be no room for error, the greyhound who emerges victorious in the BresMed Northern Sprint Final on Tuesday 30th April 2019 will need to be at the top of his or her game throughout. Back in 2014 the Nic Brereton owned and Carl Perry trained Geelo Vegas won the coveted Sprinter Of The Year title.
Whilst Nic, Carl and the team gained much deserved recognition for their superstars achievements, Nic also felt that there weren't enough competitions of a high quality for genuine sprinters to target. As sporting as ever, Nic began to fund a new competition to be staged at the teams home track of Sheffield.
The BresMed Northern Sprint was born in 2015 and has been staged each year since. The now Category One event offers a winners prize of £8000, but to most, it is the prestige that the competition now holds that attracts the very best around.
Trainers and owners come from all corners of the UK and now even from Ireland to attempt to land one of the highlights of the greyhound racing year, this year is no different.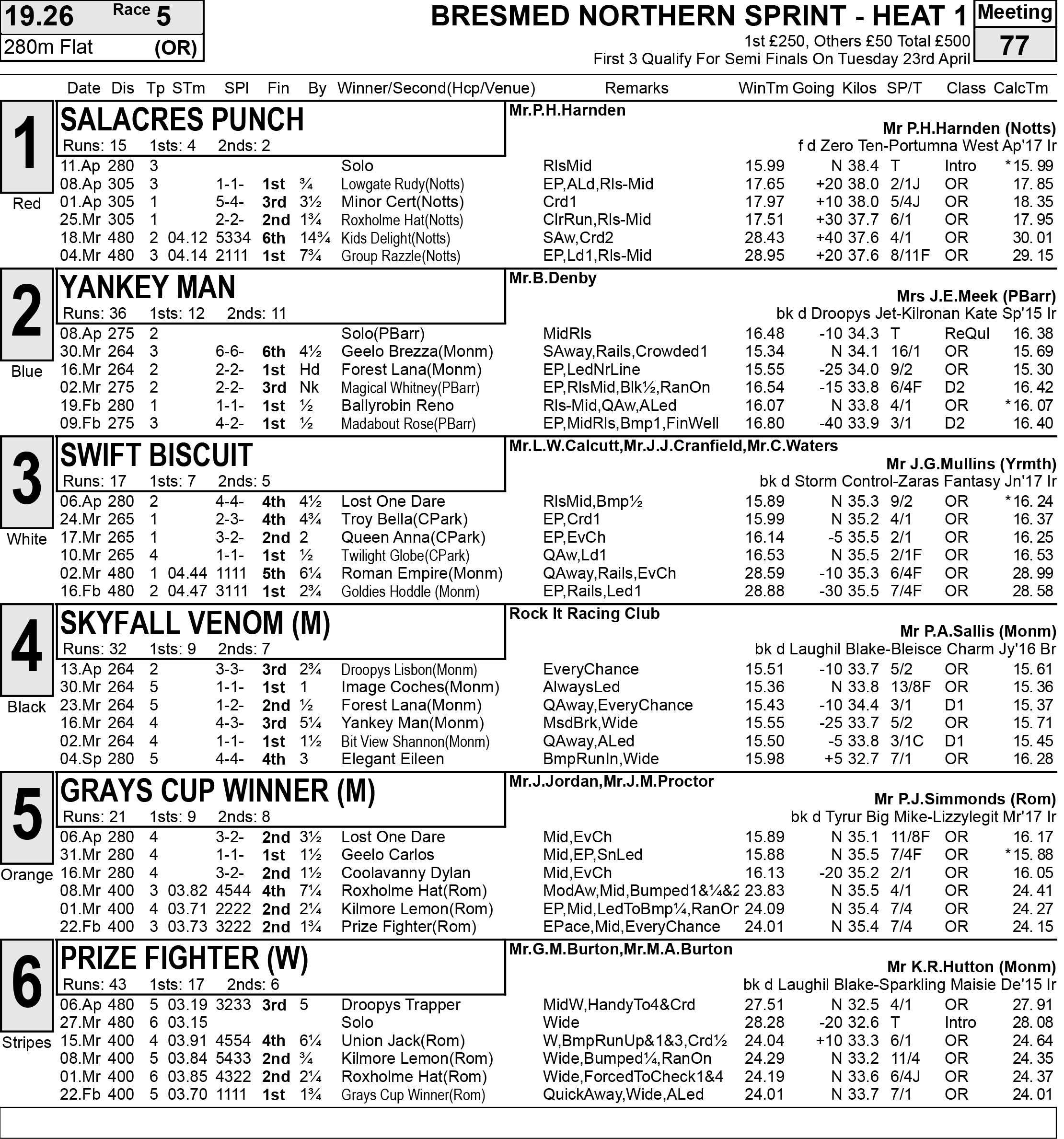 Heat One gets underway at 7.26pm and we're immediately treated to a field of top class speedsters. Grays Cup Winner for Romford trainer Phil Simmonds is likely to head the betting market, he won heat, semi final and final of the Coral Romford Puppy Cup on home soil back in November '18, he's a record of 1 from 3 here at Sheffield including when winning in a top class 15.88 (normal) on just his second start at the track.
He's a top class individual and is a danger to any greyhound in the UK with a fast break. Main danger in heat one is likely to be the Peter Harnden trained and owned Salacres Punch. This 37 kilo powerhouse was a shrewd purchase as a 3 month old pup by Peter and his team, reared on at their specialist rearing and training facility in the heart of the Nottingham countryside, Punch has fast established himself as the leading sprinter at his home track Nottingham and has developed a huge fan club due to some powerful displays on RPGTV.
Breaking has been this young dogs downfall at times, but with a level start, he can go with the very best around. These two are not likely to have things all their own way though, Yankey Man, Swift Biscuit, Skyfall Venom and Prize Fighter are all likely to have their own say in what is a competitive start to the competition.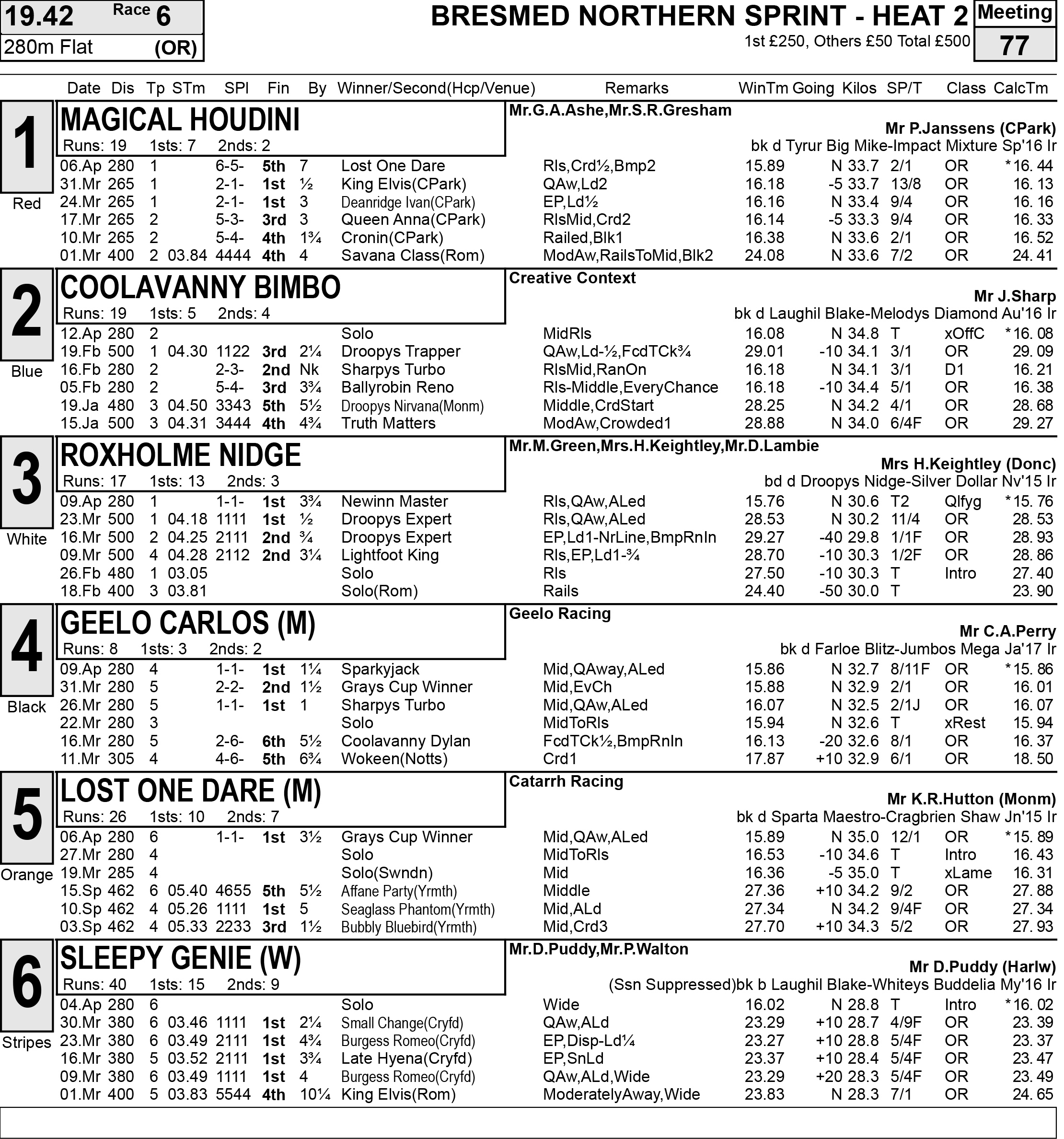 Heat Two sees the Hayley Keightley trained Roxhome Nidge attempting to pull off a famous double and what would be his third Category One success at Sheffield in just seven months. In fact the last two victories on the card of Nidge have both come in the Steel City Cup Final at this venue.
A winner of 13 of his 18 career starts, Nidge is a superstar of the highest order, though he's stepping back in trip, his aeroplane like trial over course and distance last week of 15.76 (normal) shows this should pose no issues whatsoever. Magical Houdini, Coolavanny Bimbo, Geelo Carlos (one of two team Geelo entrants in the comp), Lost One Dare and Sleepy Genie will all be hoping to lower the colours of a greyhound racing superstar.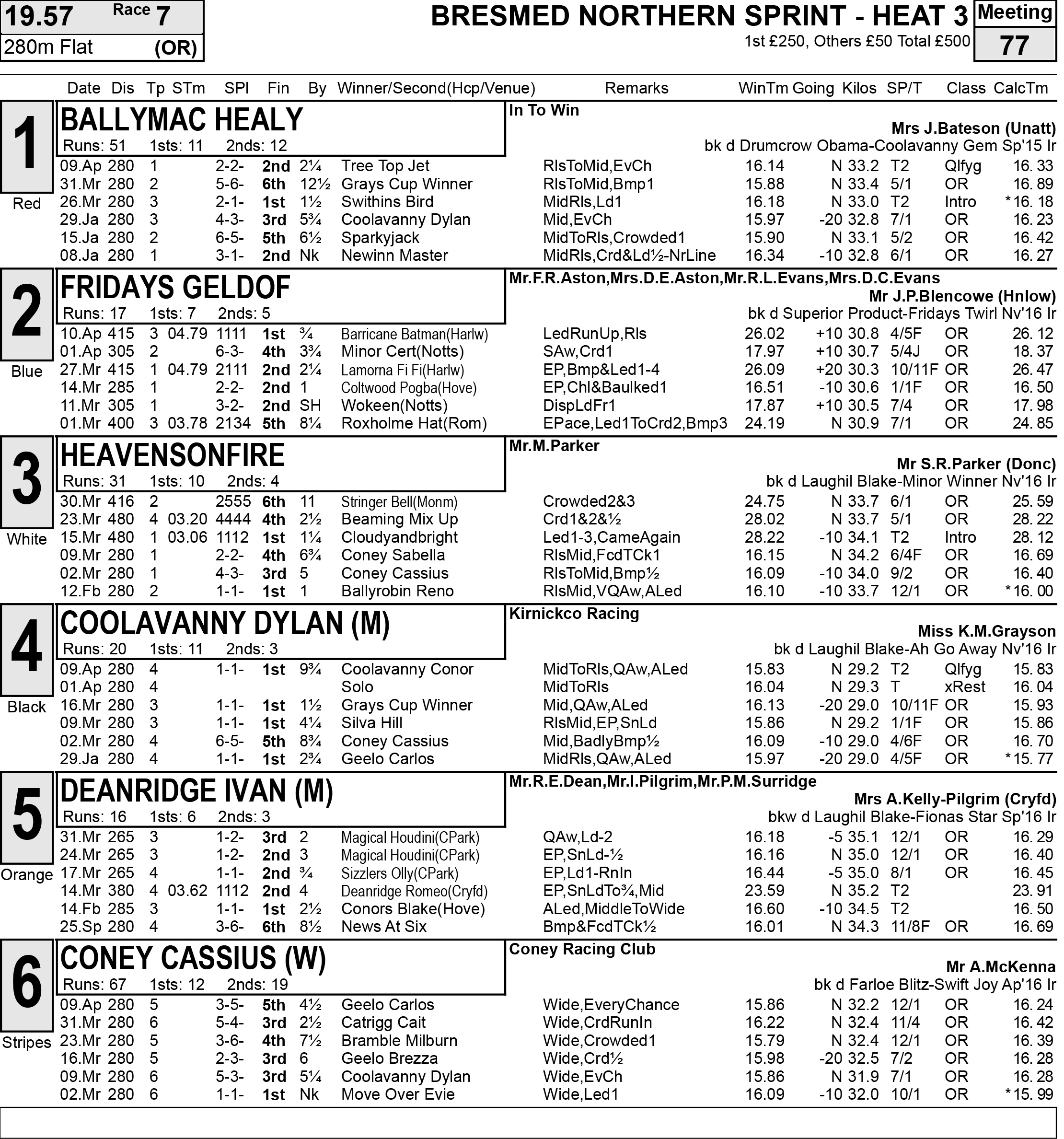 Heat 3 is likely to see Kirsty Grayson's local runner Coolavanny Dylan rightfully head the market. Kirsty has trained this son of Laughill Blake x Ah Go Away, Nov 16, to perfection. Starting his career in May 2018 at D3 level, it was soon obvious to even the most casual of observers that this greyhound was destined for better things. Dylan has done all of his racing at Sheffield, a winner of 11 of his 20 career starts, he has gone from D3 winner to a winner of seven top class open races here around Owlerton.
Though he's been off the card since beating Grays Cup Winner here on the 16th March, he has shown his well being by trialling in the last couple of weeks in 16.04 (normal) and 15.83 (normal). A dog that nobody should take lightly and a leading player for outright honours. Ballymac Healy, Fridays Geldof, Heavensonfire, Deanridge Ivan and Coney Cassius are in opposition and will be hoping to lower the colours of what will likely be a strong odds on favourite.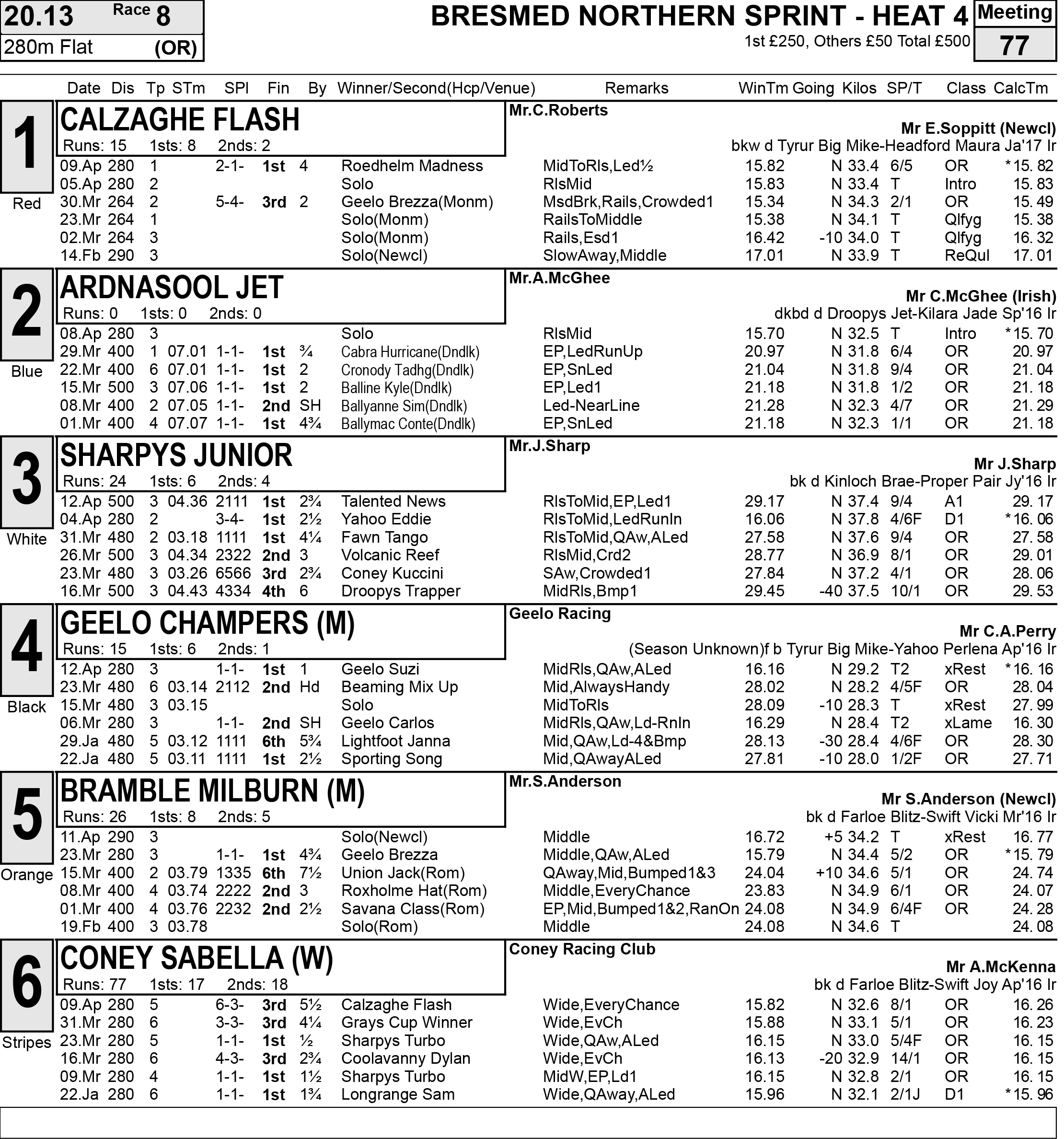 Heat 4 is a race worth the admission money alone. Ted Soppit's Calzaghe Flash would line up as favourite in most races that he competes. Indeed Flash won here as recently as the 9th April in 1583. What could stop this superstar sprinter from going off a strong odds on favourite ?
The Jet, Ardnasool Jet, for Irish trainer Cathal McGhee, attempts to take this famous trophy back across to Ireland and add it to the Bar One Sprint titles that his greyhound has landed for the last two years at Dundalk stadium. A winner of 12 of his 17 career races, Cathal's Irish superstar is a greyhound to be feared wherever he turns up.
Sharpys Junior, Geelo Champers, Bramble Milburn and Coney Sabella are all very good greyhounds in their own right, but they will have to put up career best efforts in order to lower the colours of two of the fastest sprinters in training on either side of the Irish sea.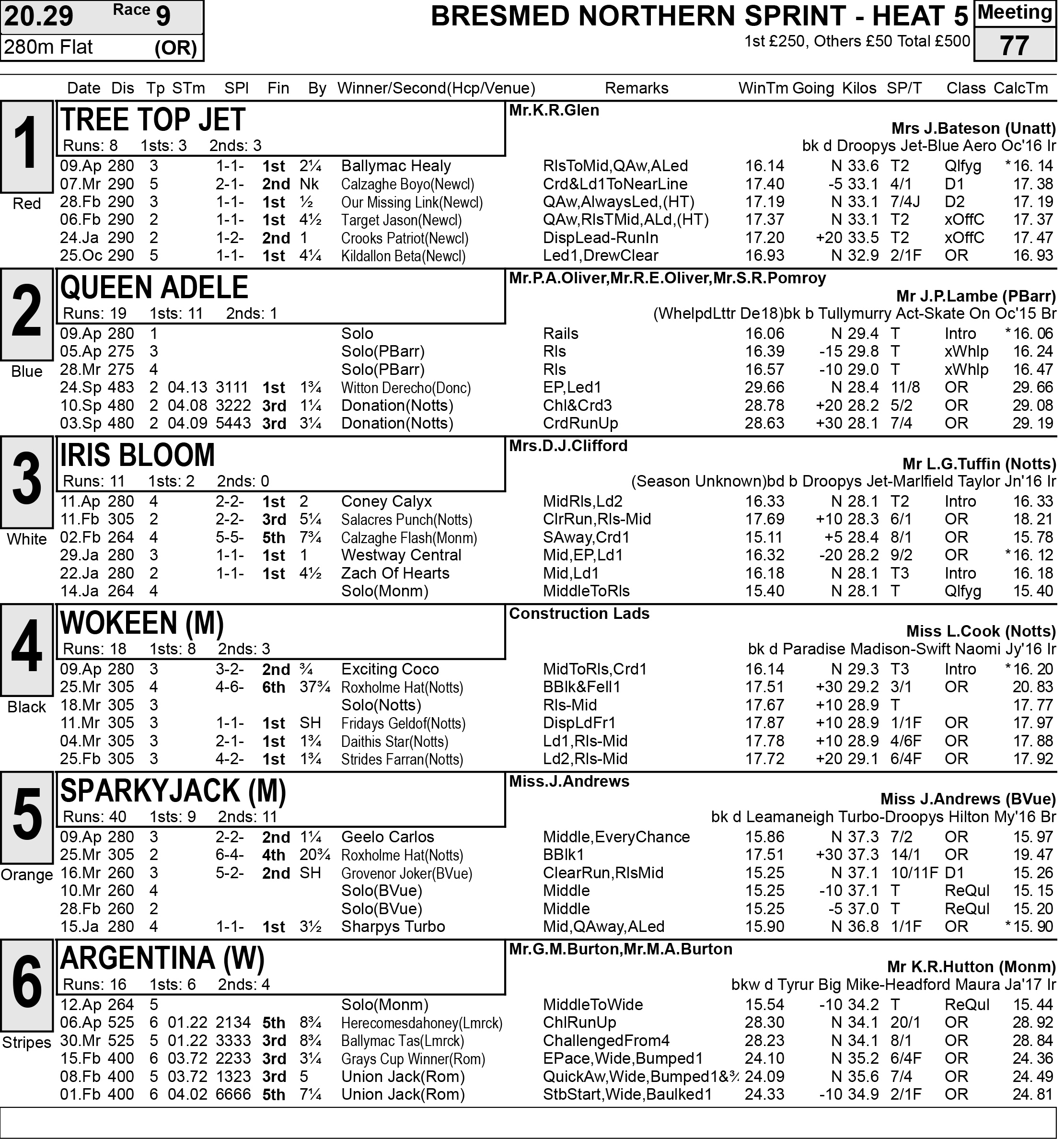 Heat 5 looks like it could be a really competitive affair with a number of these greyhounds very evenly matched. Tree Top Jet is lightly raced for a dog of his age, purchased after running away with a sole Irish start at Thurles by a huge 12 lengths in 17.91 in March 2018, he's competed in just eight races since, winning three including a top class 16.93 effort at Newcastle back in October '18. This will be his first run for new trainer Julie Bateson having previously been in the care of Craig Dawson. A 16.14 (normal) trial for Julie here at Sheffield on the 9th April was a more than adequate effort and she will be hoping for a good run with her new charge.
Queen Adele whelped a litter back in December '18, but she comes into this competition showing she is fit and ready to do herself justice after clocking 16.06 (normal) in her last trial here. Iris Bloom for Nottingham trainer Laurence Tuffin is a talented sort but is obviously not the easiest to train, highlighted by gaps on the card and numerous trials in between her races. Wokeen for Nottingham's Lynn Cook is a highly talented individual, capable of top class times when timing his break right.
A winner of 8 of his 18 career races, he is more than capable of finding considerable improvement upon his 16.20 (normal) first look at this venue in a recent trial. Sparkyjack for Belle Vue trainer Joy Andrews is no back number and an interesting contender is Argentina for Derby winning trainer Kevin Hutton.
Returning from a short spell in Ireland where he reached the third round of the Con & Annie Kirby Memorial at Limerick, Argentina comes here without a trial but Kevin Hutton is a man with a good record with greyhounds running a track without a look around.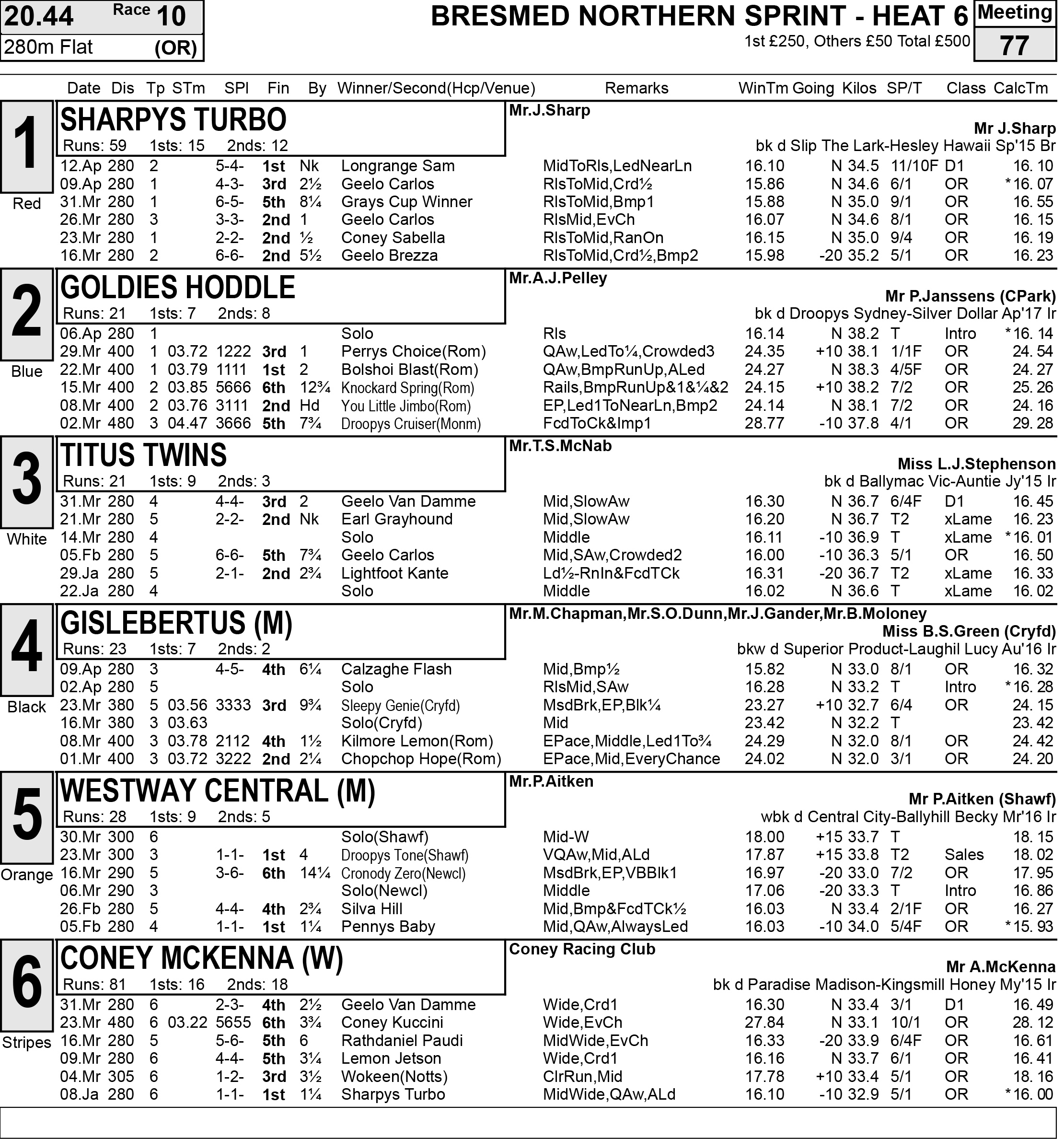 Heat 6 is another highly competitive affair where any of the six greyhounds could rightfully lay good claims. It's three locals in the shape of John Sharps Sharpys Turbo, Lisa Stephensons Titus Twins and Tony McKenna's Coney McKenna will be lining up against three rivals from all parts of the UK as they face Patrick Janssens Goldies Hoddle (Central Park), Belinda Green's Giselbertus (Crayford) and Peter Aitken's Westway Central (Shawfield). It's a heat where all six sets of connections would take a place in the first 3 home and with it a place in next weeks BresMed Northern Sprint Semi Finals.
The best place to catch all of the action is at the track itself, Owlerton Stadium, Sheffield, where you will be looked after as always by Dave Perry and his team. If you can't make it to the track, then be sure to tune in to Racing Post TV, channel 431, for a night of top quality sprinting action.