For straight bets, go fixed odds, or even the exchanges. But for forecasts and tricasts, the totalisator service just might be a better bet. At least that was the lesson from our studied meeting, last Tuesday's Sheffield card, writes Floyd Amphlett.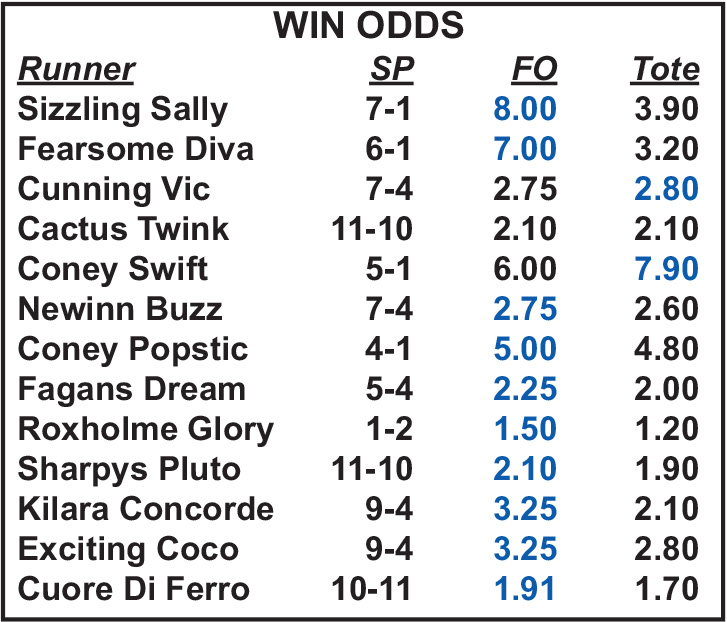 For those who don't understand the difference, for decades, bookies paid out to the identical odds produced by the track's totalisator pools.
That practice was made illegal in 1961. The tracks briefly charged a fee for use of their tote odds, but then changed their minds.
The bookies – who had also been stung by a number of forecast manipulated betting coups – developed their own forecast and tricast formulas based on SP returns.
They carried out their own manipulations, on several occasions, to reduce liabilities on popular combinations, much to the disdain of The Sporting Life who ran a campaign to shame the bookies and protect betting shop punters.
So punters have a choice whether to bet to 'bookmaker' or 'pool' odds. In the case of 24Dogs, who operate the on-line tote option for most of the GMG tracks, their pools are integrated into the track's own totalisators giving greater liquidity than either in isolation.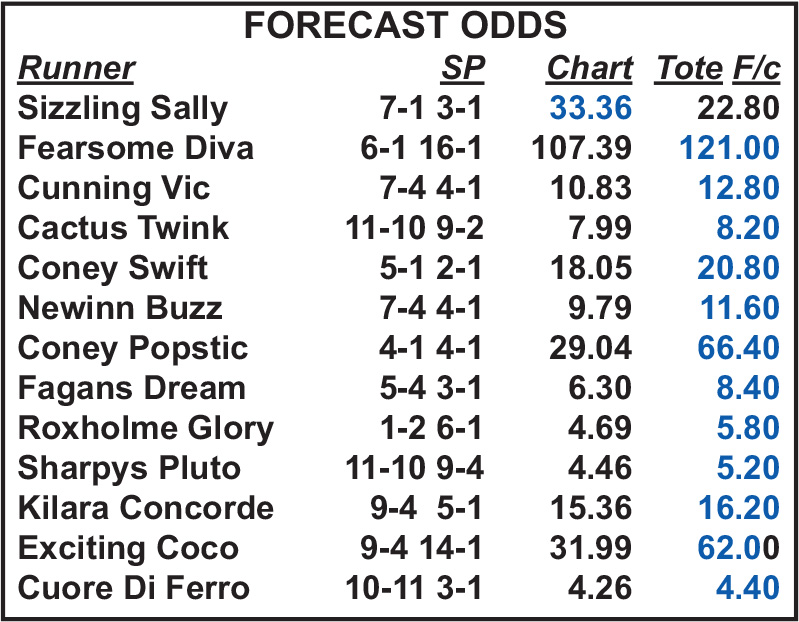 Top right is a comparison of the fixed odds from our targeted 13 race card at Sheffield. It has to be said, the tote odds on the win pool don't make for great reading.
Of the 13 races, the fixed odds SPs paid more on 10 occasions resulting in returns of £47.86 compared to £39.00 on the tote (£34.86 and £26.00 – ex stakes).
But there is different tale to tell when it comes to the forecast returns.
The tote returns came out on top in 12 of the 13 races including a lucrative £121 when 6-1 chance Fearsome Diva beat 16-1 shot Total Eclipse.
Overall, the tote paid out £365.60, compared to the chart odds of £283.51 – roughly 22% better.
Moving onto the tricasts and in the 12 races studied (there was no chart forecast reported for sixth race so the tote figure is also omitted), the 24Dogs returns came out on top on eight occasions.
Even allowing for the bumber £400.61 in the second race, the 12 race chart return is £948.37 compared to the tote's £1,079.10.
Anyone interest in dabbling in tonight's RPGTV televise Sheffield card can view the full form for the meeting here.
To bet on the tote, click on the 24Dogs logo below.