The BGBF / Nottingham British Breeders Stakes (£7500 to the winner category one event) first round heats take place at the home of the English Greyhound Derby this evening , Nottingham's Colwick Park stadium.  A total of six heats will be run with the first three greyhounds from each progressing to next weeks semi finals.
Heat one takes place at 808pm and Liz McNair's King Sheeran will be a warm order to oblige.  Sheeran had been due to take part in a trial stakes for the competition last Monday however problems with the hare resulted in the meeting being abandoned after just one race.  He should have little trouble accounting for tonight's rivals although supporters are unlikely to get rich in backing him.  Saving Sonic for John Mullins can fill the forecast spot whilst Jill Llewellin's Blythe Dill can claim the third and final qualifying slot.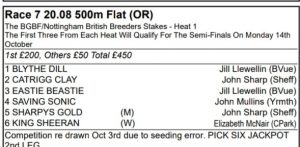 Heat two at 823pm can go the way of Phil Simmonds Rackitup Charlie.  'Charlie' is a very consistent sort who always runs his race , he's a good amount of early pace and looks particularly well drawn in red.  A good winner of a trial stakes for this event last time out , a level break should see him leading around the turn and from that point onwards should be difficult to beat.  Saving Martha for John Mullins stays well and should drop into a nice position in behind 'Charlie' , she can stay on for second whilst Peter Harnden's Salacres Barley , a finalist in the 2018 Puppy Classic at this venue , can overcome a poor looking draw in trap 4 to qualify for the semi final.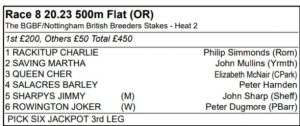 Heat three at 837pm can go to Heather Dimmock's Down To The Felt.  'Felt' has been one of the leading British bred greyhounds around for a while now and generally runs in races of the highest class.  A beaten finalist in the recent BGBF Northern Plate at Newcastle , he can make the most of a fair looking draw on the outside of the field here and can hold off the strong late challenge of local British bred superstar Alfies Prince.  'Alfies' is trained by Barry Denby and tonight competes in his 100th race at Nottingham.  A veteran of 130 races in total , 'Alfies' is a greyhound that the general public love to watch running , his come from behind style is a joy to watch when he gets it right.  Sharpys Rocket lacks a recent look around the track but stays well and can claim the third qualifying slot for Sheffield handler John Sharp.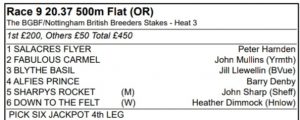 It's heat four at 851pm and the race can go to Dave Firmager's Romeo Ruben.  You'd have got long odds for predicting that Ruben would have gone 14 races without a win after an emphatic victory in the BGBF Puppy Cup at Sheffield earlier this year.  'Ruben' looked destined to go onto bigger and better things and though he has since run with credit in fair events , success has proved elusive.  He can change that stat tonight though , he trialled well here last Monday in 2955 (+60) off the back of a 508 split , anything like that kind of run should be enough.  Peter Harnden's local Salacres Bussell looks well enough drawn against the rail , he doesn't possess massive early but in the context of this race a level break could see him fall into a decent pitch as they head down the back straight , he's a strong enough runner if doing so can can claim second.  Carn Brae is a huge greyhound who has class when his hefty frame is allowed space to run , he can qualify in third for trainer Anthony Newiitt.
Heat five at 906pm can go the way of Liz McNair's King Turbo.  'Turbo' is a class act , one of the fastest dogs of his generation and though he will need to put a short odds defeat in the final of the BGBF Northern Plate behind him , he can do so in style.  Much better drawn tonight in trap 3 , 'Turbo' can take an early lead before stretching away for a resounding success.  Romeo Rumble stays well and is well drawn on the wide outside of the track , he can finish second and give trainer John Mullins another semi finalist whilst Dark Ocean can take third for local trainer Anneliese Thompson.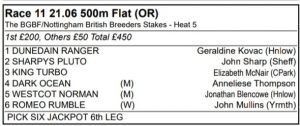 Heat six at 922pm can go the way of Jill Sutherst's BGBF Northern Plate heroine Witton Derecho.  Assistant trainer Glenn Lynas took the time to travel to Nottingham for a trial last Monday and his bitch simply glided around the track as if she'd run here all of her life.  Stopping the clock in a magnificent 2958 (+60) off the back of a 508 split , 'Derecho' highlighted that she's going to be a live contender in this competition for outright honours as she aims to land back to back 'Category One' British bred success.  'Derecho' will need to be lively at the traps however , with Phil Simmonds Binksy Bruce to her immediate inside she cannot afford any lapses of concentration at trap rise.  Liz McNair's King Lennon is a strong running sort and handles the contours of Nottingham well.  'Lennon' can run on strongly to take second place whilst the aforementioned 'Bruce' can qualify in third.