Poole attached Simon Harms enjoyed a long drive back to Hampshire – with Harlow's new 592m track record holder in the back of his van!
Loggies Rosie (Godsend- Mays Maska Apr '14) 7-1, made light of a long absence from race action with a 36.85 TR (+30) for Harlow's 592 trip in the 'Wednesday Stayers' open. Showing gritty determination to wear down favourite Sonny Da Boy by the fifth turn, she stayed out the trip well from Mays Fiddlefadle.
Trainer Harms, who owns the bitch with head kennelhand Charlie Eccles, explained her time off (only one appearance, in the wars at Swindon in October, over the last five months) as down to several niggling injuries and a season, never rushing her return. Considering her pedigree to be perfect for British breeding, Harms intends to keep her at his Romsey kennels when her racing days are over. That doesn't look likely anytime soon though, based on the superb Harlow run which sliced an incredible two lengths off Borna Payment's 2010 clock. As a useful benchmark, the fastest during 2017 was by the Mark Wallis star Rubys Razzle with 37.06 (N) during an unbeaten run through the £8000 Gold Cup in April.
Courtesy of Greyhoundsnow 2
Full result: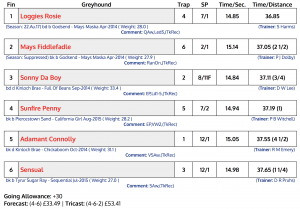 Other noteworthy performances came from the 'Queen of Harlow' Lemon Diamond, who produced another impressive sprint victory for Roy Griffin in 14.70 (+10). Paul Dale's Mildenhall raider Bar The Warrior, a finalist in the Derby Plate and National Sprint last year, turned the 415 Standard into a procession clocking a rapid 25.59 (+20).